2020 is almost over and it is a perfect moment to look back at the highlights of the year. The year sucked for the most part, but still plenty of memorable things happened. We would like to highlight tricks, events, videos and other things within the Latvian skate scene (and a bit of Baltic too) that made us happy. There's is no particular order in the list.
Barspin Skateboards
Despite its short existence, Barspin Skateboards have managed to become a household name in the local skate community. Now whenever you do a sketchy taildrop, a drop in of a roof, or a flip tick from another dimension, you can describe your actions by simply saying Barspin Skateboards out loud. Everyone immediately understands what you are up to when you say these magic words.
The crew, Kristofers Ozols, Edijs Plume and Artis Strazdiņš, turned into a movement that spanned across Latvian and Baltics borders. But even more than that, Barspin Skateboards is becoming a subgenre of skateboarding where slams and almost makes have worth too. Well, skateboarding has no rules, right? Long Live Barspin!
Skate Baltica
Skate Baltica was a first events that we made where skaters were invited to experience skateboarding through videos, photos, and community. Also, because most skaters are opinionated chatterboxes, we organized a discussion panel on Baltic skateboarding. The whole day was a blast and we finished it off by giving awards to our favorite Baltic Skaters. Skate Baltica is definitely going to return as soon as we can make events again.
We saw Madars' kickflip into Uzvara bank
Skaters rode Uzvara monument since the dawn of Latvian street skateboarding. The bank, the flat, the gap, the drop—everything was pummeled since day one. Uzvara was a central place in the upbringing of Latvian skaters, and Madars went through this school of life with straight As. He did a bunch cool stuff at Uzvara as a teen and as an adult he only did better. In 2014 he put Uzvara on the cover of Kingpin. In 2018 he put Uzvara in Thrasher with that kickflip photo. And in 2020 We got to see it in a video and we were not disappointed.  
2020 Go Skate Day
Really hope that kids will remember 2020 GSD and brag about how cool it was in 2030, like old farts brag about 2005 GSD now. But even for old farts 2020 GSD was very special. Maybe COVID made us appreciate real life interactions more and we were happy to be outside together. Along with a proper crowd, we had cool new DIY spots to skate. Linards took the MVP with a 5-0 bs 180 on a bank to box spot just as the green torch was burning. That spot in particular was dedicated to Kristaps Horns, our fellow skater who passed away earlier this year. Special shout out to Fricis for mobilizing everyone and fixing the spots. Shout out Clockwise for support!
Rudik back fitty Kongres rail
Although done in 2019 summer, this insane fifty saw the light of day in 2020 in Antiz Via Baltica video, so we will count it as a 2020 event.
Well, probably, every single person who has ever skated at Kongress, or has any understanding of what a spot is, looked at this rail and imagined skating it. The spot is basically a skate park flat bar with two drops on each side. You can land tricks on one side and die on the other. Also, since majority of skaters can't comprehend 50s on round rails, let alone backside ones, this trick is nothing short of nuts. Respect Rudi! 
Riga DIY
Lermontova parks, bridge barriers, the box and quarter at VEF—these are some of the best projects made by Riga DIY, a brain child of Fricis Štrauss. Along with these gifts, Fricis organized the remake of VEF DIY which now shines in new colors. The place was always a gem, but now it is a whole new deal for the skate scene and whole city. Fricis is not planning to stop and all of us can only join him in this epic quest. Let's make more spots in 2021!
Print stuff: HARI mag/ Ohota na Molodostj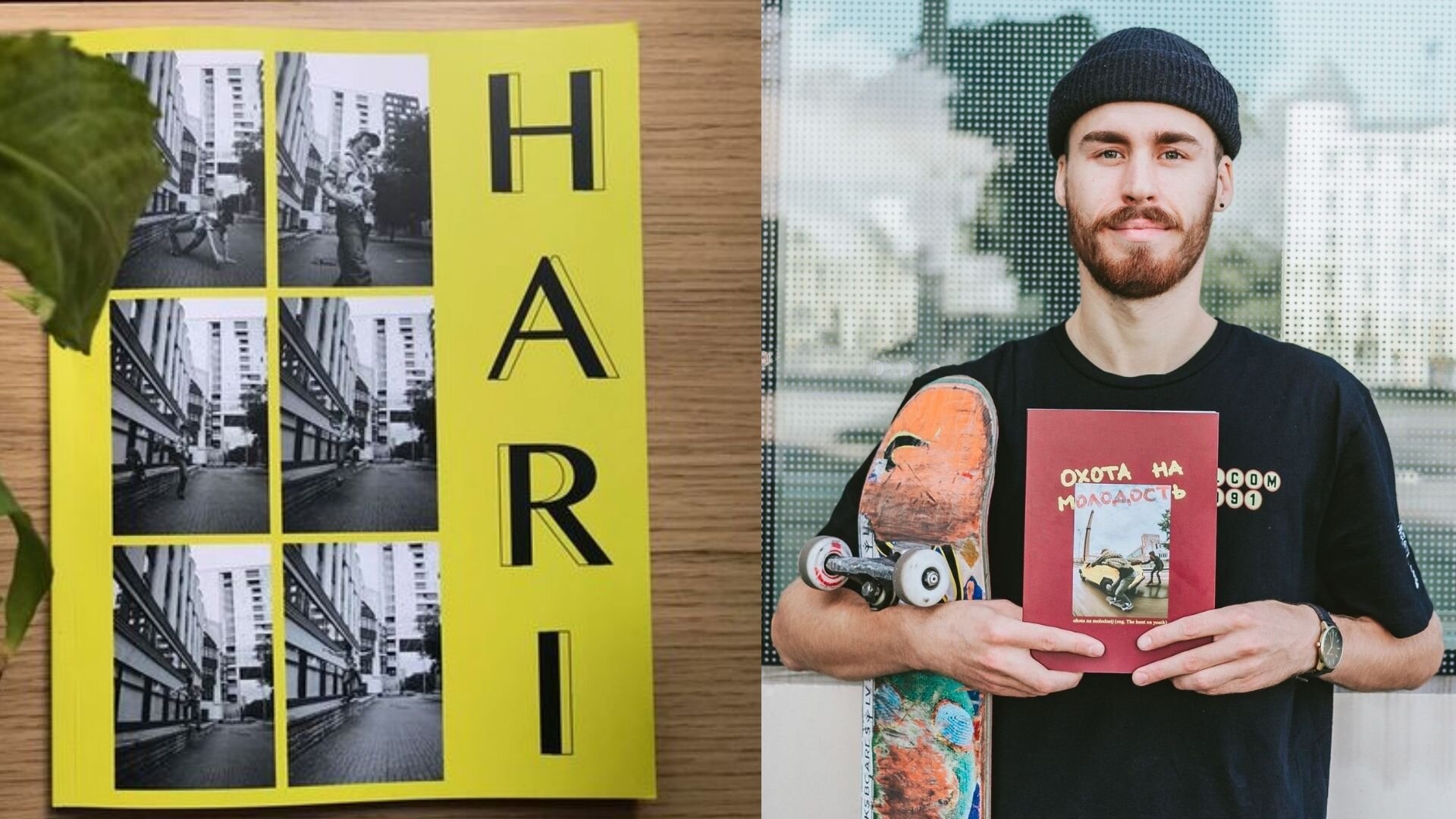 2020 gave us tangible publications to hold and flip through. Estonian skate mag HARI appeared in August and Arturs Bogdanovičs presented his photo book, Ohota na Molodostj, in September. Both events are equally exciting and hopefully set a start to a new tradition in the whole Baltic scene. Print gives longevity to skate photography. It is completely different to see photos of your mates in print compared to insta shit where you just scroll further. With that in mind, let's make sure we support print related projects in future. 
Legend of Viss Taisni
Most of you either participated in Viss Taisni video or at least have heard of it throughout the year. Its notorious author, Armands Baumanis, is said to have filmed everyday from dusk till dawn. You'd hear stories of tricks and secret Audi trips. All the rumors surrounding Viss Taisni built its reputation of the most anticipated video project of the year in Latvian skateboarding. We have seen a bunch of teasers by now and we have seen the Overboard episode too. However, due to known reasons the premiere got postponed. Most probably we will include the video in our 2021 review, but for now Viss Taisni is an intriguing urban legend. People say it is real, but only a view have seen it.
First Urban space
Mind Work Ramps keeps washing out the good-stuff-only-happens-abroad mentality from our pessimistic minds. First they built these Street League plazas around Riga in the last couple of years: a feat that startles all of the used-to-skate skaters from the ply wood park era. And, in 2020 they went even further and built this futuristic urban space in Kaunas, Lithuania. This spot became "the first ever urban area in the Baltics designed and built with action sports enthusiasts in mind". We can only hope that this will become a trend in the future.
Barax Gawn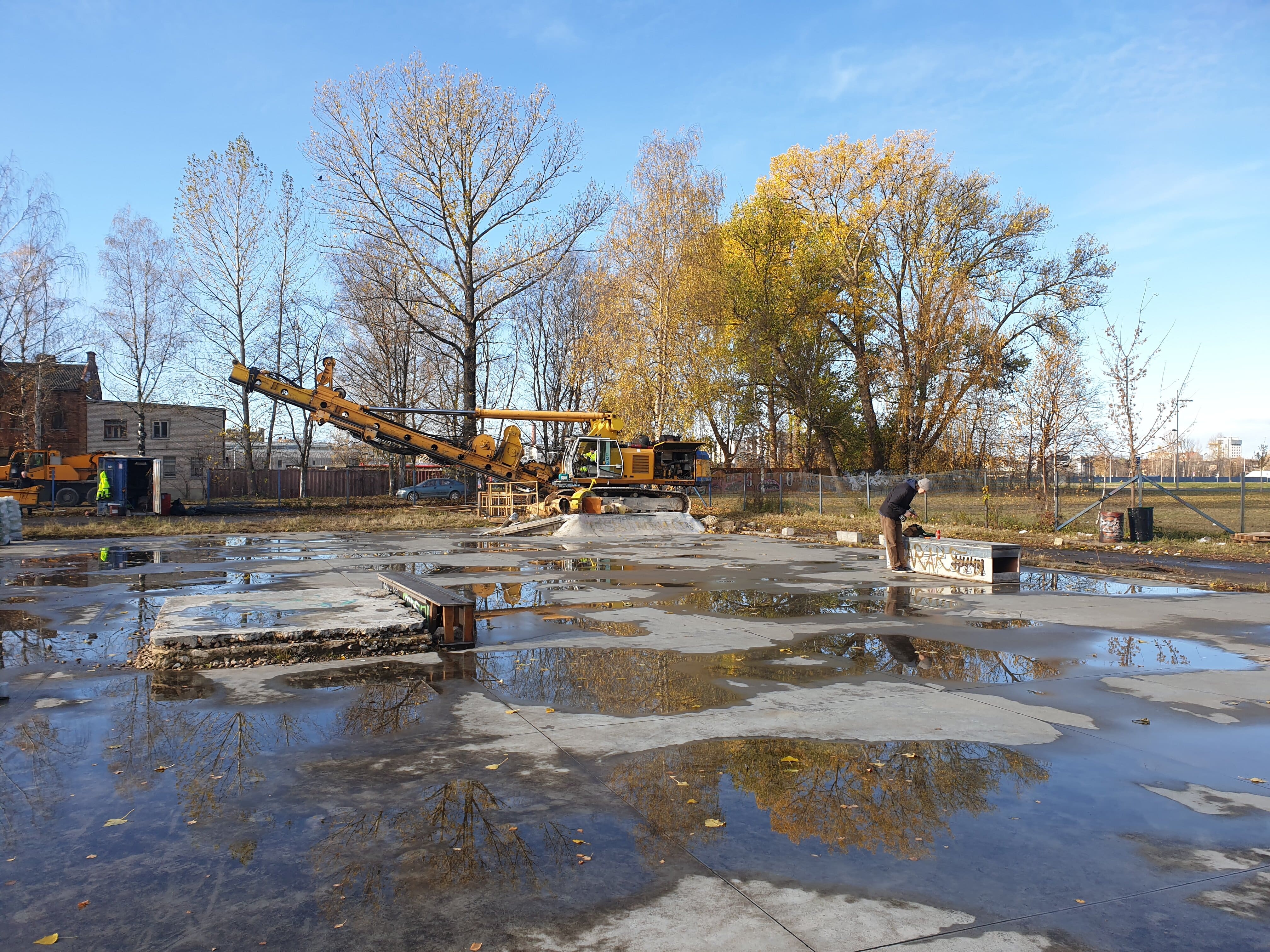 Situated right in the heart of the city, around 1.675 square meters of perfect concrete flat, served as a meeting spot home to skateboarders from Riga and periphery for the last 10 years. The spot got dubbed Berrics by the founding fathers as a tribute to the famous American super skatepark. But Latvian Berrics were not so polished and not so gentrified. Hence, the name morphed into a more appropriate version that reflected its character. Berrics turned into Beriki, Barraki, Barankas, Berliki and finally Barix and the most common—Barax.
Barax DIY, as it was called on the pages of Confusion Mag, was a minimalistic spot. It wasn't overbuilt. Ledge, flatbar, quarter, pyramid, manny pad—these few constructions would blend perfectly in the sea of flat that the Barax essentially was. In addition, the notorious Barax gap, which if kickflipped, granted a pass to newcomers, served as proving grounds for rehearsed flatground maneuvers. A slappy curb in front of the judgmental benches opened a view on the whole spot. It wasn't much, but it was enough. In fact, it was everything a skater needed. 
It is a miracle that a place like that even existed. It was a piece of land detached from civilization, but in its center at the same time. A little escape from the city in  2 minute cruise from it. A magical place that will be missed big time.
More 2020 stuff:
Unity by Rainer Kaur
Litt – VLND Burger x SurfHouse x Reede
Around The Block 2020
Fully Ghetto in Riga
Arturs Nesaule first video part
KAIFUUN both video and network
Game Of Skate Championship Finals
(We blew it in 2019. No review)