Photos by Nauris Dollins/ Edvard Gaba
Last Saturday 18th of January we attempted to combine some of our favorite cultural things in skateboarding into one day event. We also aimed at involving skaters from all Baltic states, hence the name Skate Baltica.
The program included: a discussion on Baltic skateboarding, a photo exhibition, video presentations, RajonTV Skate awards, and a DJ party.
Discussion on Baltic Skateboarding
The day started at 12:00, which is early for a skateboarder's Saturday. The first event was a discussion on Baltic skateboarding over the Spot center. As we never tried anything like that before, it was a bit scary. Is there a lot to talk about? Will it be interesting at all? Nevertheless, the discussion turned out way better than we expected.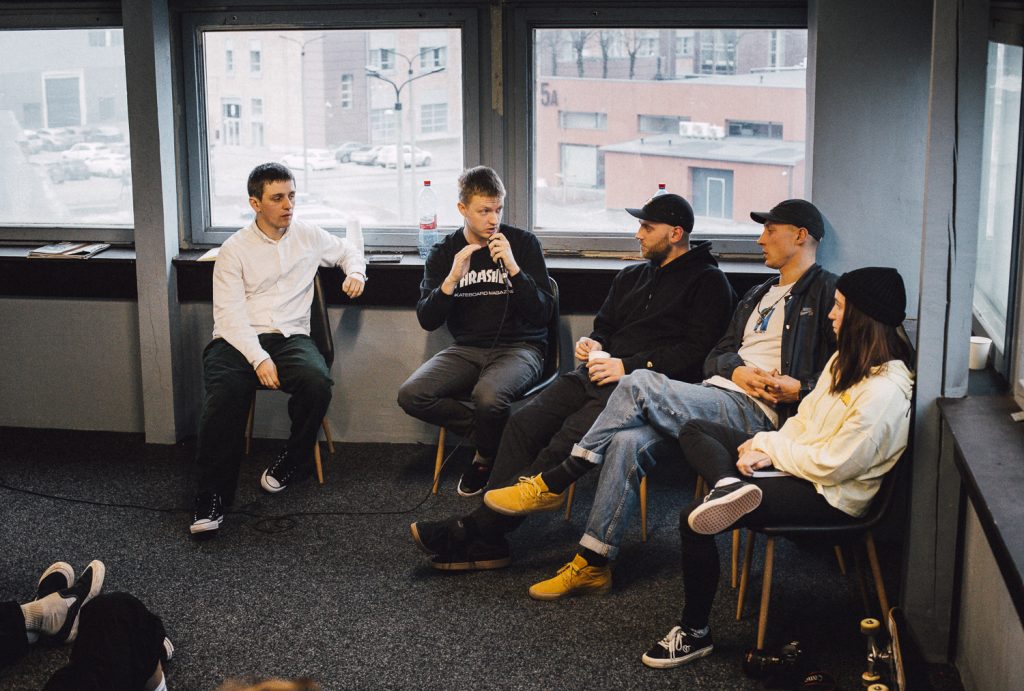 The main overall topic was the development of skateboarding in the Baltics. We started by defining what is a developed skate scene to every member of the panel, and from that we went into more details regarding their work and experience within their scenes.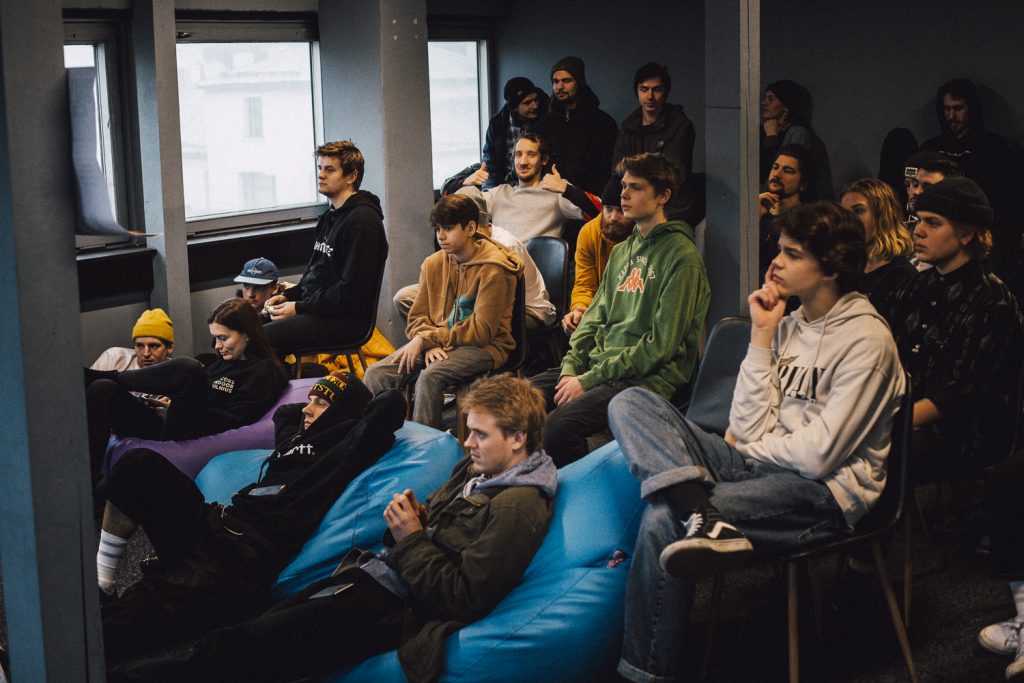 It was quite interesting to see how the whole thing unfolded. At first we had huge doubts about this endeavor, but it was soon obvious that there are a lot of people willing to speak up and more topics to address. The biggest complaint everyone had about the talk was that it was too short. We sat for two hours, and it wasn't enough. A great lesson for all of us that events like these are needed and that skaters have ideas and opinions they want to express. There is always a room for improvement, but before you get there you need to start with something. This discussion was a micro step forward a stronger skateboarding community in the Baltics and we hope that this trend will continue.
To give you a better sense of what was the discussion like, here is an audio extract from the second part of the talk. We apologize for bad quality!
Photo Exhibition/ Video Screening
After we the discussion and a little skate session at the Spot center we headed to KKC (Kaņepes Kulturas Centers) where the photo exhibition was waiting for everybody.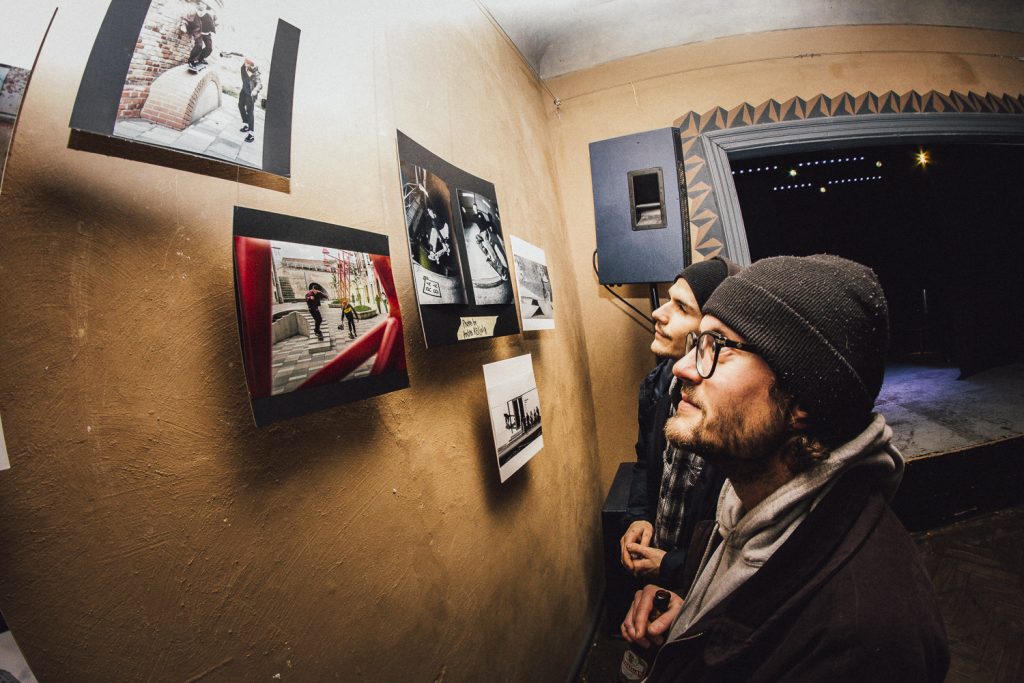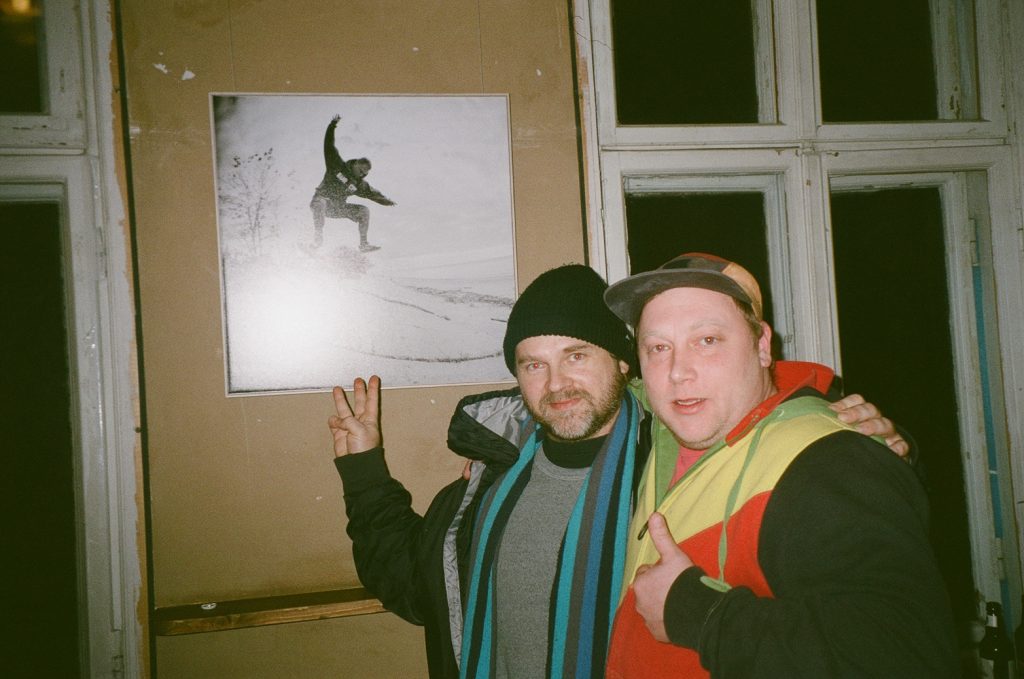 In total we had six photographers showcase their work. Nauris Dollins, Artūrs Bogdanovičs, and Marcis Ruiķis from Latvia. Andres Kõljalg, Rainer Kaur and Liidia Maier from Estonia. The exhibition was installed for one evening, so you had to observe everything carefully. The way printed photos look compared to online instagram stuff is like day and night. The exhibition reminded us the value of print and real physical copies.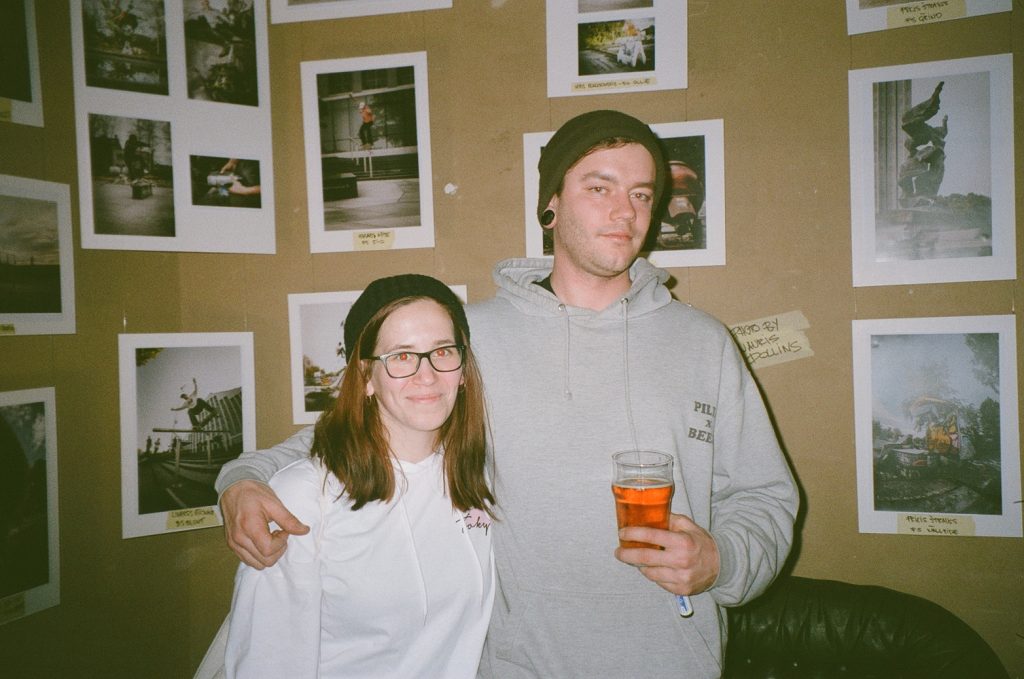 Siom observing Liidia Maier's photos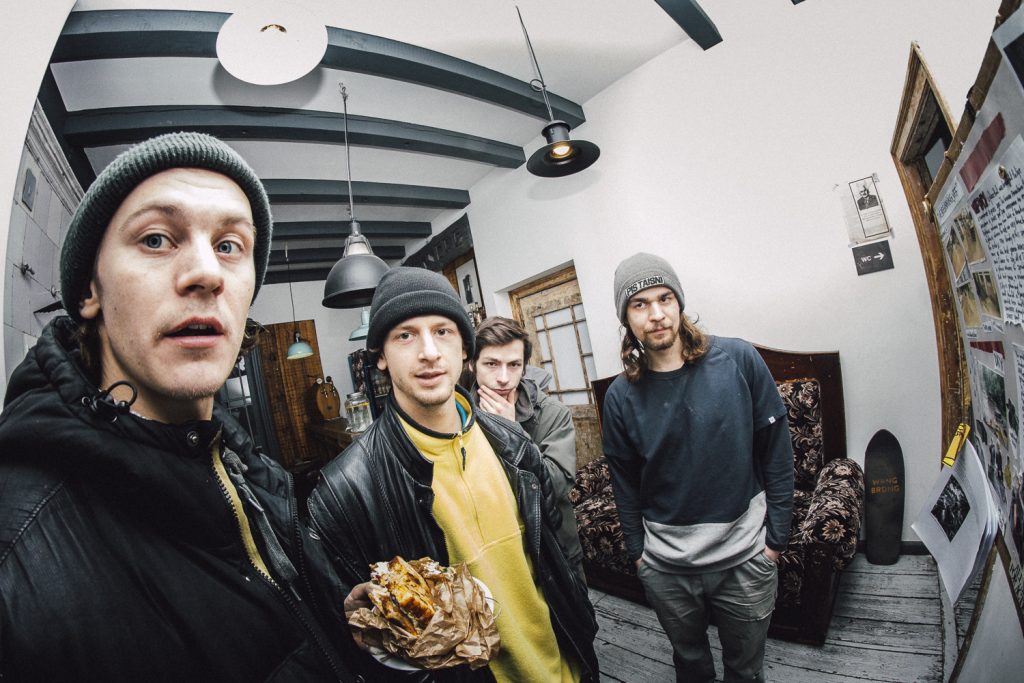 Fricis made a poster with VEF DIY story and a donation box. There is a rumor that VEF DIY might get torn down. So Fricis wants to use the donations to clean and renovate the spot to show that skaters care and need that place. Check the VEF DIY insta and make sure to donate. The donation box is now at Boards.lv shop, and then it will travel to the Spot Center and later to Clockwise.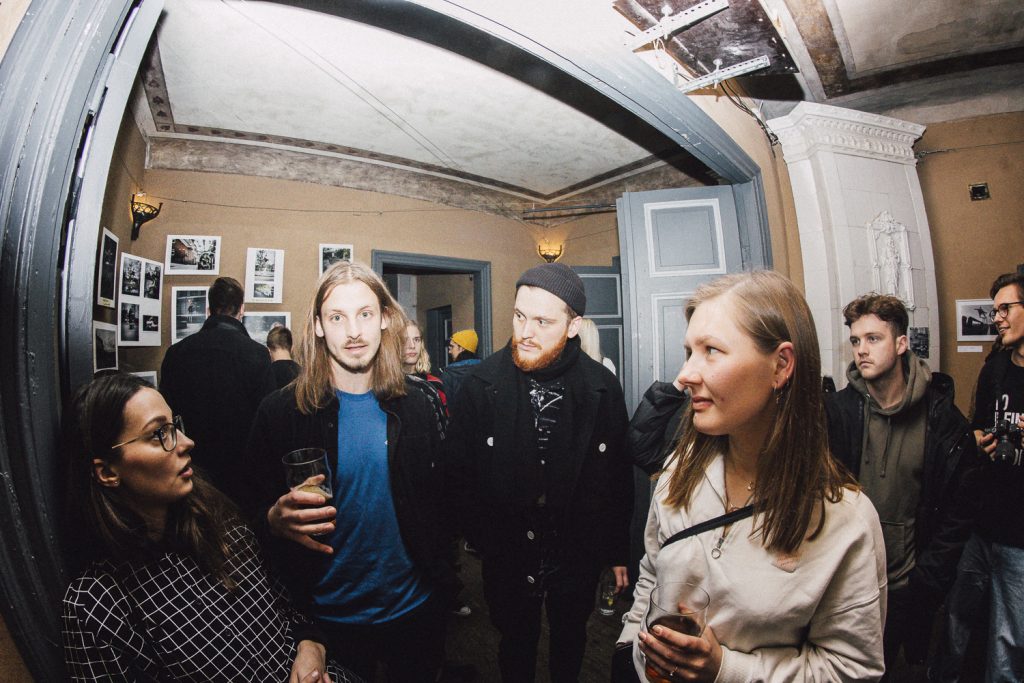 KKC being an amazing place has everything one's heart can desire. It just took five steps for all the guests to get in the small cozy cinema literally the next door from the exhibition. That was the time to start the next step of Skate Baltica – video screenings.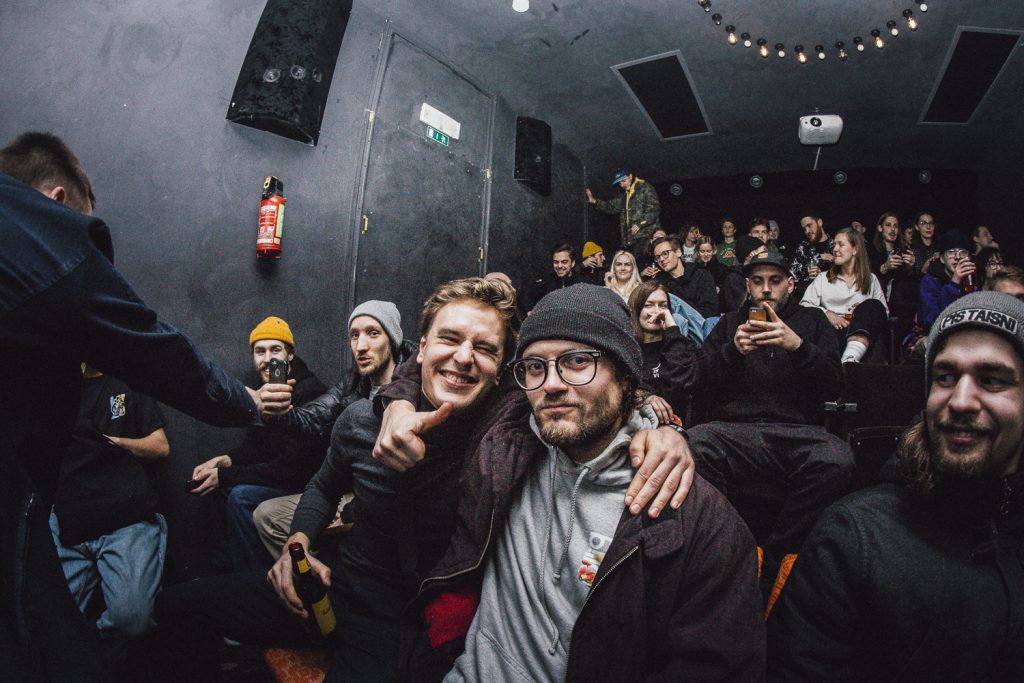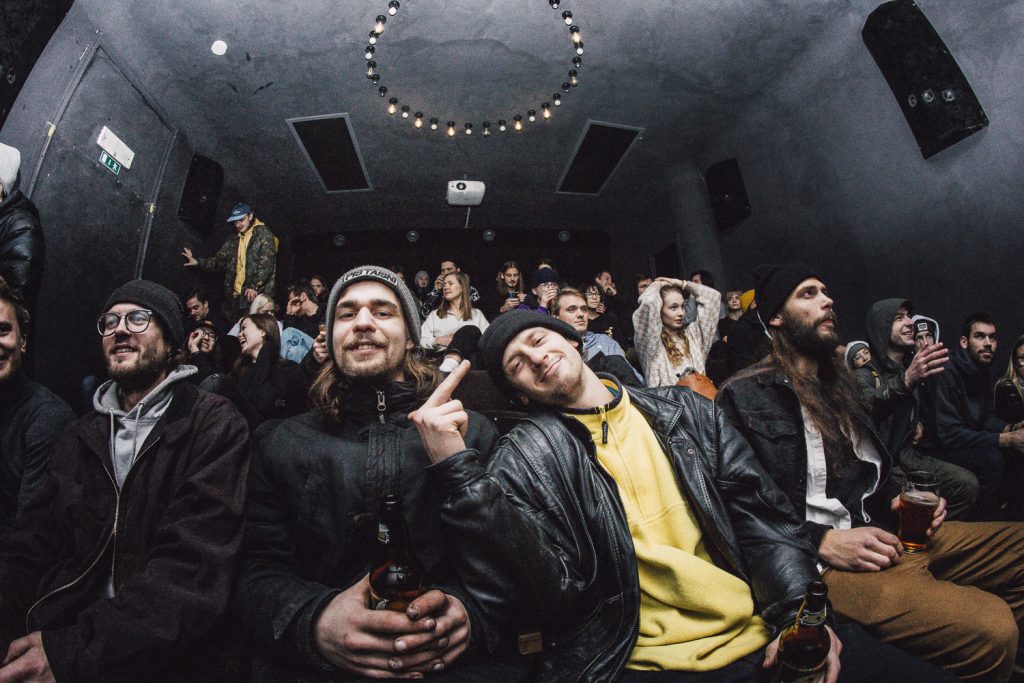 All Baltic states shared a glimpse of their scene: Fully Ghetto Gang from Vilnius presented their Promo video, Riga's Clockwise skateshop showed their trip video to Daugavpils (article on that coming soon), Arturs Nesaule presented his first street part, and RajonTV also screened a short video called Doodle. However, the biggest premiere of the evening was Siim Sild's movie called KAIFUUN. Tallinn boys filmed through out the whole year and put together a really good piece. KAIFUUN is going online some time after screening in Tallinn.
The cinema at KKC is so small and a lot of people didn't make it in, but don't worry all videos are obviously going online soon. However, the tiny space of the cinema creates a close friendly atmosphere. Everybody is sitting shoulder to shoulder, you can talk easily, exchange laughs and cheers for good skating.  And this is the best part of the video premieres. KKC cinema staff is always happy to host skate videos, as the excitement of the crowd is unmatchable.
RajonTV Awards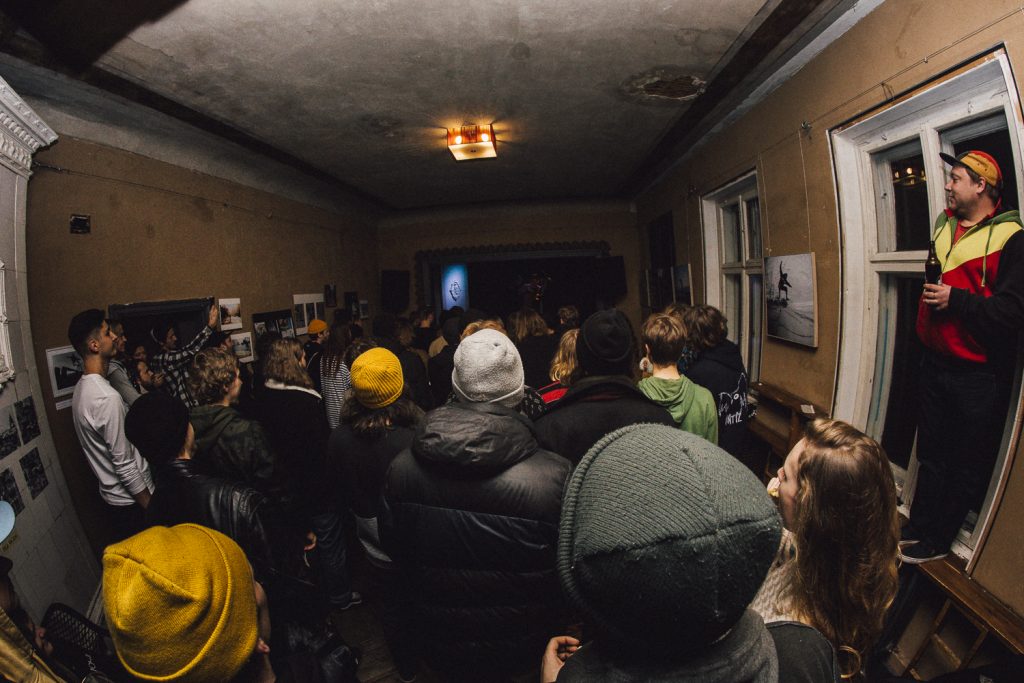 While the crowd was still warmed up from all the yelling and screaming in the cinema, we started RajonTV awards ceremony. The goal was to look back at 2019 and give out couple of trophies to people who excited us the whole year. In some cases the choices were obvious. In other cases, we had to think more and even debate. We hope everybody understands that this whole thing was completely new for us and it might not have been perfect. However, it is just the start of a great tradition that we will repeat again. Hopefully next year we will be able to give out more awards to more Baltic rippers. 
Here are the results:
Trick of the YEAH: Raul Urberg – Fakie flip Viru 9
Park Rat award: Andris Kaldvee
Photographer of the year: Nauris Dollins
Rookie of the year: Kernius Trakymas
Skater of the year: Inguna Skujiņa
Skater of the year: Fricis Štrauss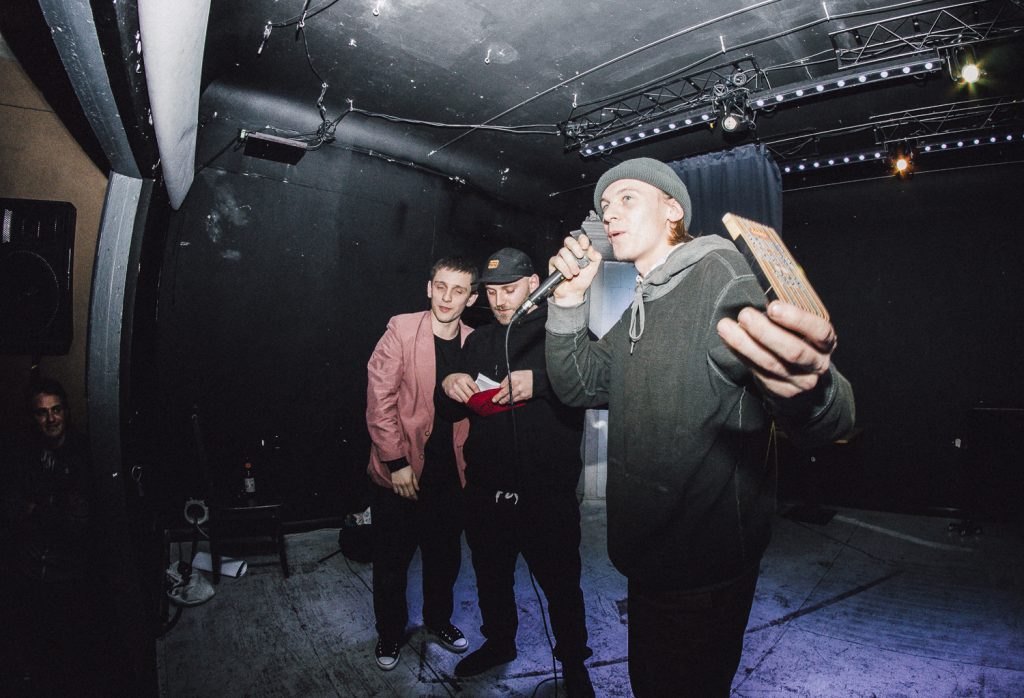 Thank you everybody for coming and keeping skateboarding alive. We definitely need more events where we can get together and celebrate skateboarding culture.
HUGE THANK YOU TO OUR SUPPORTERS