In the second installment of Filmers Worldwide we take a digital trip to the business capital of Italy: the city of Milan. The filmer in question is Andrea Di Liddo, better know to his peers as "Bakish" or "Sevial". Andrea is a part of Chef Family, a Milan based crew of long time friends dedicated to the skate scene and the culture of skateboarding. As the name of the crew suggests, these guys are Chefs of their craft and cook videos with genuine street flavor. No fast food bullshit. 
In this time for people of Italy, we decided to brighten things up and talk about filming, inspirations and what makes a good video.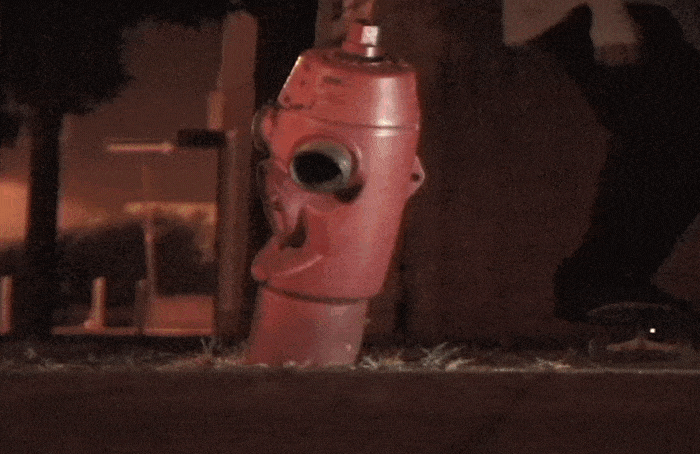 How did you start skateboarding?
I grew up at my parents' small town in the countryside. My older cousin used to ride a skateboard, an 80's shape old-school board. Wheels were bad plastic, but as a kid, I enjoyed going downhill down my garage slope.  Eventually the board ended up somewhere in the garage. Only years later, around 00's, I randomly remembered about it and offered my friend to go skate. I still don't know why it popped into my mind; skateboarding was not so popular back then. For an amazing coincidence, my friend got a skateboard too, so we met up and went skating. Since that day on I am committed to skateboarding. I feel extremely lucky, as I'm meeting amazing people all the time! And I also found love thanks to this piece of wood that is constantly changing my life.
How did you get into filming?  
Photography came first at the very beginning. We shot each other with my friend Marzio on a compact roll camera, on my very first skate-trip to Imperia, an amazing city near Genova, full of skate spots. We were skating and trying to immortalize the best tricks we got. Filming inspiration came when I got access to skateboarding on VHS. The first video I got was "Yeah Right!". The turning point was when I met some guys close to my age at my homespot, Milano Centrale Station, and we started skating together. Dreaming of making our own video, I bought my very first camera and a Century Fisheye (with adapt ring) by collecting money from the crew. The camera was a Sony ultra-compact model with touch-screen (pretty new for the era). To make it ideal for skate purpose I asked my uncle (handyman-genius) to build me a handle  from some sketch I drew on paper. The next week he came with a custom bike handlebars exactly the best handmade setup I could dream off. I was trying to imitate skate videos and learn how to film by watching a lot of them.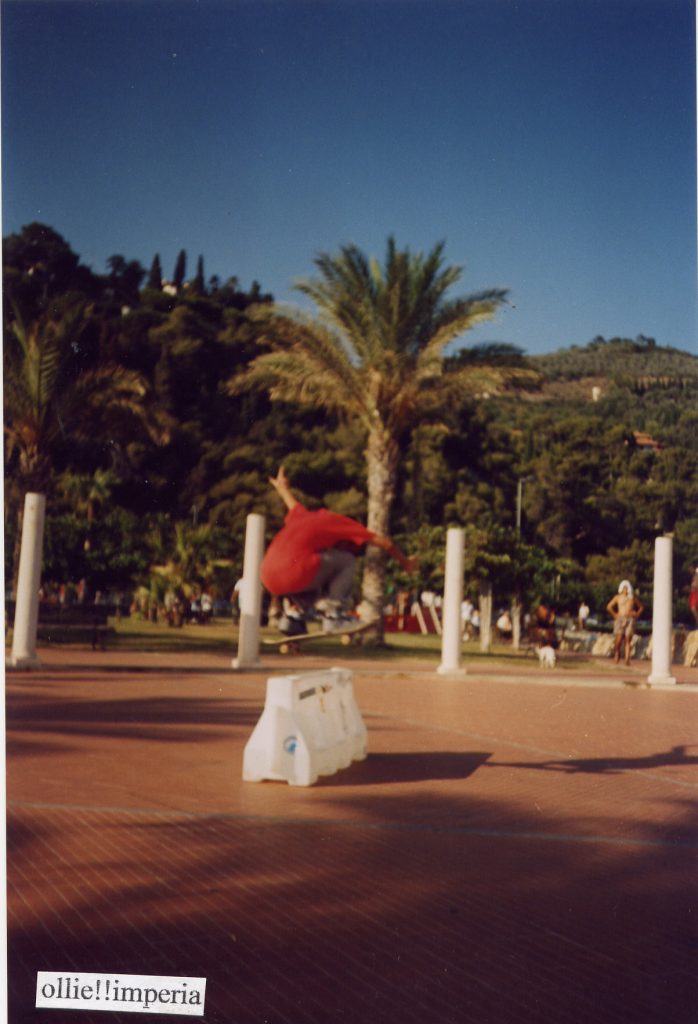 What are your memories about your early projects?
I was very attracted to videos and skate companies. Skateboarding was not only the act, but I wanted to know the whole process behind a video, a brand and then create my own story. We decided to give a name to our movement, so the Narcoteam was born. Starting from creating a logo for our crew, I developed a website, opened a Youtube & Vimeo channel and created a blog from scratch.  Everything, plus filming and editing, was eye-opening for me and became the foundation for my actual job career. With our very first full-length video we wanted to capture our progress and fun moments. As we grew up, upgrading camera and traveling more, we enlarged the crew and worked for a new video "Veritas in Tabula". My 2nd full-length got premiered in Milan and I released it on DVD. 
Did you grow up skating Milano Centrale? How was it? How was it to you see your home spot in so many pro videos?
Milano Centrale aka "MC" was for me, as for many other skateboarders, a unique playground for meeting, chilling, learning how to skate and on top of all that, growing up.

Everyday you get in contact with different types of people from businessmen to homeless, and you have to share a public space and relate with everyone.
My first time in the plaza was with my father, he told that this place was not safe back in the day and he wanted to check the area, but once we got there he was encouraging me to skate there.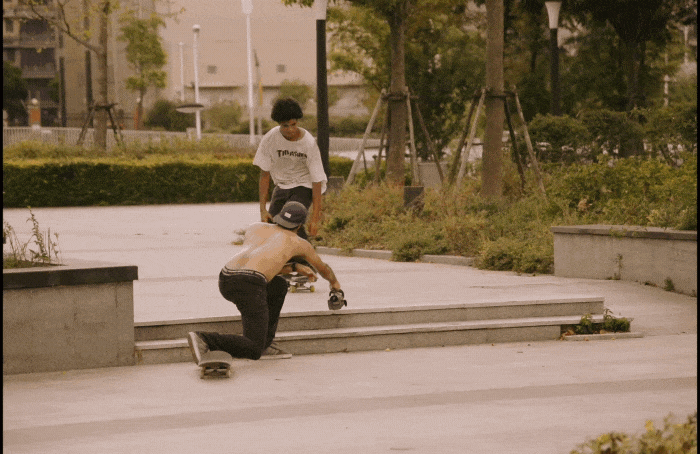 I remember this white marble sea of ledges, with skateboarders everywhere doing amazing tricks. I was scared and excited at the same time. Compared to countryside spot I used to skate almost alone back then, Centrale was not only perfect to skate, but soon became a place where I met my friends and a lot of  interesting people. But not everything was shining, there were a lot of pickpocketers and drug dealers. One day I saw a junkie inserting a syringe in his penis at 2 p.m. in the middle of the plaza. It's a ghetto in the middle of Milan city center.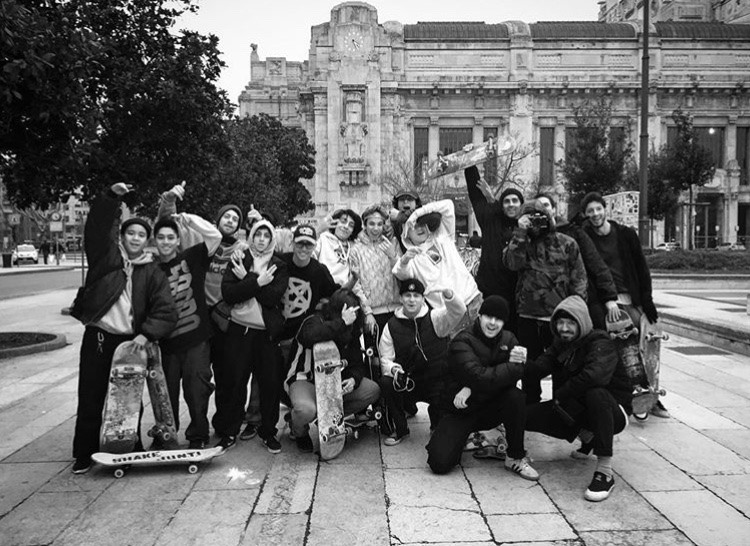 On the opposite side, Centrale was a Skate-Mecca where amateurs and pro came very often. People from many countries were there. I got the chance to meet and skate with Kenny Anderson, Mike Mo, Lucas Puig, Sean Malto and many others. When the big videos came, out it was funny to spot yourself or friends in the background eheh! But among many, in my mind, it was the local heros that were the true inspirations. Seeing skateboarding live was so cool! Seeing how they were skating and filming at Centrale, all that made Saturday afternoons a classic appointment.  Spaghettochild and Gianluca Mariani himself was the one who was documenting and at the same time be the OG local in Milano. As a young skater in the spot, seeing Matteo Di Nisio skating full-speed was pure goosebumps. Centrale is also the place where I met my brothers, René Olivo and DGD, co-founders of Chef Family with Andrea "Cisko" Ciniselli.
"One day I saw a junkie inserting a syringe in his penis at 2 p.m. in the middle of the plaza"
How did you get involved with Chef Family? What was Chef at that point?
Around 2009 I started working almost full-time as a motion graphic designer in a company. During the week, night time was my only chance for skating. At that time, "Rino" (René Olivo) was doing the same lifestyle routine. We know each other since long time, to me Rino and DGD were a great inspiration back in the days with "Day after Day" video. Chef at that point was 1 years old, with a full-length video and amazing rubrics like Chef Techniques. Rino knew I was filming a lot and made 2 videos, so he gave me his Sony VX1000 (that's exactly when my love with this camera begun). He also taught me how to set it up.
We started to film each other, sometimes till 3 a.m. even during winter hard times. At the beginning my footage was supposed to go in the friend section, but I was so hyped filming that I got 3 min and became an introduction part for Chef Family 2nd video "Legend of the Chefs" We made a big premiere in Milan and being introduced in Chef was hella cool!  Chef is what keeps me motivated and productive since 2010 and is always pushing my limit one step forward.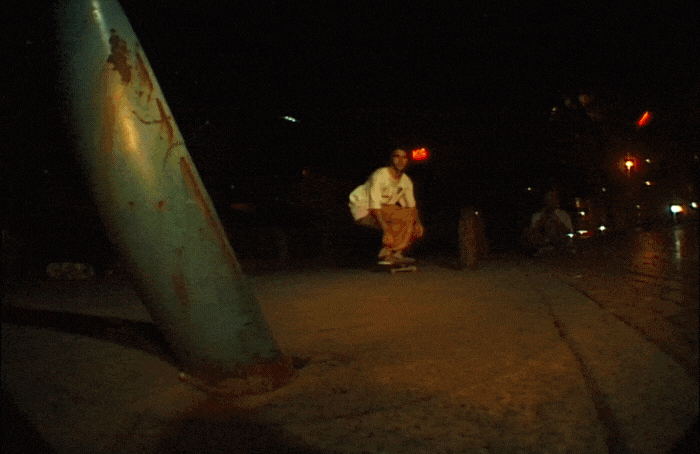 You seem to use CGI effects in your videos a lot. What do you think it adds to your videos?
When I saw Adio "One Step Beyond" and Joe Castrucci's "Mosaic" my mind blew up! Graphics and motion design were always my passion and great inspirations, and seeing applied in skateboarding videos was just combining two amazing passion together. CGI is that cherry on the cake, and sometimes make videos more recognizable and iconic. Take "Yeah Right" invisible board for example. It's also a way to power up a concept and a theme for our videos. [Editor's note: Andrea made the intro for RajonTV Game of Skate Championship/ his other work can be seen on his instagram]
Along with CGI effects, what do you think are the main components of a skatevideo?
There are many components, I will pick the most important for me. The choice of the spot and the searching for it. Filming avoiding mistakes and try to make the spot and the trick always interesting by experimenting points of view. Editing is fundamental to control the rhythm of a video or a clip.
You showed your interactive video to me. That is quite invoative. Can you tell about that?
What makes Chef unique to me is that everyone brings their experience and ideas into a calderon and this is the perfect recipe for a great dish! The double angle idea came after "Butterfingers",  a commercial we were asked to make as Chef for an upcoming car. We were telling an ideal story and our crew weekend filming routine. We were shooting a lot with VX1000 and HD camera, so an idea came in our mind. A double angle video where the viewers could switch between fisheye closeup and long lens with a button in real time. We wanted to bring a new idea and show a different perspective in skateboarding. Our informatic genius Gabriele Ferrari scouting for us the multiplayer technique and the project was ready to the online release.
"Butterfingers" Interactive Video.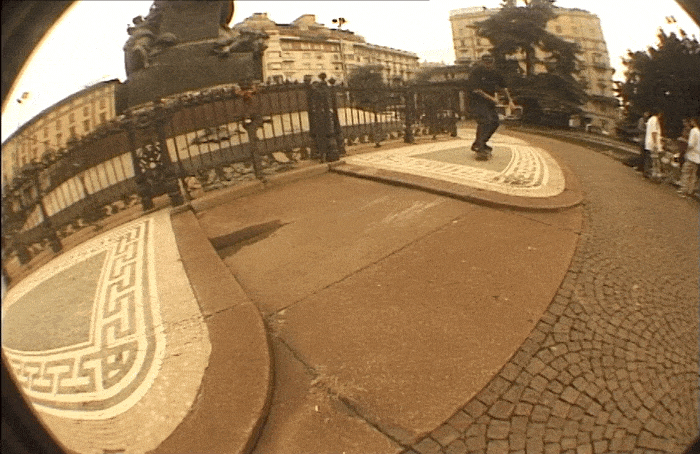 Although you try to have innovative things in your vids you still come back to the VX. What makes you use this camera?
For me, Sony VX1000 still nowadays the best skateboarding camera out there. With Chef we got 6 of them (only two work ahah) These are the main advantages of SONY VX1000: 
– Light and easy to move and pull out of danger.

– Audio that only takes higher sounds, perfect for pops, grinds and silent on bad flatground noise.

– Colours got this pastel looks and authentic vibes.


– MK1 fisheye lets you come close as fuck and gave you the chance to make ultradynamic shots. 



On the flip side there are obvious disadvantages of vx1000:

– Heads are always glitching due to 20 years of filming history.




– Tapes are hard to find sometimes.

– Repairing components are hard to find and there are few people who could fix it.
How much  do you skate and how much do you film?
At Chef we are mainly 3 skaters/filmers but we got also many friends skating and filming with us. I try to film and skate equally as possible. Since we know that we are consuming time of another skater we are really precise about filming and try to bring home quality clips with few tries. We often switching filmers to make everyone skate equally.
We rarely go for filming mission, we prefer sessioning together. I'm very pro positive about spots and down to film whoever skates with us in a session if something is worth.  We got an instagram account where we are choosing spot, called @milanoskatespots. Its very useful when you run out of ideas. 
[Check Andrea's part from 2017]
Who are some of the filmers that inspire you?
I am a DVD collector. I am into underground videos filmed with a VX. Around 2010 I was mesmerized by  "Overground Broadcasting" a video by Takahiro Morita from Japan who runs FESN [Far East Skate Network]
This made me curious about Japanese skateboarding and their filming style. I was blown away by the quality of every frame and the way they showed spots and tricks. Multiple angles, impeccable montage, collaboration with DJs. Everything combined made the video stand out. The natural evolution of the FESN movement is Tightbooth Production from Osaka. Filmers like Shingo Ogura and Shinpei Ueno who are today well known thanks to skatemedia.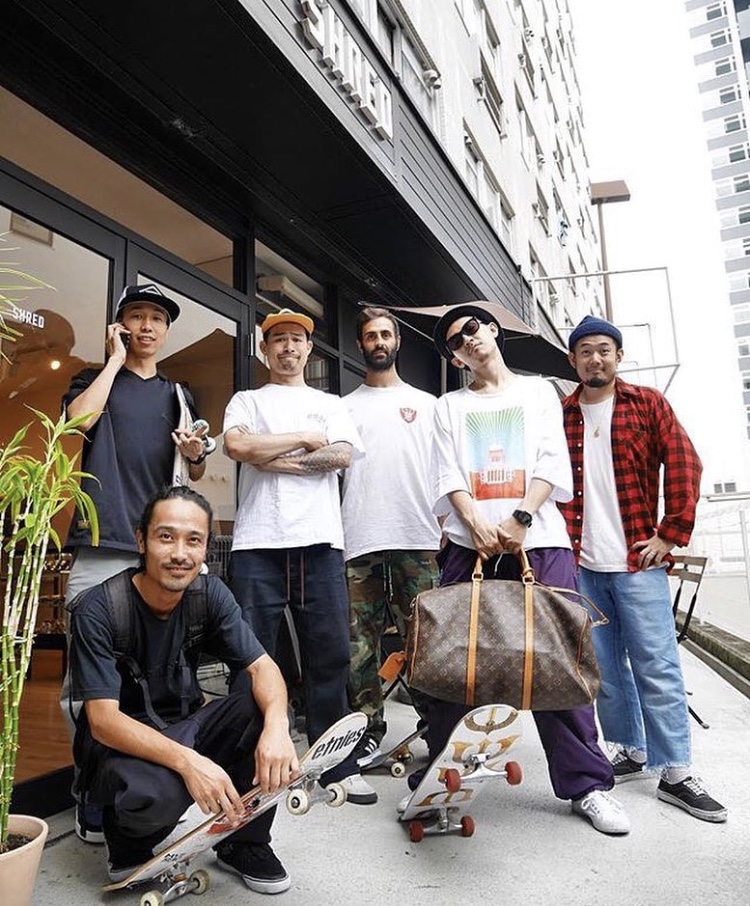 That is so cool. You  stayed in Japan with Tightbooth Production crew, right? Could you tell about that and what have you learned about their filming /skating style?
I lived in Japan for 8 months in 2015. Skating in Japan is hard and street skating is only at night time. Japanese skaters got their own strong style. I was  lucky to skate and live with a real legend in Tokyo, Lui Araki. We skated also with Naotaka Ohya, the transition master and a true OG legend.
When I managed to travel to Osaka, I finally met Shinpei and the TBPR crew. Shinpei is a great mind behind the LENZ projects, Shingo Ogura is the most amazing human being and camera man that I know. One night I was guest at Shinpei's house, he is a great friends and hosted me couple of times and I got the chance to cook Italian food for his family and friends.
We talked hours and hours about filming. Shinpei got a strong perception of filming and editing. He is leading the crew and does it really well. He looks at filming and skateboarding as a job, for him and his fellows.  Filming missions  involving generators and spotbooks; everything is precise and calculated.
I respect their modus operandi a lot. 
The people behind the lens, both photographers and filmers, are as important as skateboarders. Fact.
Aside from making skate videos, what else does the Chef crew produce? 
During years we produced many different contents and we are still scouting for making new stuff and collaborations. Documentary was what gives us the best chance to tell a story and YES we do love stories.
We made a Centrale Documentary "99 Problems but a trick ain't one", that tells the history of one of the last and more iconic free-to-skate plaza. In 2014 we decided to bring the crew and some friends to a 1 month trip to China. We brought equipment and microphones to document the amazing tour. The results was "A Taste of China" and we decided to premiere it in Cinemas in Rome and Milan.

But docs for us was also the way to remember something or someone.  When in 2017 we lost our team rider and close friend Takuya, we wanted to remember him in the best way we could. We developed a story based on his incredible life and narrate it in Japanese. "Takuya" was well recognized worldwide and won prizes in Italian and Portuguese film festivals.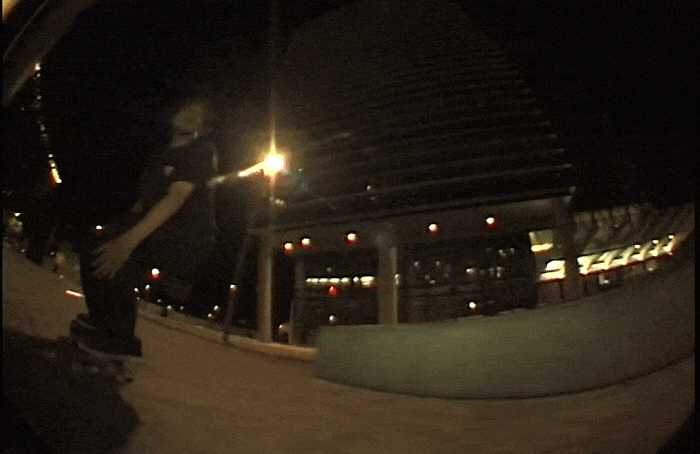 There was a time when Chef was turning into a brand with both soft and hard goods. What happened why did it stop? Did it stop at all? (It seems like having a brand is really cool, but what are the realities of that)
The foundation of Chef was basically a necessity, create boards and goods for the riders. At the beginning our friends were the main clients but then the request became bigger and even from abroad. We were doing collections every season and meetings every week to plan the work.  In 2017 we also opened a temporary shop in Milano to sell the products direct.
Economy here is not doing well since 2008, and we ended up working more and skating less, also many skateshops shut down due to economical problems. With just the online shop we figured out this was not the right path to take. We had a meeting and decided to close the online shop and slow things down.  Today we keep producing stuff in collaboration with trusted friends and skateshops. It's our decision to keep doing what we love the way we want to do it.
[MILANO RAGES: CHEF x MAGENTA video from 2015]
What do you think is the role of a filmer in a scene? Are filmers treated well in Italy?
Filmers are PURE GOLD. They are documenting the skate scene, and even the small ones deserve to be told and represented. Our role is also to describe our time and people who are keeping the city alive and vibrant with projects, video premiere and words of mouth.
Italy is far from recognize filmers as a precious resources. Brands should pay and help filmers to realize projects and organize premiere to make the scene strong. And the scene must payback and support.  In Milan right now there's a new generation of filmers, keep a close eyes to Pat Frunzio's "Meaningless Productions" and the young Luca "Spezzatura".

The people behind the lens, both photographers and filmer, are as important as skateboarders. Fact.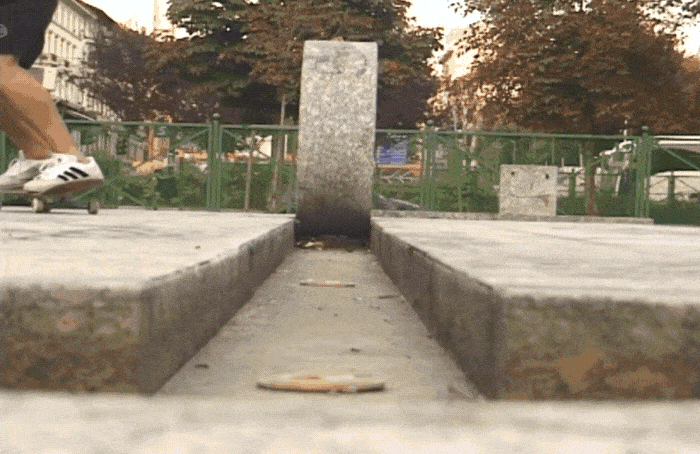 What is next for you and Chef? Last words?
I want to thank my mom and dad and my girlfriend for the love and support. I want also to thank you Edvard for the great interview and the good times together, looking forward to meet you in Milan or anywhere soon.

We got lots in the very next future for Chef! We premiered a a skate documentary called Spaghetto Child 3 It's a piece of Italian skateboarding history and present, combined! A big collaboration it's in the making and 2020 will probably see some more clothing and board release.
Stay tuned at @chef_family and subscribe to our Youtube channel!
We wish all the best to the people of Italy during these sad and hard times.