Baltic skate scene is growing and the necessity for more media coverage is growing as well. And here we have two guys from Estonia, Andres and Frank, who decided to create their own media outlet with a physical form, a rare decision in today's climate. Since everyone is a sort of walking media company these days, some might say it is pointless to make print mags and, even, that print is dead. However, we, skateboarders, are no strangers to seemingly pointless activities. It is 2020, but we are not willing to give up our beloved VX's and Hi8 cameras. Because the vibe these tools create is what skateboarding is to us. Mags are somewhat in a similar category. If you want to enjoy a photo, it will be 100% better in print than on a screen of your super sick phone. All of these "pointless" things make skateboarding special. They are like hidden streets and squares of your favorite city. Without these hidden jems you can't enjoy skateboarding to its full potential. So get to know more about HARI, Baltic print skate mag, make sure to get a copy and enjoy skateboarding to its fullest. 
How did the idea to make a print mag appear?
Frank: We first came to that idea during winter 2019. I think that in the beginning we actually had an idea of making a photography zine. Something small just for ourselves, but at some point we discovered that we have lots of skate photos and there isn't any physical skate mag in the Baltics, so why not try to make one. So we got together with Andres and Tom (Toomas Seppänen) to discuss the idea and start the process. Tom has also been really important part of the mag because he's been like a mentor for us, helping with different questions and giving good advice.
Andres: Also the idea of printing photos was really appealing to me. At the time, me and Frank shot a lot of skaters, and just uploading them to Instagram feels like a waste of time and effort. Instagram nowadays is starting to become "like and forget" type of platform. Printed photos last forever.
Frank: Yeah true, it's always been really cool to see your own photos hanging on the wall or have them printed and be physical.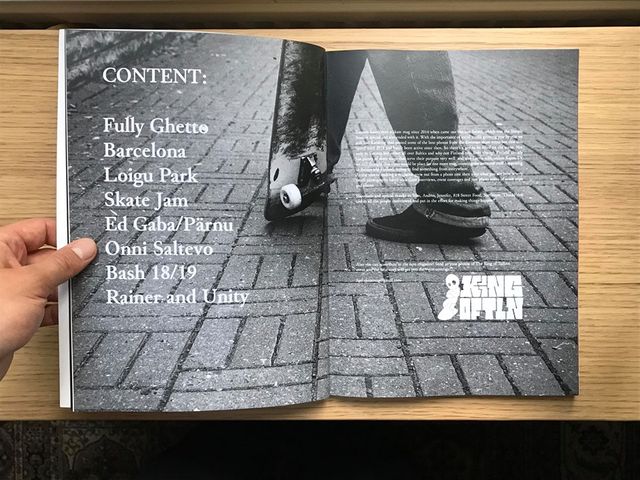 What does HARI mean?
Andres: Directly translated from Estonian, Hari means a sweeping brush. The idea came from a brush we took from a local skateshop, to clean the spots we skated in early spring of 2019. Also, not like many other Estonian words, Hari is easy to pronounce for foreigners. We never returned that brush, I still have it in my closet.
Frank: When Andres told that story we were hanging at Tom's place and we just realised that this might be the name for the mag. We had a few options but none of them didn't quite seem to click. Hari felt also like a little bit strange name for it so in the end when I was about to complete the mag and I had to design the cover I had to double check if this is the name that we're going to settle with.
Is the mag Baltic? Or how far do you want to spread out?
Frank: Hari has stories from Latvia, Lithuania, Estonia and also something from Finland. In the future maybe we'll also make some event coverages from somewhere further too, because for example Sweden is also really close and why not get some stories from Russia also.
Andres: Yeah, we would love to cover every single event in the world, probably, haha. But unfortunately it really comes down to time and money. Financially, we almost get nothing out of HARI, so we still need to work our jobs or just hustle around to get the bills paid. Frank is setting up his own studio and I am  in the middle of opening my second company, besides the commercial photography.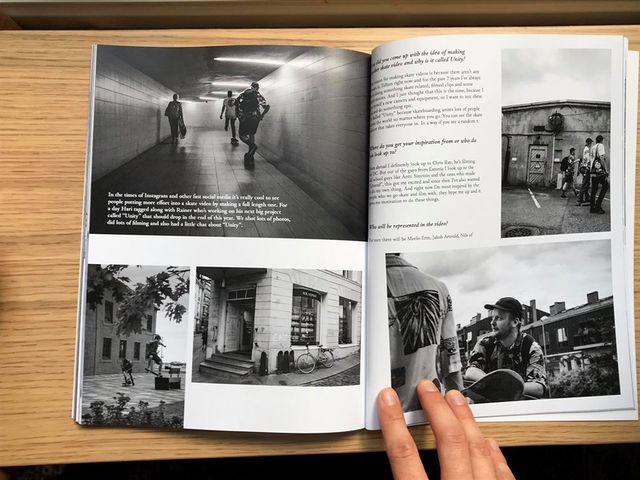 What kind of stories are you looking for or what do you want Hari to feature?
Frank: The main focus is to try cover the coolest events happening in Baltics and Finland, it might take some time and lots of effort to reach to that level though, because we can't make it everywhere and that's a good reason to collaborate with other photographers and people to help us put together the stories in the mag. And with interviews we want to shed some light on all the interesting characters and rad crews we can find from the Baltic skate scene. Also we want to create some quality photography that would be enjoyable to view on paper.
What kind of stories you have in the first issue?
Frank: In the first issue we have some photos and stories from last year and even 2018. But because this is a printed mag we believe that it has that timeless vibe to it and it's always nice to look back at events that have already happened. There are also a few interviews with some really cool people from the Baltics and Finland. Onni Saltevo from Finland, who was supposed to skateboard at the coming Olympics, badass Fully Ghetto gang from Lithuania and from Estonia we talked with Rainer Kaur who has a skatevideo (Unity) dropping in the end of this year. And a few more stories and lots of photos that you have to see yourself!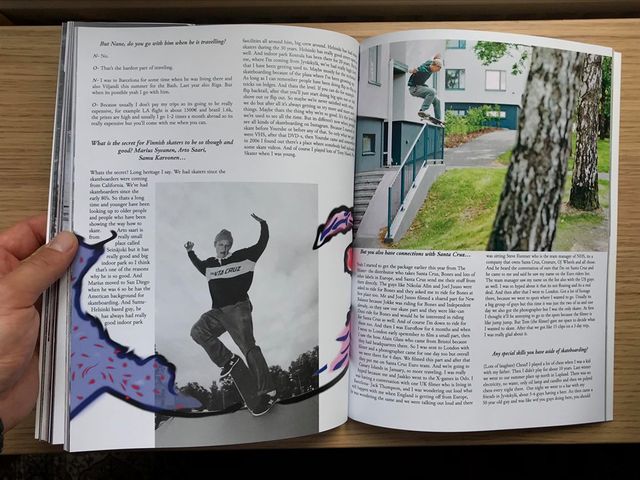 Are you open for submissions from photographers, writers etc. How can people reach you?
Andres: Hell yea!! We also mentioned it on the introduction page of the first issue. Hit me (@sonajalg) or Frank (@frank__abner) up on Instagram, or hari.skatemag@gmail.com.
Where can people get the mag?
Andres: Currently, the only way to get the mag is to pre-order it. Hit me (@sonajalg) or Frank (@frank__abner) up on Instagram and we'll put you on the list. The price is €15, + shipping, if you're located outside of Estonia.