One of the best thing about skateboarding is that it gives you a lot of opportunities to express yourself. Take Arturs Bogdanovičs for example. Aside from being a heelflip virtuoso, Arturs also makes a skate bag brand called Sumka and shoots top-notch skate photos.
This year Arturs took his photography pursuit to new heights. He made a print book comprised of his photos over the years. To say that it is something unusual, would be nothing. There's not a lot print in Latvian skateboarding. In fact, we haven't had any print since Triecienspēks skate mag which ceased to exist 9 years ago. This makes a skate publication fresh and exciting.
Arturs' photobook is called "Охота на Молодость" (ohota na molodostj) which translates as Hunt for Youth. So, we met up with Arturs at LNB to have a quick chat about his new book, his preferred hunting tools and, of course, heelflips. 
When did you decide to become a heelflip guy?
I never decided to be a heelflip guy. Just kickflips never worked for me and heelflips did, so I stuck to them. Later I learned all sorts of variations with them. Kickflips are still not working well though.
I can't recall you doing just regular heels on gaps and stuff like that. You usually bs heelflip every where. Are bs heels easier for you or what?
Yeah, I prefer variations of heelflips more I guess. I used to heelflip everything all the time when I was a kid. I used to do them on every obstacle all the time. But, somehow, it got out of control. Now I don't feel comfortable with regulars one unless I do them into manuals or slides. Even on flat it feels lost for some reason.
Let's talk about your photobook. How did the idea came about to make a it?
I have been taking photos for 3-4years. All photos in the book are from that period. I always wanted to show my work. I post online, of course., but I never showed everything. So, this book is like a showcase of the things I have saved. Something special. It took me some time to come up with the right concept. At first I though to make an exhibition, but than I though it wouldn't last long. I wanted more. I always liked the idea of print, and I enjoy mags a lot. Whenever I travel I try to get some mags. Even if I don't read all of them, I like the idea of having them around me.
If it makes you happy and brings joy, why should it be reserved only for the youth?
On social media you can see how many people seen your photos. But with a book it is different, you don't have that data. So, how many people see it is irrelevant. The quality of the interaction and the process is important for you, right?
Yes, exactly! I knew right away that I won't sell all copies and that there won't be a huge hype around it. But the process of making the book from start to finish, the way I want it was the main driving force for me. I learned how to make a layout, learned about printing. And then in the end you get the book in your hands and it is finished. You show it to your friends and they can't believe their eyes. At these moments you realize that it has a different value.
What do you think about books in skateboarding? It is an interesting combo and might seem unusual for some. 
Skateboarding is everywhere now and you have seen what I mean at Pushing Boarders yourself. Skateboarding has always been associated with art. Books, literature and art. In my opinion skateboarding fits there nicely.
How did you come up with the name for the book?
Well, I am Russian and there was a moment when I felt a bit uncomfortable with that. I was a bit shy about that. Then I realized that it doesn't matter am I Russian or not; it is just cool that I speak this language and that's it. I started to speak Russian more and more. I also like to write and draw stuff on my grip, so one day I decided to write something in Russian. And then this phrase "Ohota Na Molodostj" just came out. I wrote it and people liked it. It sounds cool. I translated it to some people, and they liked it  too. So I stuck with it and later it transferred from my grip to the book.
That's cool. 
Yeah! Also, the phrase "Ohota Na Molodostj" made perfect sense for my book, as it  encompasses my whole photo portfolio and perfectly sums up what I am up to. It has this idea of age. We are getting older and, for example, my aunt always asks me, "Oh, you're still doing this shit of yours?" For a lot of people it is still like that. Skateboarding, photography and chilling with friends is considered something you do until you are 18. It is for the youth. But if it makes you happy and brings joy, why should it be reserved only for the youth? That is the idea. I feel like it is the best to have this desire for youth in your life.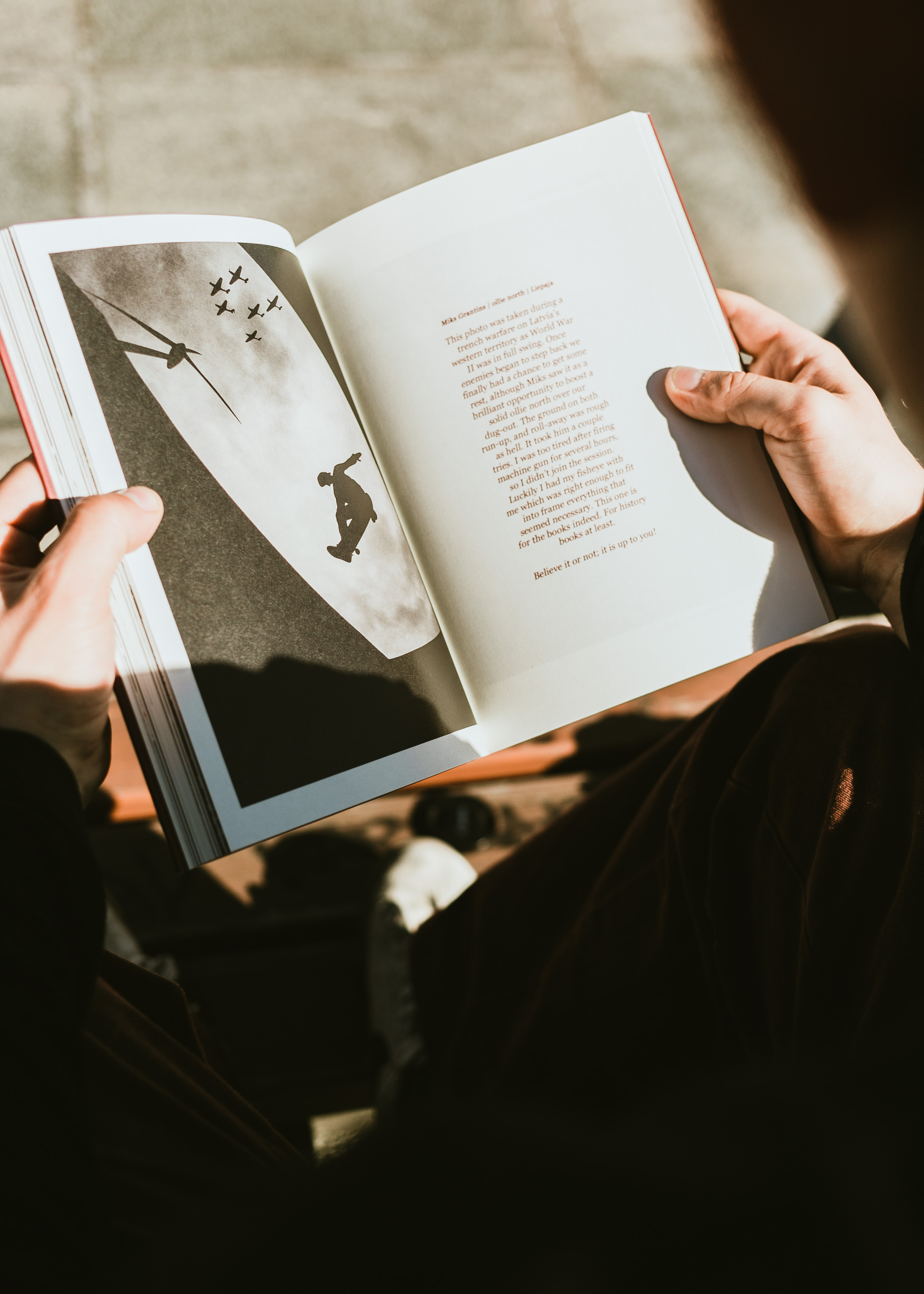 What about calling the book in Russian? You are well aware what some people think about Russian language here in Latvia.
A lot of people though that the whole book is in Russian, but it is actually in English.  But I wasn't worried to much about that. I transcribed the title, so everyone could understand it and read. I think it sounds good even if you don't understand it. But yeah, I didn't receive any negative feedback regarding the name. Mostly people showed interested especially those who don't understand the title.
So, how do you hunt for youth?
Like I wrote in the book, my skateboard and my photocamera are my hunting weapons.
What do you plan to do next? Will you make more print stuff?
Yes, I would like to make something else. I am definitely going to continue shooting photos and, of course, skateboarding. I will continue to combine these two pleasant things in my life.
Get "Охота на Молодость" in Riga book stores and boards.lv
Follow Arturs on insta 
UPDATE 20.12.2020 [OHOTA NA MOLODOSTJ is available internationally via POLOMINO]
More interviews: 
Madars Apse – DC Domino
HARI skate mag