2022 was an exciting year for Latvian skaters. Like always it was special thanks to selfless fanatics that roam in our land. Thank you to all who make this scene so special. In this article we would like sum up our observations and point out some moments that made 2022 memorable to us. No particular order here and only s
MEME PAGE
In 2022 we got a much needed independent voice in our skateboarding space. Latvian Skater meme instagram page provided funny and witty memes mixed with throwbacks to rad skating. There were occasional criticism posts too, and for a second it felt like anything you do from now on is observed by an anonymous gatekeeper. The page did entertaine us with weekly posts, but as of now has been silent for some time. Well, it only shows that the attention span of the admin is short and that they are a human after all. Still, let's hope we'll see more Latvian skater memes in 2023. 
Chaos: the New contest format !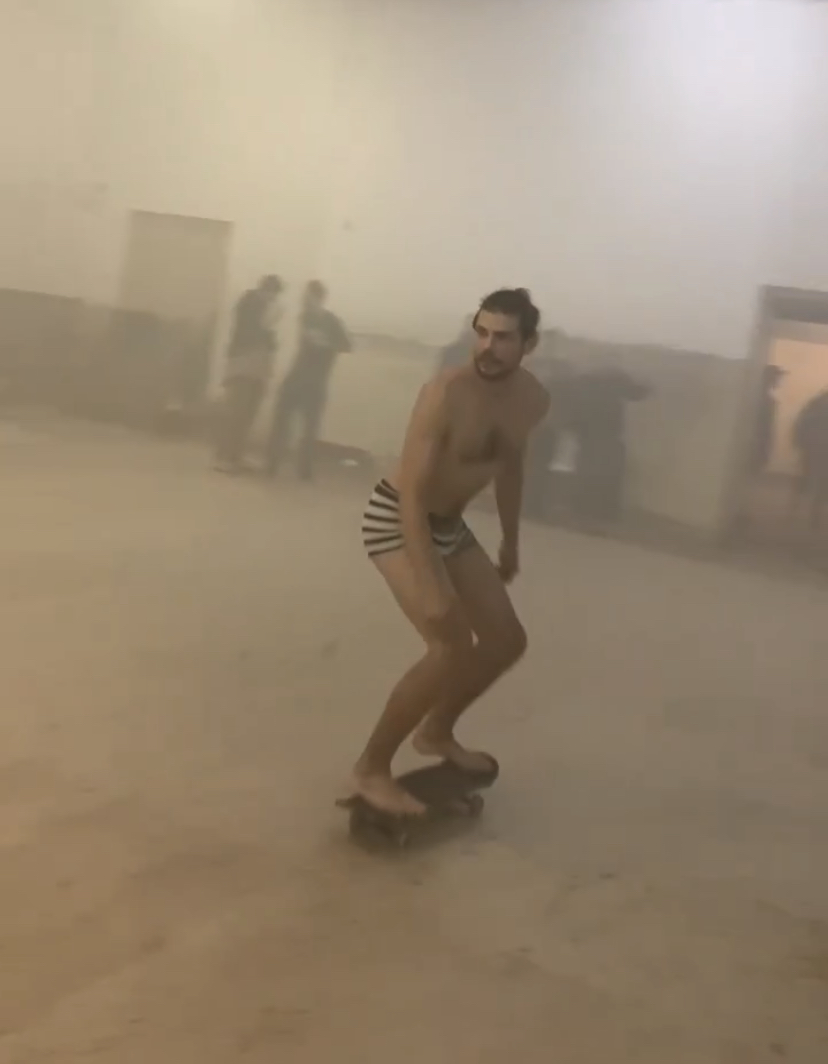 In 2022 Latvian skateboarding community contributed to the global skateboarding competition  landscape. We didn't raise a new champ (at least not yet), nor did we invent a new skatepark element (like a B frame or smtn). No! We have invented a new skate contest format! Behold—Chaos. There's been runs, best tricks, death races, and jam formats. Now Chaos is in there too. Latvian skate crew by the name of Nolemtie have pioneered "chaos" a decade or so ago. But it wasn't until 2022 that it has been officially registered and practiced. Isolator Madness and Clockwise 10 years party have both toyed with chaos a little bit. But it was Nolemto Haoss 4 and Liepaja's fabulous "HujakFlip" that put capital C in Chaos last year. There's no set rules or guidelines to chaos format, but trust us, you know it when you see it. 
"Rudofs Robraz, yeah I know him"
Building his career Madars has gone far beyond what's expected from a Latvian skateboarder. He's gotten a bunch of sponsors, appeared in mags and vids, went to the States, got more sponsors, shook hands with Twan, and eventually turned pro for Element. In 2022 Madars took a step even further and appeared on skateboarding's most popular podcast—the Nine Club. On the show, Madars told his tales and mentioned Latvian skaters which resulted in Crob butchering Rudik's name. It is not like Rudolf is some exotic name, right? There's a bunch of Rudolfs' around, like Santas' reindeer for instance. Still to complicated for Crob. Anyway props to Madras for giving our scene a mention. RajonTV also got in the mix there, hehe.
Events, events, events.
The presence of LSK (Latvian Skateboarders Collective) was strongly felt in 2022. The year was full of events of all forms and sizes. Right from the start we had LSK x Tikari Season Opener with RajonTV Awards, game of skate at Maxlas,  Hippy jump at Miera, Go Skate day, Glass Skate event in Pardaugava, Session at Griziņš, , the game of skate and hang out under the bridge.  LSK shut the year down whit Isolator Madness and Isolator indoor opening. Along with LSK other organization made cool events too: High Ollie contents in Ventspils, Big Rail Session with BMXers and Inliners by Riga DIY, and Clockwise 10 years party. There's probably something missing, but still there were a lot of reasons to meet up in 2022. 
TRASH AT LNB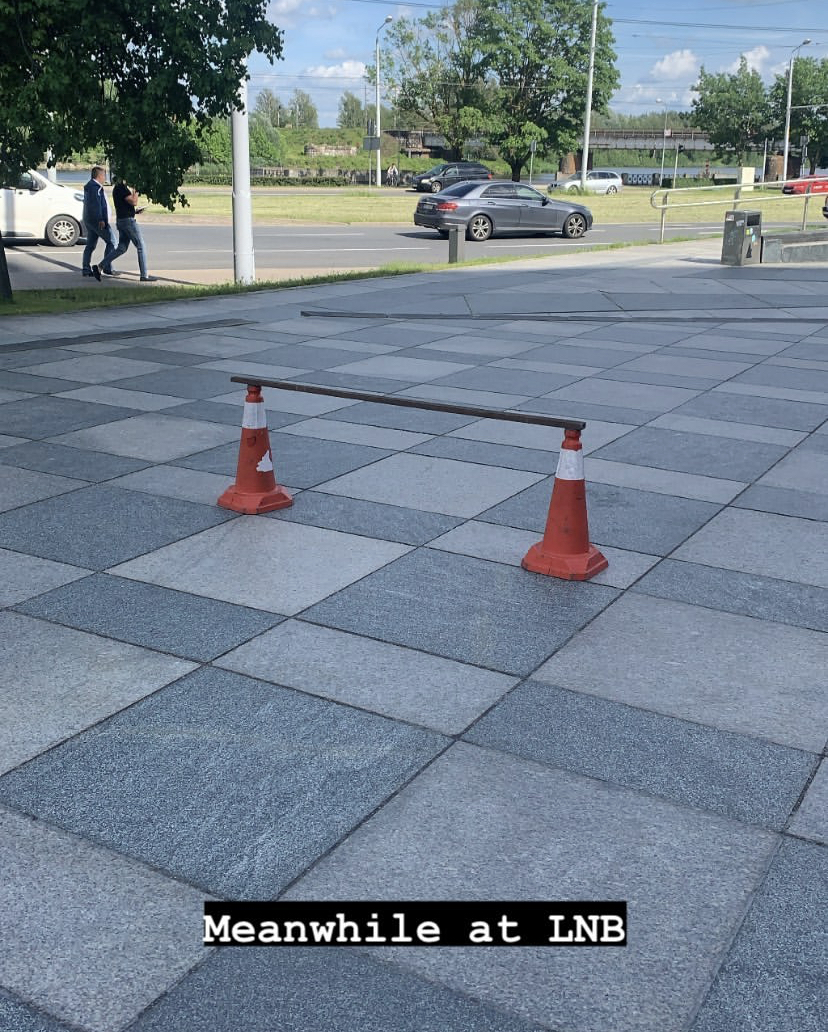 Here at RajonTV we try our best to keep LNB alive. #lnbledgereport and Boss of LNB are among our attempts to bring more attention and life to the spot. In 2022 we understood that we could make LNB more attractive and fun by dragging random skateable trash there. Some unknown hero started this by bringing two street cones to LNB. These cones made LNB feel fresher and it was clear that more stuff is needed. During Boss of LNB we brought a kicker and a barrier which changed the spot even more. The verdict: we need more trash at LNB. The barrier is still there, and maybe other objects would stay too. Only one way to find out!
Latvians International
Every year Latvian skaters make appearances in skate vids from other scenes.  In 2022 Kristofers Ozols had some clips in Grant Dawson's videos out of London, while Boga had his heels in a Zwitzerland production, by Nick Heurberger. Always nice to see our mates skating hard and representing.
 UZVARA GAWN
On August 25,  we saw the literal fall of one of the the biggest symbol of Soviet Union's occupation of Latvia, the Victory Monument. The obelisk and the adjacent monument complex was demolished following the Russia's invasion of Ukraine in February of 2022.  It is not a secret that Victory Monument, better known in skateboarder's circles as Uzvara, was a classic skate spot that's been skated by at least 3 generations of skateboarders, if not more. However, we strongly doubt that there's a single skateboarder that is going to miss this place. The real meaning of Uzvara and all of its symbolism for our country significantly outweighs our skate brain feelings towards it. Looking forward to see what the future holds for this location. 
RAINIS REMAKE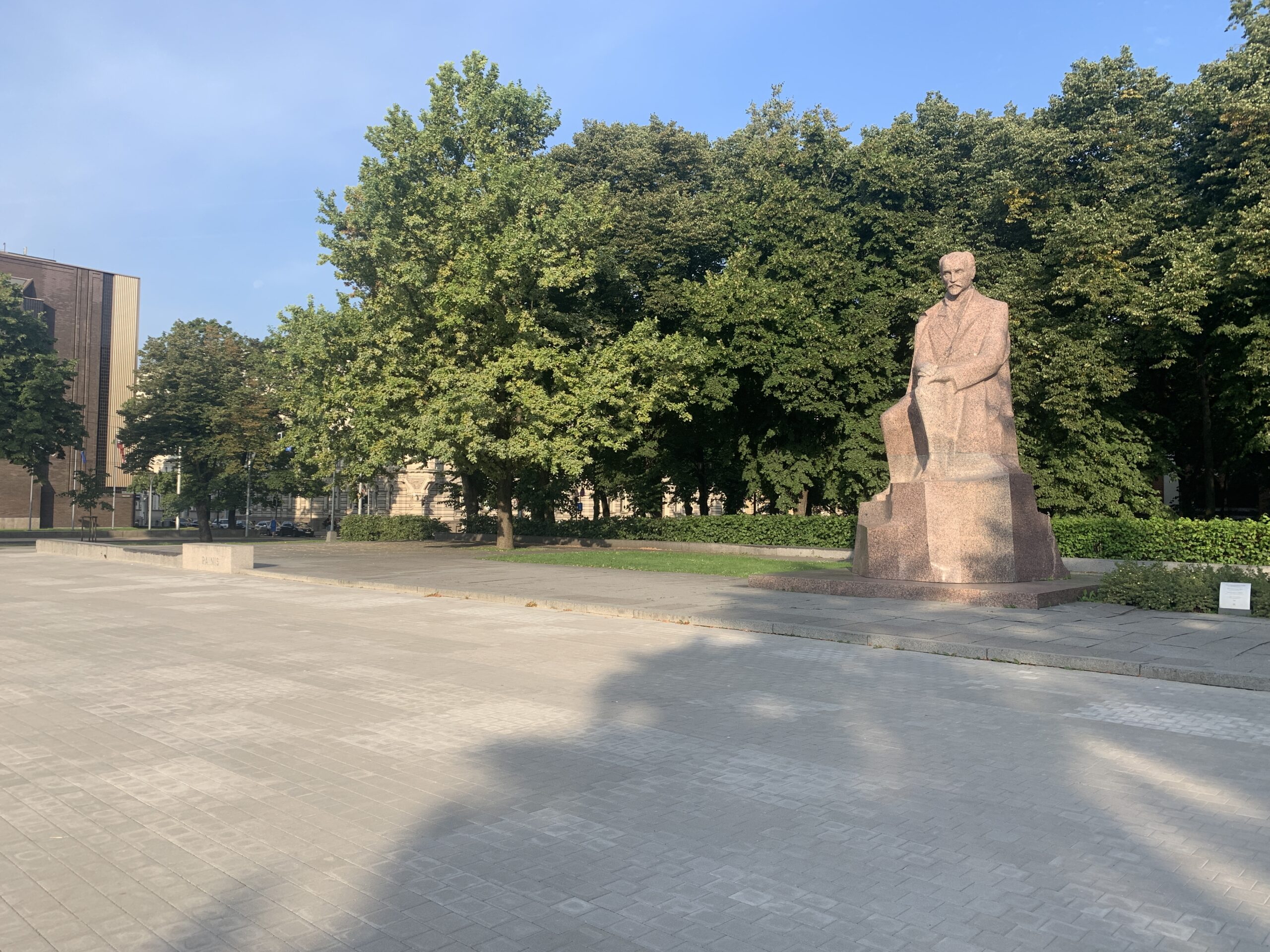 Like an old movie from the 90s, Rainis made a comeback in a new and refined form. It's still the same plot and characters, but the CGI is new and the theme song is remixed. Apparently, Riga's skate scene was hungry for a spot like that. The almighty Maxlas was partially abandoned in favor of the smooth yet gritty Rainis experience. The Trank boys ledge enjoyers found a home there, as well as others who like popping over stuff. Rainis also got a taste of modern skate trends with an addition of a ride on grind. All in all, the new Rainis remake is fun but still challenging. However, not as challenging as it used to be of course. Old heads complain that it is easier to ollie over the big ledge now, "I'd like to see them ollie it back in the days when there was no ride away", said one OG in a private conversation. There's always going to be people who like original version better before the remake. One thing for certain, new Rainis is a great addition to Riga street skating experience. Now on a warm summer evening you can cruise down Skolas street to Maxlas. Play a game of skate or practice flat. Then take your session to Rainis, do a few noseslides for ig strories and just chill on the ledge under the tree. Life is beautiful sometimes, isn't it?
Also:
Vans Baltics Weekend
Kuramo Voyage
Trank Boys "Pop The Trunk"
Keep it Skating
Riga City Series