Another year has passed, and Latvian skateboarding is still in the same place as before. What this place might be you ask? It is a special place. As always most of the best things that happened around here were DIY initiatives by selfless fanatics. Rarely any budgets or any other gain was involved, so everyone who's in the scene do it because they enjoy it. And that is pure and beautiful. 
In this quick recap we look back at some of more memorable moments in our  small scene form 2021. This is RajonTV view on what was going on, so if you think we missed anything, feel free to express yourselves in the comments below. 
Linards PRO!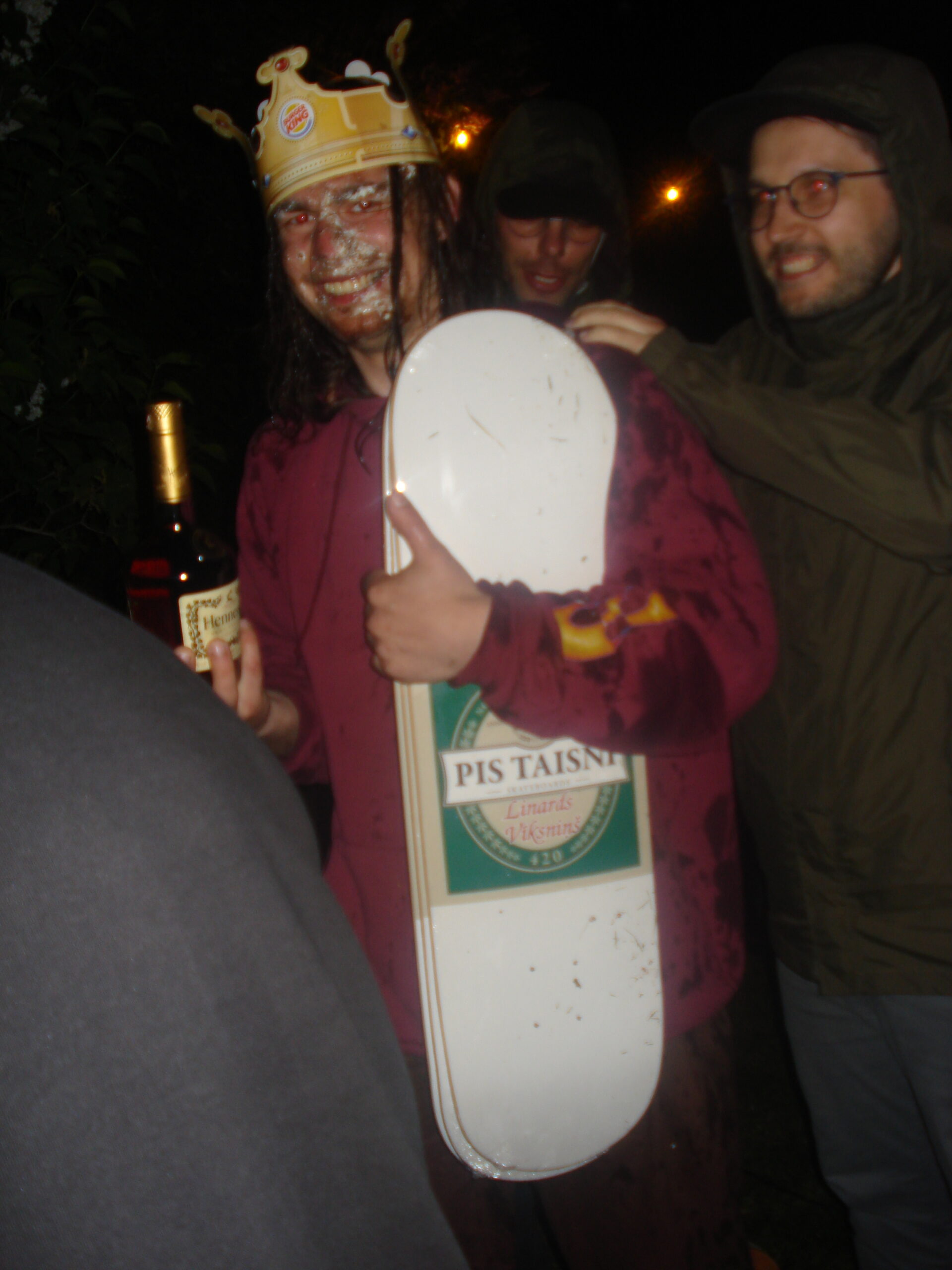 Linards Viksniņš pro inauguration was the most talked event this year! Linards  already had an interesting skate story. He grew up in a small village of Grundzāle and developed his powerful style skating DIY constructions in a shed. Upon arrival to the capital, he quickly got noticed and hooked up. That could have been the pinnacle of skateboarding career development in Latvia, but no! Linards went further. In summer of 2021 Straight Forward Skateboards turned Linards pro! This made Linards the second professional skateboarder in Latvia. He even got paid in beer.  Congrats Linards! We love you!
Viss Taisni
Viss Taisni by Straight Forward Skateboards was the biggest video in 2021.  Armands Baumanis, the video author, took the film on a premiere tour around Latvia, making three premieres. Every premiere had something special and we will mention some of these special moments in this list too. In a classic Pis Taisni fashion the video had a lot of surprises, hijinx and dope moments. If you haven't seen it already, you are blowing it.  Either one clips or a full part, the video features almost everyone in our skate community. Aramands filmed a lot of it and also got a full part with an ender at Uzvara. The movie big ender is Olafs Suņux's kickflip down Barax Gap that he worked on for 7 years. Bravo Suņuk! woof. woof! Respect. 
Skate Arcade
Skate arcade is a fun contest format where everybody could participate. Madars Apse set a weekly trick challenge and skaters had to repeat the tricks and submit them for review. The video editing and creative ideas were also evaluated, so no matter how good you were at that trick you could still impress Madars and get scores. Best scoring skaters would get a chance to skate in the final showdown on a roof top of Domina. Our Gs from the Latvian Skateboarders Collective (LSK) put in good work to build that park. Some obstacles migrated to other places after. Good thing that the contest was broadcasted live, so everyone could enjoy some thrilling contest moments.
VEF DIY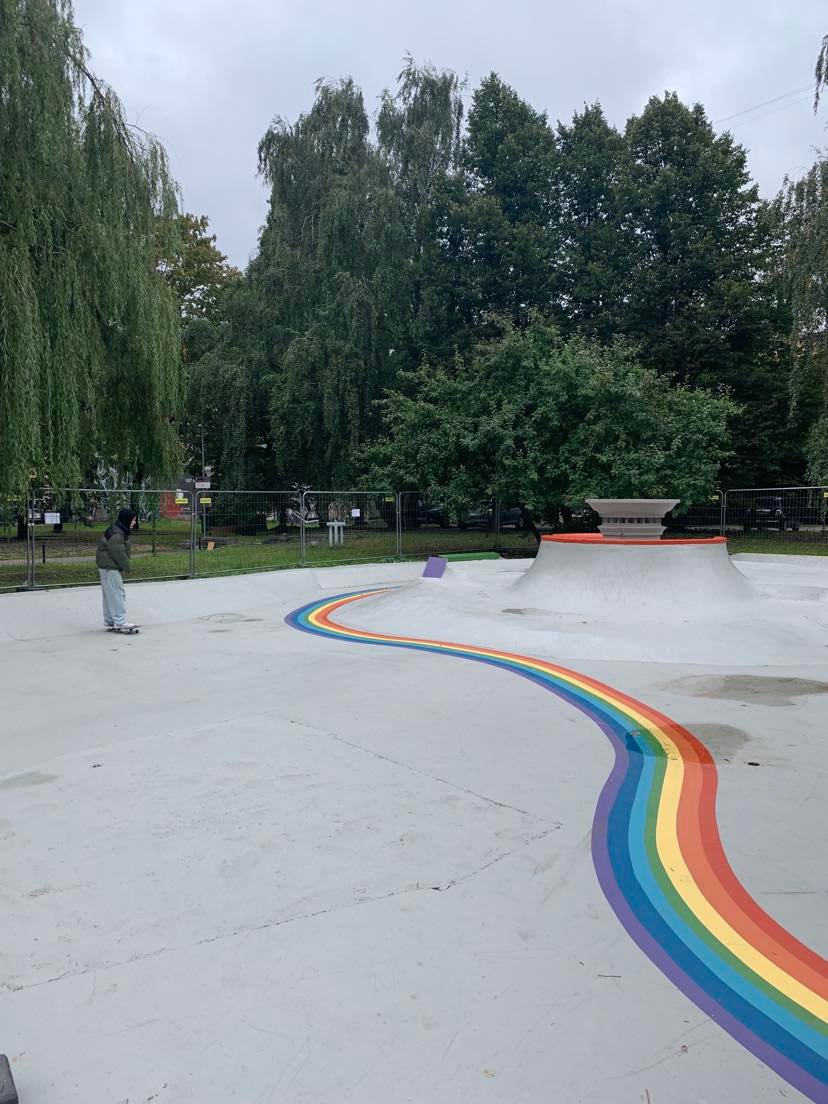 Latvian Skateboarders Collective (LSK) saved VEF DIY from its inevitable doom. The demolition of the DIY had already started with the main quarter getting beaten up. Quick reaction from the community led to a few meeting with people at VEF. Thankfully they were interested in keeping the place. VEF DIY could have turned into a parking lot, but it is still with us and is an important skate spot in our city. Take your visiting homies there next summer.
RIGA DIY
This summer Riga DIY & co. made some DIY upgrade for go skateboarding day in Riga. The Miera street ledge got an extension and a bank. The BMXers rail spot got that pickup truck with a kicker. Also, the Piena Ledges were born which was probably the most important DIY contribution this year. That place defined warm summer skate days. You could meet up at Maxlas Muzejs skate there a bit, cruise up Skolas street and get to Piena ledge. Shout out out to Riga DIY for these upgrades. 
The Trip
Tikari skateshop made a comeback to the scene this year. The shop was opened all summer and brought some diversity to the brand mix in the city. The guys are also actively supporting local heads. This summer we went on a trip with them to Cesis to hang out and film with their young team riders: Edijs Plume and Artis Strazdiņš. Looking forward to what the guys are going to bring.
Granja Game of Skate Champ
Viss Taisni prem in Liepaja got a big portion of Riga heads out of Maxlas and Piena ledges. Besides the screening, Straight Forward skateboards held a game of skate championship where Miks Granja had to defend his title of Latvian Game of Skate champ. Denčik promised to fuck up Granja, but we all know how that ended. Normal čaļi always win!
Latgalian Cruise
Our trip to Latgale was the biggest we ever done in terms of people on board. At one moment we were rolling 20 heads deep. We made a video and zine after that.  Our man Maks made a full comeback to skating this year. The went on our trip, got the last part in the vid and a cover for the zine. Right after that, Maks got hooked up by Clockwise. Fricis, on the other hand, pushed his creative skating further by mostly skating non-spot or how we call them archeological sites. Also, we would like to give a major shout out to Arturs Nesaule for organizing this trip as well as Riga premiere party, and Arturs Bogdanovičs for putting the zine together. See you this summer for the second tour.
Maxlas Upgrade
Maxlas Muzejs upgrade was the most anticipated event in the recent years. Our beloved meet up/ hang out spots Maxlas Muzejs got a serious update: a quarter pipe and a ledge. Karlis Bogustovs designed the obstacles and spend some of his best years dealing with the bureaucratic machine. Thankfully Karlis has some dedicated allies on his path and the project finally saw the light of day, after 3 years in the works. Respect!
More cool stuff this year:
Ghosts
Boga's part 
Rob's Convers edit
Niklavs set an ollie record
Clockwise Haloween movie