Our recent episode of OVERBOARD ended with Arturs Nesaule skating a handrail at the main entrance of the Faculty of Materials Science and Applied Chemistry of RTU (Riga Technical University). That rail can hardly be considered a decent spot, but once it was a part of a bigger and more functional spot. The area around that rail had a lot more to offer and could even be mistaken for a plaza—from afar.
Around 5-6 years ago, that one-push handrail had a good 7-8 meters run up. In fact, the whole area up those stairs was just emptiness comprising of about 15 meters of soviet flat. The area served as an open, outdoor path from one side of the building to another. It had a roof, so during rain and snow we would occasionally skate there out of desperation in mid 2000s. 
The spot offered a few skateable pieces: two stair sets, a handrail, big 3, drop ledge and flat. If the spot had some boxes, it could easily pass as a plaza.
8 stairs
The handrail wasn't always there, so at first the stairs were the main attraction. That 360 flip by Janis Stirna was a definitely a highlight at that spot. Back then stuff like that didn't happen regularly. Although it was a decent set, not a lot of tricks went down there. Today it'd be in ruins, but back then dudes were humble. An eight stair was a big deal.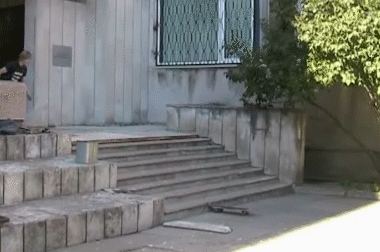 Handrail
By the time the handrail appeared, locals were a bit more serious. Well, at least Maksims, who would jump on stuff like this without a second thought. The rail looks tall even on the photo and indeed it is so. However, same as the stairs, it didn't become a hot spot. Not sure if anybody skated it after Maksims. Unfortunately, there's no footage of this session. 2011 seems so recent, but it was a different world.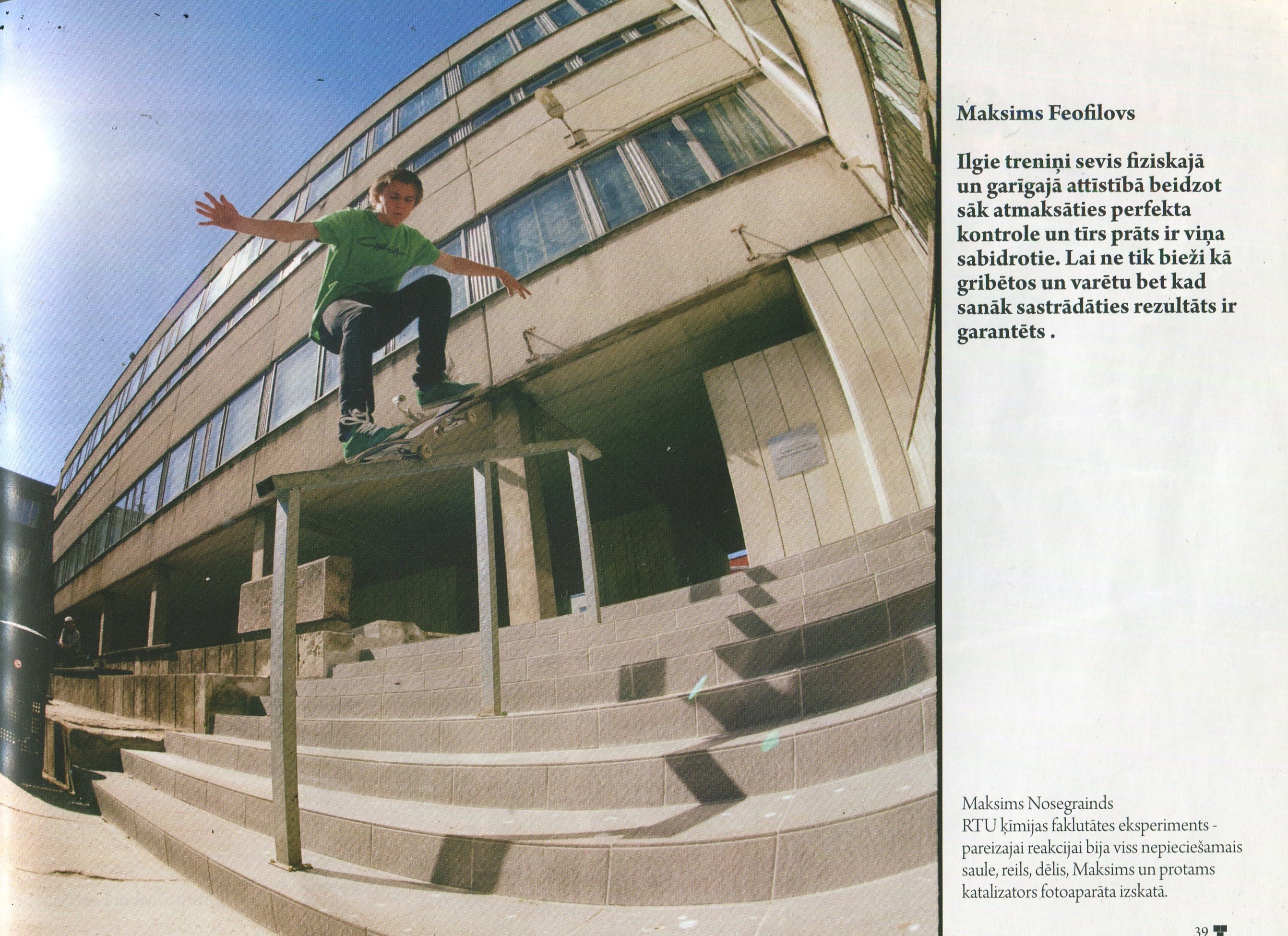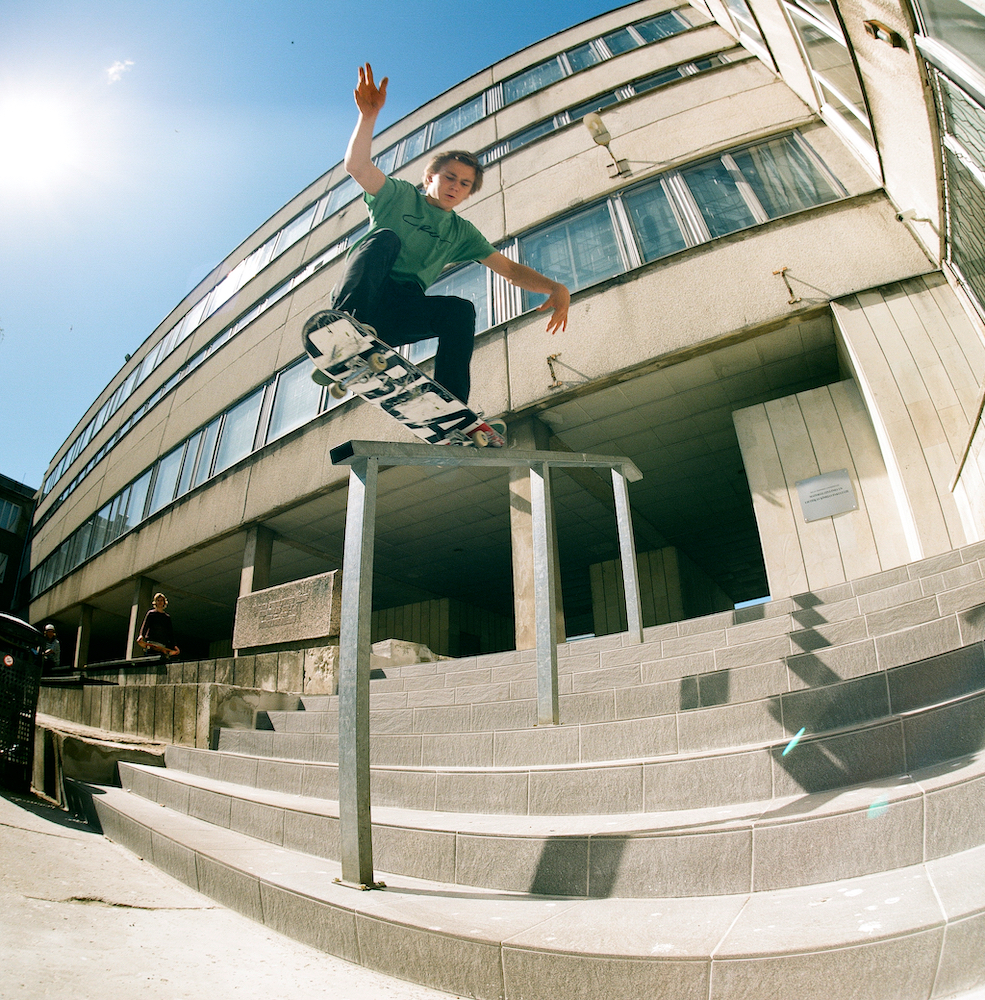 Big 3
The spot didn't end with the rail and the stair set. There were a few other things. A good-looking 3 block, right next to the set, was boggling the minds of passing skaters. The visual similarity with the legendary Macba Big 4 boosted imagination, but the condition of the spot didn't allow much room for error.  Actually it seemed impossible back then, as you had to ollie early and land on soviet blocks where each blocked lived its own life. One was higher, one was lower, one was slanted—the landing was a mess. Of course, Karlis Bogustovs wouldn't be the best if he couldn't solve such a puzzle.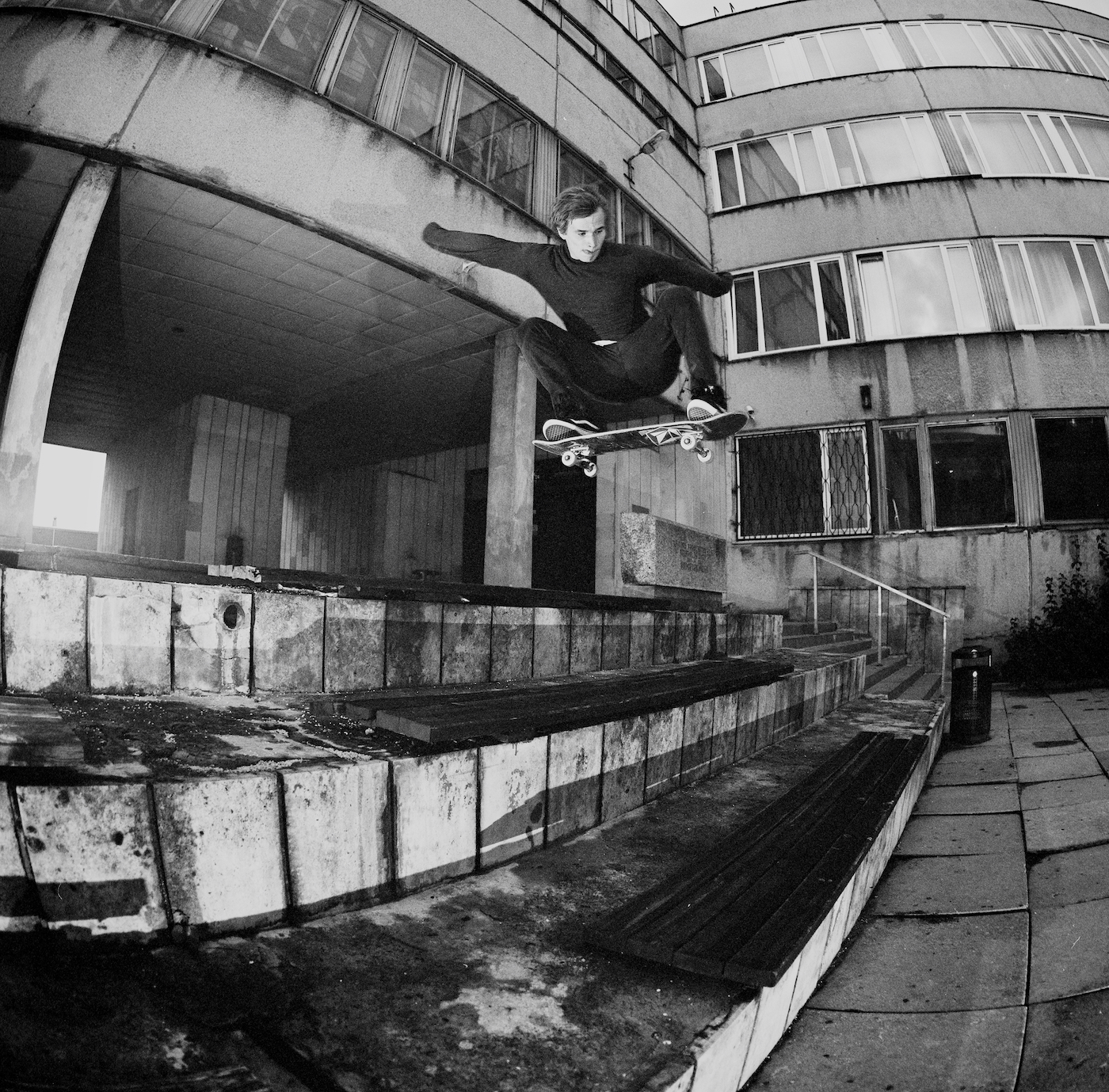 Flat and 6 stairs
Also, the spot was good for lines, as there was another set of 6 stairs, perfect for a line conclusion. You could do something on flat and then toss yourself down the stairs. Edžuks and Bondars put some of the illest lines there.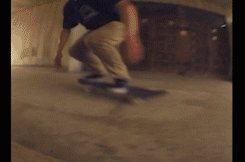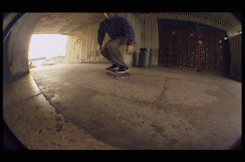 These six stairs became the main attraction of this spot. Either the 8 had a crack on the run-up or the landing wasn't good, but for some reason nobody skated it.  Mostly stuff went to down the 6 and once also up them.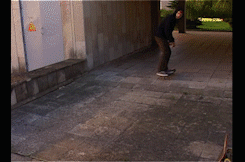 Kaspars practiced his fakie moves there and also had a slightly sketchy fakie fs flip, but his childhood friend, a fellow Ulbrokianian, Emils Šenbergs turned the spot around.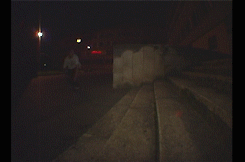 Drop Ledge
People were definitely eyeballing the ledges next to the stairs. They went around the side and next to the stairs. The one next to the 6 was the best. It was covered in moss and needed tons of wax. Of course even the shittiest spot will eventually find its skater. This is just how the universe works. None other than Fricis Štrauss was the perfect match for this crusty mission.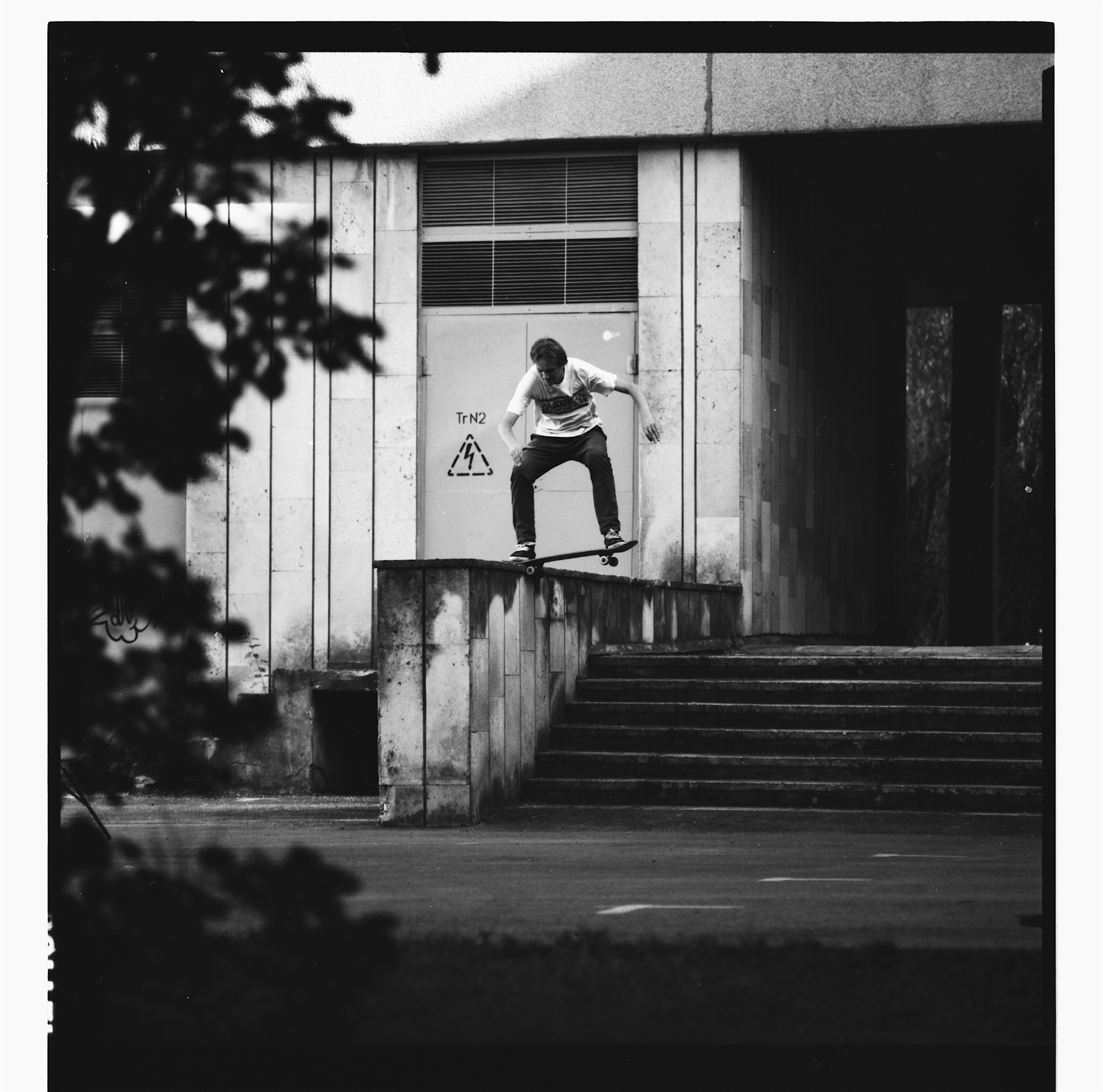 And there you have it! The Faculty of Materials Science and Applied Chemistry of RTU. A great spot with a lot of potential. It is now gone and is not coming back. Riga skaters, although minimally, had left their marks and scrapes on every stateable piece there and we can be content about that. Don't know if this spot will ever be missed by anybody, but it certainly can remind us that we must appreciate spots and skate them while they exist. Speaking of that,  there is also an old ten stair at the RTU library across the parking lot. Maybe someone wants to go do something there while it is still intact? 😀 Before you go, don't forget the ABDs.
Peace!
Previous stories on old spots:
Mego Handrail
Lost Ditch Spots
P.S Check our insta for more vids from this spot!