It is not a secret that Riga has a pretty low spot density, and the quality of the spots is far from perfect. But we are happy with what we've got and try to make the best out of it. The spot in question today is Mego Handrail in Pardaugava. The accessible height (it is knee-high) and decent run up made this spot one of the better known handrail spots in Riga. However, despite all positive aspects of the spot, not a lot of tricks have been done there. In this list we present some tricks by Latvian skateboarders done on Mego Handrail in chronological order. Take a look, learn about ABDs and maybe get inspired to hit that blue piece of metal.
!!!RajonTV cannot be held responsible for your potential misadventures at this spot. Skateboarding is not authorized on the territory of Mego shop, so skate at your own risk and responsibility!!!
Andrejs Pižovs – Bs Boardslide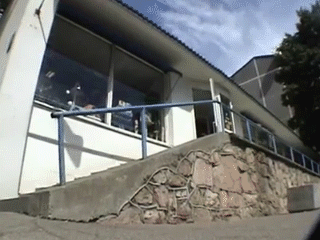 For some reason Mego is associated with mayonase salads, triangle sandwiches and instant noodles. Of course don't forget about booze. We don't know how cool Mego was in 2006, but since it is still there (more than 10 years later) we can assume it has a devoted clientele. Mego's clients are not picky and are not interested in fancy foods. They are down for that raw and simple product just like this boardslide. Probably not the first boardslide done there, but looks cool and fast.  
Arturs Bahurcevs – Fs Lip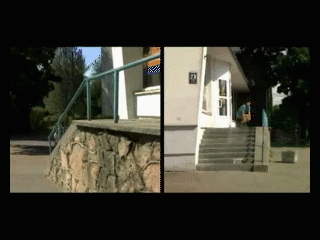 The shelves at Mego are covered in yellow price tags meaning everything and nothing is on sale today. This front lip was on sale too, you can get two pairs by the price of one.