Powerfull style and perfect execution that is Linards in a nutshell. What some people don't know is that he pretty much learned how to skate in a shed on some selfmade obstacles. That tells a lot about him and his dedication to skateboarding.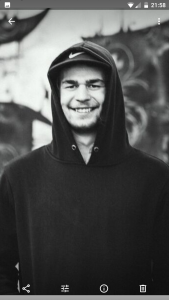 How long have you been on the board?
I have been skateboarding for about 11 years.
Sponsors?
Tikari skateshop, straightforward skateboards (PISTAISNI).
What do you like to skate?
Favorite obstacles are rails and stairs for sure.
What are your favorite tricks?
Favorite tricks are ss heel and bs flip for now.
How did the filming for R.USH HOUR go?
I think it went pretty well.  Not as many tricks as I wanted but was nice.
We are on the finish line of R.USH HOUR just a bit left till the end.