Cover Photo: Viss Taisni poster // Photo: By Nauris Dollins
Not sure how it is for you guys, but the shittier the weather becomes the more urge we have to do something outside. You feel like it is going to be over soon and want to get the last bits. Hope you are doing alright and if you were too busy to follow the Baltic skate scene's activity, we got you covered with some links.
Main thing we are all excited about is the upcoming release of Viss Taisni video from the Straight Forward Skateboards aka Pis Taisni collective. You have probably seen our last Overboard episode with behind the scenes of the video. The original plan was to have a premiere on the 5th of December, but now since the new restrictions are taking place, Armands, the main man behind the project, is not sure what is gonna happen. He is certain that the premiere will take place, but not sure in what form. Anyway, keep your eyes open for updates.
On a similar note, Arturs Nesaule's Straight Forward podcast came out early October. It is an hour long interview in Latvian about sponsorship in the Baltics,
It is always nice to see Kelvinas rip. Guess this garage is in London.
On the Lithuanian note, the fully Ghetto dudes, who are up to something all the time, just put out a 3 min long edit to promote the release of their new boards. Boards look great and the catch on that kickflip must have felt satisfying.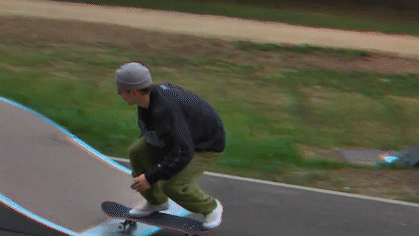 Fricis Štrauss ripped Vef Diy in a debut edit by Emils Šenbergs. To showcase the freshness and new colors of VEF, Emils decided to put his VX1000 to a side and turned to more modern filming gear instead. We are not used to seeing skateboarding filmed with drones, but, got to admit, that birds eye view of VEF is pretty sick.
Madars brought some legends over to us in October. Some Finish homies ,including the legendary Pat Duffy, came for a four day shred. After that Madars and Deda were seen in Vilnius. Of course, Deda busted a heelflip there. Baltic heels, if you are reading this, you got to repost it. C'mon!
Rainer Kaur is busy working on Unity! The second teaser is out and is looking promising.  Of course we need to mention that the song in the teaer is an ABD. It was used in a Aleksandr Tubin part in Baltic Tape project. But maybe it is not a coincidence. Maybe it is a tribute to Tubin. He is one of the best skaters in Estonia, so everything you do has a bit of him in it. All jokes aside, we are really looking forward to this video!
Also speaking of Estonian skateboarding, Siim Sild has started a new insta account dedicated to Estonian Skateboarding called Kaifuun Network. Check it out for nostalgic and current clips! Pretty sure it is going to grow into something dope for the scene.
We would like to finish this post by introducing Karl Peters, a young skater/ filmer from Tallinn. Karl just put out his first ever video with an intriguing name, "The Search for Missing Sea Banana". It is a fun video with a cool soundtrack. We talked a bit to Karl and it seems he has got the enthusiasm a filmer needs. "All the process and everything that came with it was just amazing. Filming, editing, choosing music, choosing spots, everything! For sure I have found my passion!"  Good luck with future projects!
Stay safe and keep it skating everyone!