In the recent years Fully Ghetto has grown quite a bit as a brand. They were making shirts and boards for a while, but now their operation has developed into self-operated screen printing lab. Fully Ghetto makes big range of gear: pants, shirts, bags and constantly drop new boards. This Friday (08.04) the gang is releasing their new video "Ghetto Jungle". We asked the gang leader, Domantas Antanavicius, about the video, the premiere and how his personal skate career has developed. And if you still have time to plan, try to visit Vilnius for the premiere of "Ghetto Jungle" it promises to be something special for the Baltics skate community.
Hey, Domantas! How's the preparation for the premiere of Ghetto Jungle going?
Going really well actually, was screen printing a lot of decks and clothing so already tired haha but all good, now need to start preparing the screening and the whole premiere so busy week awaits but the film is done and ready so my mind is clear.
What's plan for the premiere night? What do you guys have installed?
At the premiere we will have our new merch drop and a little showcase of our past films and photos.
Sick. What do you think is different about this video compared with your previous.
Firstly Ghetto Jungle is different that it shows way more colour then my previous films. It is filmed while FG was having a transitional period so there is very much footage from different timelines and lots of different people participated in the film.
We visited you a few years back when we filmed an 'Overboard' episode. You were filming for 'Ghetto Jungle' then, so how long did the whole vid take to make?
I think filming took us about 3 years, because we were dropping videos along the way, but really all things kicked in the last year where we managed to find new people that willing to do stuff and things are started to work again in a different approach, and that's what gave new colours to FG.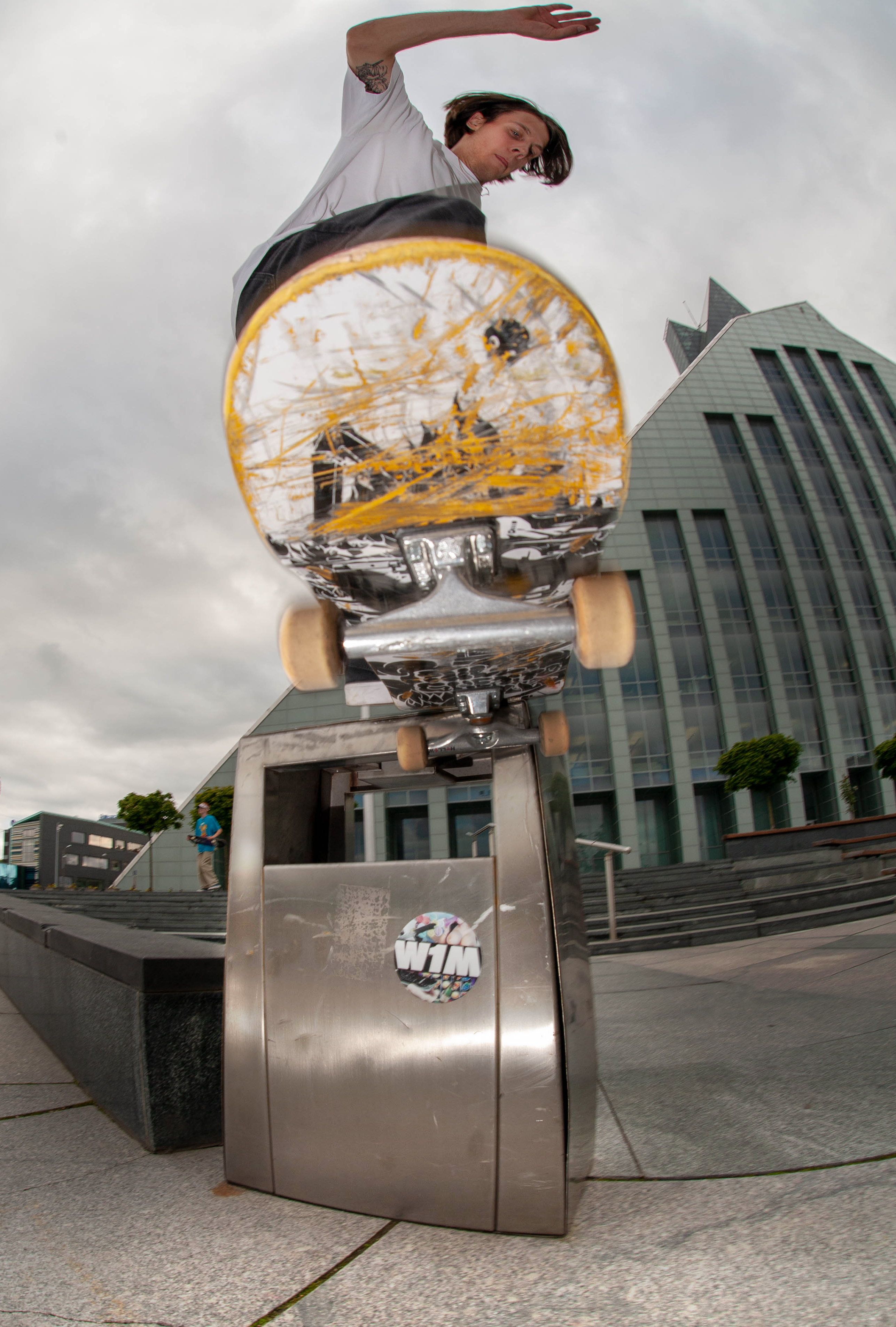 Who is having parts in the vid?
The film mostly consists of mixed parts and stories but there are a couple of parts that stand out so Lukas and Simonas(Shredka), Arminas (Sanimra), Deividas, Dovydas, Me, Baublas.
Did you film and edit the vid?
Well the interesting thing about Ghetto Jungle is that I filmed maybe 25% of the film, mostly it was the younglings Tadas and Simonas. Big props for that, now the game plan changes and I try to do less filming and concentrate on skating, so in Ghetto Jungle I participated more as a skater rather then a filmer. The film edit is still by me but Reynolds edits parts, Pontus does that too so I think there are part of skaters that love to do that and yeah I love that too. And yeah I can add that you can totally feel the new faces in FG where Tadas and Simonas do more filming and I hope they will do more editing in the future. Gintaras (@bigboygince) grew older and shreds so hard. Baublas always on that curb grinds, Sanimra saving the #fggangsters haha.
Yeah! Save the gangsters. Wanted to ask also about the computer graphics. Really dig those.
Mostly Sarunas does the graphics now and takes pictures, if you didn't know he is a really good painter, Gasparas helps with stuff too. I do some of the graphics as well. In general with screen printing came a different approach to art and merch so I hope to do more of it in the future. Kind of a new passion of mine haha and its growing bigger.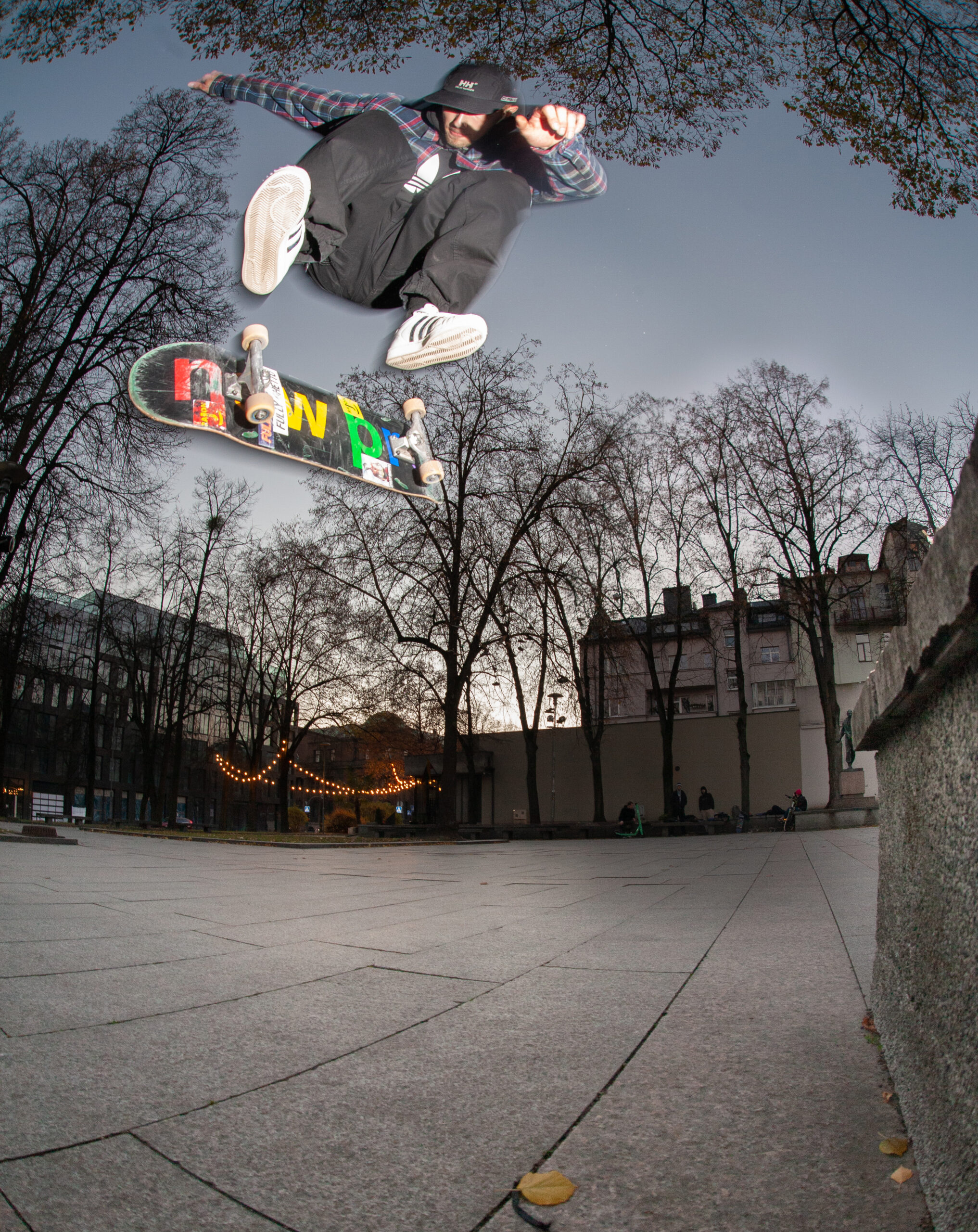 Can you tell how Fully Ghetto has grown in the recent years. You print your own gear now. How did that move change the game for you?
Firstly we have our own studio with lots of different toys. Midi keyboards, synthesizers, computers, screen printing equipment. Printing started when board manufacturing had big delays after Covid hit, and I didn't want to wait for 3 months to get a new board graphic, so I decided to make them myself. Also, I saw a great opportunity in making a work space and making prints not only for FG (brands or shops hit me up and we can deal a project haha). In general fashion and clothing was always on my radar and to make it myself was like a long lost and found idea, when you are in control of printing you really can feel the material and see how things progress and search not only for a new design but also for an interesting method of printing. In the past years we mostly concentrated in building our work zone, searching for something that we can hold on and get closer to art and clothing. Now we are located in SkateHub where we have our underground and a huge indoor park on top, so in general lots of space to create and enjoy skating. Years pass and crew changes some do other things some stay and move with skating further. Our strategy was always to concentrate on the new generation and show a path, making a future for skateboarding in Lithuania. And yeah filming was always there as well as skating, so to sum things up in these years we were filming, skating, building, searching and writing a new piece of paper in our book.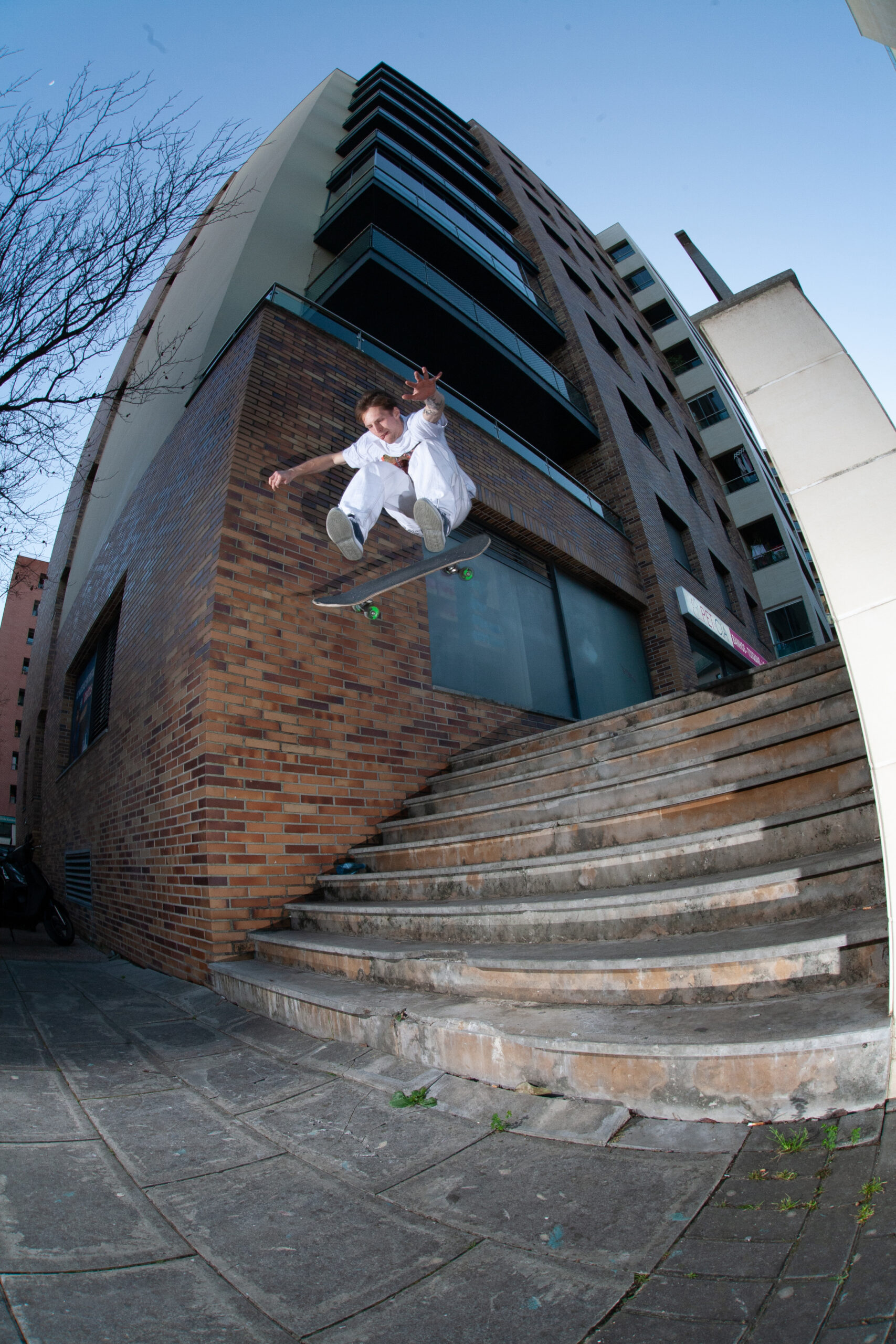 You had some changes in your skate career. You got on DC recently? How has that been for you?
Yeah, now I have a chance to skate a lot so been grinding lately. DC came unexpectedly but I am so blessed with this opportunity, feels like a dream skating for them. Wearing OG lynx at the moment, best shoes I have ever put my feet into. #savedafggangsters haha.
Awesome G. Any last words?
Find an goal and try to realize it, sometimes you don't know where and what you going to do but keep chasing it and eventually things will start to work. I didn't plan to do half of these things in my life haha but the idea is bigger then me.
More from FG:
Riga Premiere 2018
FG Promo 2019