This year is already quite intense for Latvian skatescene. We are only couple months in the new season and there's already a second  proper video premiere. RajonTV's crucial staff member Roberts Krums (@mobilafilms) is releasing his new video project called Riga City The Experiment on the big screen next Saturday, 13th of May. We talked to Rob about the vid, Riga streets, and his vision. Make sure to come by!   
Hey Rob, congratulation on getting Filmer of The Year 2022 award last Saturday!  How do you feel about that?
Yeah thanks man! How I feel about it? I don't know, man. I think it was rigged. Feeling good that I'm able to do these things and it's cool that someone appreciates it in one way or another. You know how it is. Your work is your greatest award.
Well deserved man! I was happy to give you that award. Can't wait to see the video on 13th of May. The teaser looks sick. Can you takes us through the process of making this vid. How did all began?
Thanks man. As I remember it all started when my old camera broke down, and I was recovering from another surgery. I was talking some camera stuff with Rudzītis… and we got to a point where he sorted me out with a camera from his work which was in a mint condition. The words he said when he gave it to me I remember to this day "use it. if you fuck it up, it's ok. just don't lose it". Thank you Rudolf. I didn't have a plan to stack so much footy and to make a full length. The idea was just to film some street stuff and get out of a routine of skating at the BARAX every day. Slowly it grew into an obsession, and it didn't end till the last clips we filmed with Armands last year. Through out this period of time I kept having problems with my knees and I wasn't able to skate but in a weird way it kind of pushed me to film more. It's crazy now when I look back at it. I was possessed. I was just stacking tapes and wasn't even capturing them straight away. I didn't make a timeline for the video until last summer. That's when I realized that it's gonna be a proper mission to edit all of it.
How is this video going to be different from your previous projects?
It's gonna be longer than any video I made haha. But yeah I guess this time I tried to put more attention into each individual. I tried to create my perspective of the subject. it's definitely not to be taken too seriously. As things how I see them are not always how it is in reality.
I'm pleased with how it turned out. It all makes sense now.
We went filming with you a couple of times. I remember some sessions in November haha. Fricis was crazy killing it then. Is he going to have a part?
Yeah man I really like skating and filming in early winter time. I feel that it's more productive and you kind of appreciate every dry day and every session a lot more. And it's less of torčīšāna at a chill spot. And Fricis, well man you know how it is filming with Fricis. I really like his approach to skating. I like that he doesn't really doubt himself about "oh is this worth filming or is this worth skating?". He has a vision of his own and I really respect that. And yea he's gonna have a part hehe.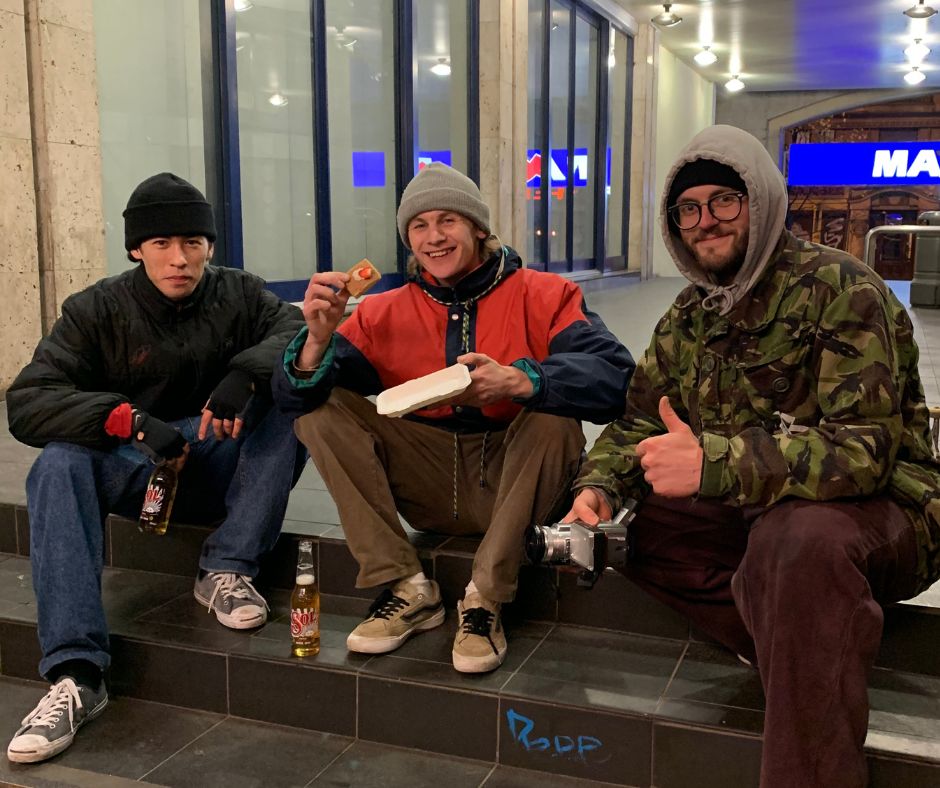 I know you like to put some subliminal messages in your edits. How about this one?
Yeah man that's what it's all about haha. You know you always have a story that not everyone knows or you share a joke with your friends and to some people it wouldn't resonate. It's like a puzzle the more you get to know the subject the more things unfold and piece by piece you can put it all together. Not everything has to be black or white. I guess it just makes it a bit more interesting. As you get to know something or someone for the first time it can be misleading . But if you pay attention to it sometimes you can get a lot deeper in the thing of interest and it all starts to make sense after some time.
You worked on editing for a long time. Are you stocked with the results and what was the hardest part about editing?
The hardest part was to get it all together in one piece, so it would make sense in my head, and getting the right sound for the video. Before I started editing, I had a clear vision of how I wanted it to look and I had some sort of expectations towards this project. But yeah in reality, I wasn't able to create that vision. I was missing some important tools, so I procrastinated on this project a lot. To a point of flipping the scenario and going a different route. I would say that I'm pleased with how it turned out. It all makes sense now.
Why is the video called the experiment?
It's kinda funny I guess. I don't know but I think that skateboarding in general is an experiment. You have to deal with your mind and your physical abilities, put it all together and do certain things. The experiment is what each individual can find in the city. In a way it shows your mindset, your creativity. I can bet that most people have heard these words, "Oh, there is nothing to skate here" or "I'm bored and have nothing to do". Well, I guess that's the mindset I'm going against with this project. I want to show that there are spots here in Riga, and you can always figure out something new if you're willing to put some time and effort into it. Create something out of nothing kind of thing, and also the experiment because I've never done such a big project and I'm playing with different things to get it all together. It's basically my little study of Riga's architecture and the humans that are located here.
Alright. Sounds sick and I can't wait to see the video. Tell about the night of the premiere. There are some surprises planned?
Well the plan is to watch the movie at K.Suns. And after that everyone is welcomed to come to Tikari Skateshop. Can't really give out too much information on what's gonna be happening there. But one thing I can say there  gonna be some visual surprises from Rajon.