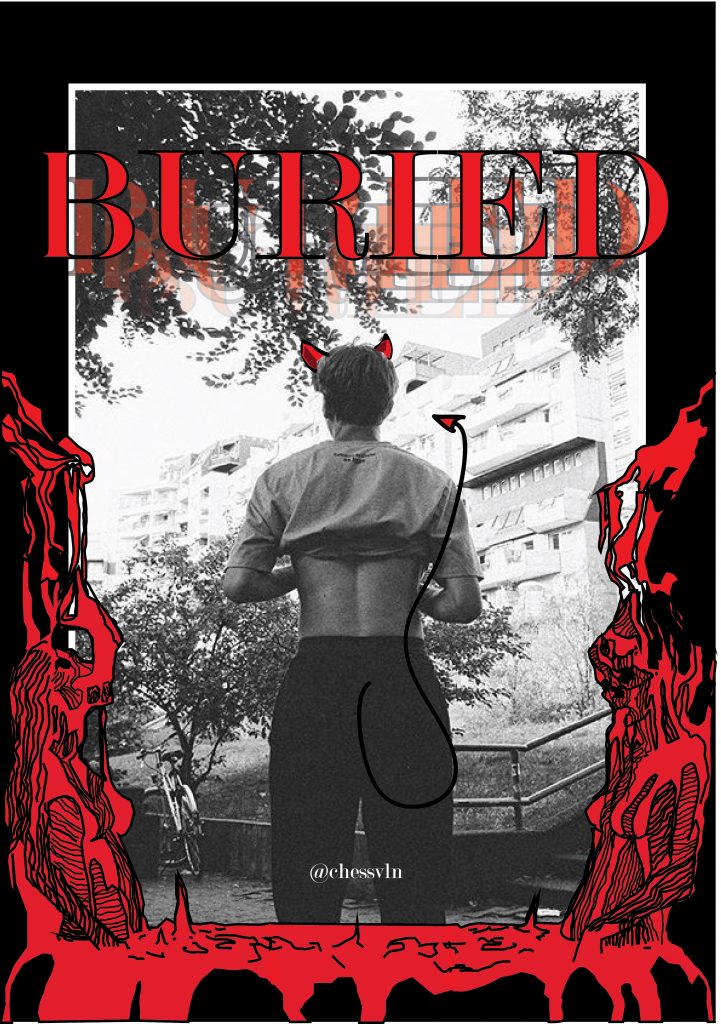 Buried is the latest video offering from a young Vilnius brand called Chess. We have mentioned them in our news couple of times already. So if you have been following, you know who these guys are. Buried is their heated up, excitement filled, devilish video with a smart soundtrack, nice colours and smooth editing. The spots are diverse and span across some European capitals concentrating mainly in Vilnius. There are no strict parts in the video as the whole crew skates together, but the guy who steals the show and has the most rad trick is, the young prodigy, and our favorite LT skater – Klevinas Litvinas. His skating is so good it makes you think that he might have some deal with the devil himself. He skates big stairs, jumps on all sorts of rails and does it all with his own signature style.  Watch it for your self, the video is in the end of the post. But before you do that we invite you to get acquainted with Titas Mackevicius, one of the main guys behind the video and Chess.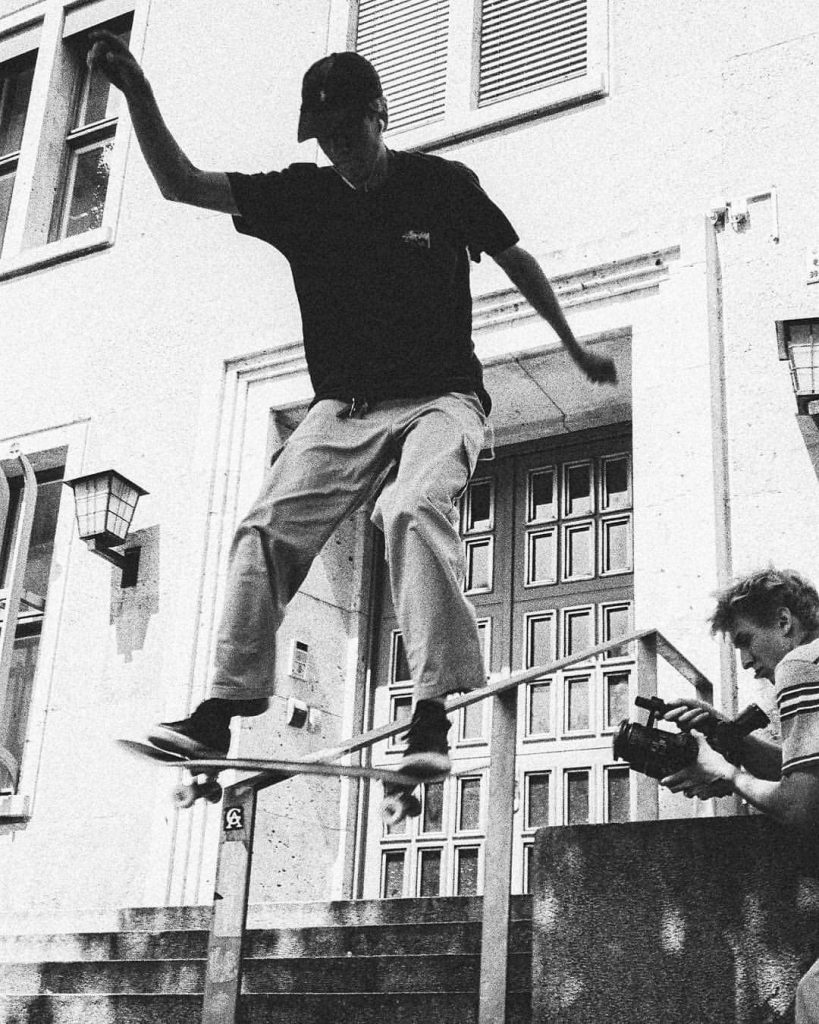 Hello Titas! Congrats on the video! As far as I understand you are the brains behind it all, right?
Thanks! Yeah I did the main part of editing and filming, but there's also a section in it filmed with a different camera by @veruccci and @kar_nizas that they edited themselves.
Okay, can you tell us about Chess and how did it came about?
It's the same brand me and Vilius Jagminas (@veruccci) have been running since the summer of 2017. It's just that we changed the name to "Chess", cause we believe it doesn't raise any unwanted associations (we didn't like how "no hype" might be misinterpreted as a reference to hypebeast culture and so on, rather than a reference to skating) "No hype" is also a pretty negative name, so all in all, we think "Chess" works better. We've released 3 pieces so far, and we are now working on a photoshoot for the newest sweatshirts and fanny packs that were available @14skateshop at the premiere. We're still pretty small, but we do the brand for ourselves more than anyone else, so its kind of hobby at this point. We are planning bigger things in the future, though we are still learning for now.
Is there any story or reason behind the name Chess? How did it come up?
I think it's just ironic, naming a brand that centers on skating something that is as far from skating as you can get. We like to make ridiculous associations as well, like with the world, working as a chess board of some sort, with something watching over, controlling each individual chess piece that is us :D. The notion of chess clubs is also something very cool, for example, there's this ghetto ass place in Vilnius, where you can always find a huge group of old people, just chilling, playing chess outside. I find it very close to what we, as skaters, might look like to the average person. Sitting around certain places in the city, just having fun skating.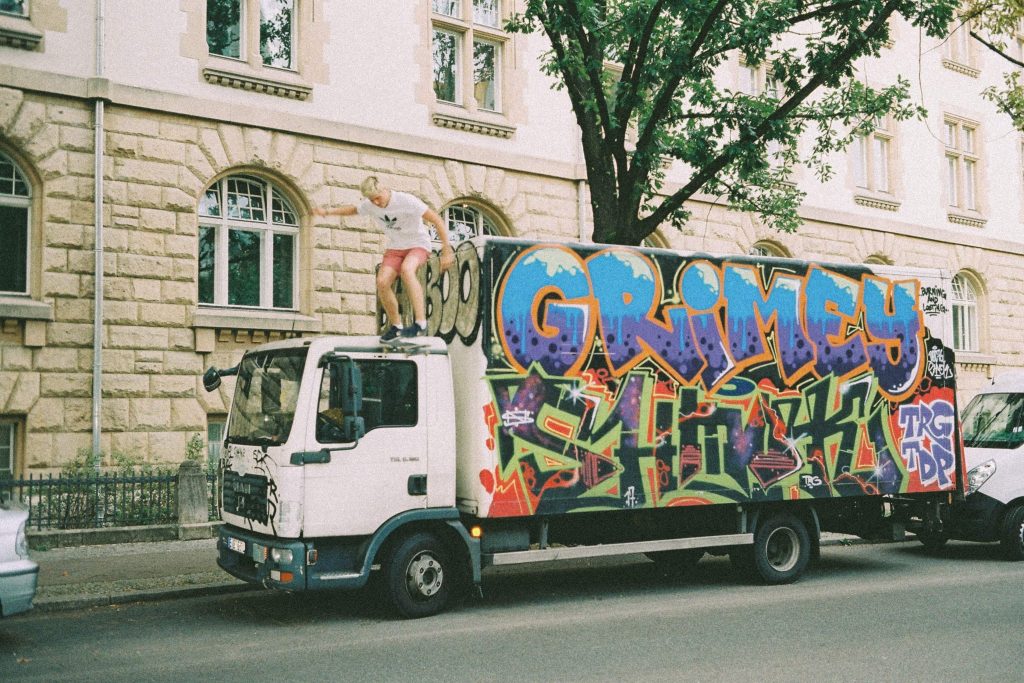 This is so sick! Tell a bit about your self, how did you start skating and what motivated you to become more that a skater (to film and start your own thing)?
I started skating in the summer of year 2014 I think. I've always been fond of skating, but I never thought I could do it myself… Then, a classmate of mine suggested we start skating, and I was stoked! I started learning tricks, meeting new people… Most of my best friends and memories have come from skating.I started filming very soon, I think the first clip I filmed was me ollieng up a two stair with a go pro. It's just been a part of skating, and I was the fortunate one to have a camera. I also always liked design and film so… it kind of just came naturally. The homies I skate with motivate me as well, the level that they're starting to reach is amazing, it makes you want to make something of it, to give them the attention that they deserve. People like Kelvinas and Vilius are also always nagging me on to bring my camera and film, so they are extremely self motivated as well. I'm actually often lazy when it comes to bringing the camera to the sesh, so they provide the necessary kick in the butt to make things happen. Over time, I progressed through different cameras, making edits as we got better and better at skating. I think just sticking to what you do and trying to outdo yourself every time works very well.
It is good to have motivated skaters, makes thing happen. What inspires you as a filmer? Local influences, global influences?
Locally, filmers like Saulius Petrosius were really inspiring. The part he filmed for Deividas Sereicikas is amazing, very beautiful. Theres also the Fully Ghetto guys that are sick. They're very friendly and fun to skate with. I feature some of them in my videos as well, and we are growing closer together now that Domantas and Dovydas are living in Vilnius. I also remember watching a Gatis Valters Rajon London video a few years back, I liked it a lot and it had an influence on me. Globally, my largest influences are William Strobeck, Bronze56k, Dime and videos from Paris (The Blobys: Dougrez, tomoreilly for example)
What about Buried, how did that came about? And is there any story behind the name of the video?
The word came from the first song in the video "Dead and Buried" by Alien Sex Fiend. The idea behind it has to do with the entire skate scene of Lithuania. It's about the fact that there used to be a huge scene in Lithuania, before any of us youngsters started skating, but it fell apart. Lots of great skaters from Lithuania either left the country or simply quit skating. When me and my homies started skating, we didn't even know about this older generation. However, from what Siom Sonkinas, the owner of @communediy, tells us, what is left of the scene now is only a fraction of what it used to be. Hence the name, "Buried", as in, there's a deep history in Lithuanian skateboarding that is buried, and it is our job to uncover it. I greatly respect all the people at @coreindoor @commundiy and @14skateshop for making things happen these past years, there's loads of new young skaters popping up and things in Lithuanian skateboarding are looking great. The future looks promising!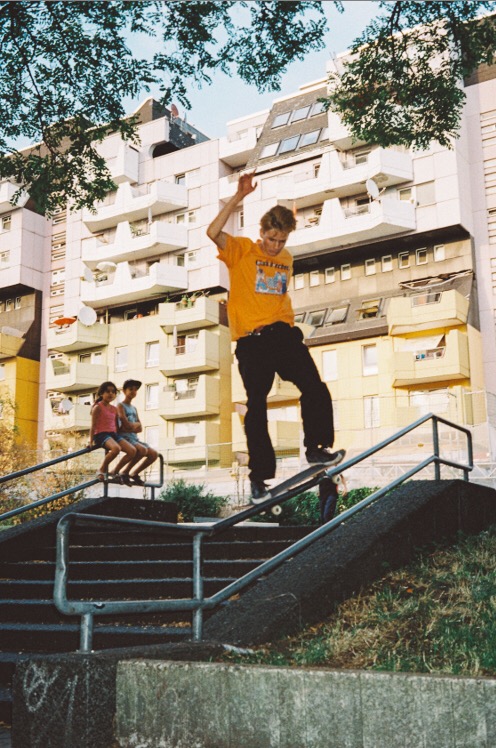 Does chess have a team or something like that? Obviously Kelvinas is the front dude, who reps Chess?
The homies I skate with rep Chess:
Kelvinas
, Vilius, Normantas, Arnas. There's also the younger guys that are starting to rip like: Vejas, Kernius, Lukas, Acas. But we don't have a set team. I film whoever I like, be it their style, or maybe a cool trick they have. I like when edits don't emphasise separate parts, but show the skating of a group and let the viewer do the work of getting to know each skater for their different styles. Theres different people in every one of my videos, because I don't meet everyone as often and consistently, but its important to me to include everyone I like! You will also find that, for example, Kelvinas belongs to Fully Ghetto as well, but I don't think it matters that much, we are a small community, and we should embrace the connections that we have!
That is great! Just like it should be. Can you tell about your merchendice you said you had three pieces so far, do you make designs yourself?
We have made and released a long sleeve, hoodie and a t-shirt since we started. Now we have a new sweatshirt and fanny pack. We collaborate with Vilius when generating ideas and I make the designs. Vilius is starting to make designs as well though, for example, the new fanny pack design was done by him.
What's up next for Chess in 2019?
More clothes, more videos, more skating!https://vimeo.com/309855752