November is the month of transition into winter. In the beginning of the month we were still skating outside, and now it is so cold that even the Tunnel™is a bit extreme. Our November report, which you can watch above, shows this transition pretty well: last LNB sessions with an unfinished line left for next year, Fricis skating in Stockholm's parking lots and subways, and Riga heads skating G-Tiim indoor while it is snowing outside. The odd one out here is Pavel with a line from Barcelona, fucker skates in a T-Shirt and is completely indifferent to our meteorological struggles. Well good for him.
November also transitions into the end of the year, which mean conclusions must be drawn. The most authoritative conclusion making organization in Skateboarding: aka the Bible, aka Thrasher, is going to conclude the Skater of The Year shortly. While they are on it, we are celebrating the SOTY nomination of our favorite pro: Madars Apse! It is absolutely insane that our friend is a SOTY contender. Although Madars didn't get in the final 8 nominees it is still extremely rad! There is always next year.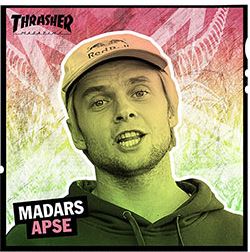 In other news:
Riga skateboarders probably have seen this weird baggy dude freely drifting the streets. Mostly seen at the Museum and in Barona skatepark. Well, his name is G, he skates with one of a kid style and makes videos. He tends to post them to facebook and delete shortly after. So make sure you catch his latest video below. Also his facebook page is called WAATE, give it follow. And  say "What's up!" to him when you see him skate next year. 
Arturs Bogdanovičs compiled clips he filmed this year into one video. Some park clips slipped in there, hopefully next year we will get a full street part from him! Also don't miss his website.
Hugo Berziņš and his crew released a video called SEMIRAW 3 which I assume was filmed this summer. Again, same as Boga, dudes chill way too much in the parks. Riga streets are bored with seeing same old faces they need some new blood, go and film in the city next year.
Check out his psychedelic video from a young Riga sk8 crew called Upperground skateboarding! The kids are alright I guess. Next year they are going to go harder etc.
Estonians Romario Simmer and Aleksandr Tubin been killing it on that raail in that skatepark!  Romario is on some next level already. He doesn't even remember how many tries it takes him to do his tricks. Those guys did so many tricks on this raail that next year there will be no tricks for them to do anymore, and they will have to skate a ledge or something. In that case raail will take a rest or even retire. I wonder does that raail have a name?
Lithuanian homies have been doing a game of skate championship too, in Kablys skatepark/nightclub. What can I say about it? It is definitely much tidier and better organized than our championship. They have sponsors, they have TWO cameras, and more importantly lights. They are even not lazy to write the names of tricks. The only downside they upload it strictly to Facebook! Other than that shit is pretty top-notch over there! So maybe next year we can make our championship a bit better too. Here is one game with our favorite Lithuanian skateboarder Kelvinas Litvinas.
Transworld skateboarding has posted our video! This is an NBD for RAJON! So hyped. Maybe next year we can get into the mag too? To celebrate this occasion here is a little video of Fricis Štrauss and the battle he went through to score the ender!
#RAJONTOP10 November winner is Deividas Barkauskas! Congrats G. He is going to get a RAJON t-shirt! RAJONTOP10 is a monthly countdown of best tricks! If you got some tricks you can tag @rajontv in your posts. In December we accept indoor tricks too.
This is it for November! The year is almost over, so finish everything you have started, don't leave any unfinished business for next year and happy Holidays!
Upcoming Events:
Make sure to visit Pis Taisni video premiere this Friday 7th of December at Nemiers. Unfortunatelly Leticia, Curren and Malto can't make it, but you guys can, right?
Band NeimoM is presenting their debut album in Lokal House this Saturday 8th of December. Front man Martiņš Neimanis has a mean 360 flip!