Cover photo: Pavel 5-0 fakie/ Photo by Egils
This article is about very important events in Latvian/Baltics skateboarding in March 2018. The weather is so good outside as I am writing this, so it is becoming harder and harder to stay at home and write. Anyway here are some links.
Compared to last year March, this year March sucked big time, as the Youtube memory proof suggests, we were already skating outside in early March last year.
Nevertheless, this year, indoor enthusiasts had plenty of shit to do as Monsterpark had filled its enormous flatland territory with some funky weird obstacles that you can move around and do some weird tricks on.
Miks Grantiņš (unofficial Monster Parks CEO) was featured in a Swedbank advertisement, where he had to hang out with a senior citizen named Edmunds. They talked about savings and hobbies. Also Miks used this great opportunity to display a Rajon sticker on his board! Good thinking mate!
After all of this corporate filming Miks was keen on skating something different, I mean same stuff as always but after winter, so it makes it different, kinda. He went to Barix with Nauris Dollins to shot some photos. And this brings us to the first documented session at the Barix this year. (photo proof below)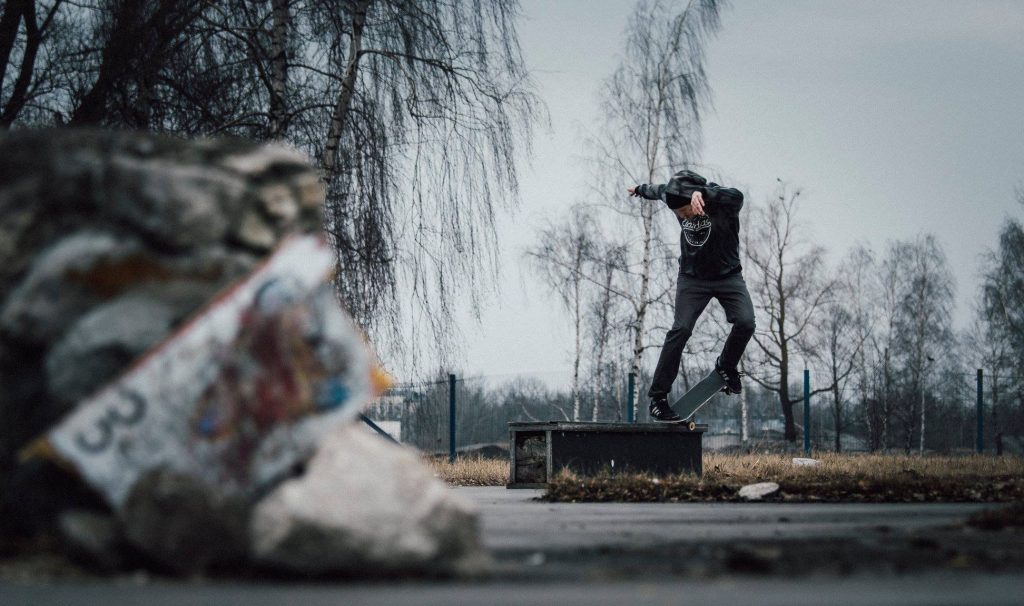 Our favorite Lithuanians from Fully Ghetto launched a new web site. Where you can buy boards and check out the Fully Ghetto team, where is Zygimantas btw. The slogan  of the company is – The Voice of Lithuanian Skateboarding, which we totally back up. Although at the same time, it is a really badass thing to say about yourself, being a relatively young company. But the tone is set and the voice is getting louder.
Long time Rajon supporter and a good friend Gatis Valters (the author of crazy Barix video that we posted sometime ago) is running a dope Instagram page that you definatelly should check out.
TVnet had an article about the most popular Latvian athletes in social media. And our man (RajonTV game of skate champ) Madars Apse was featured there along with other superstars such as Kristaps Porziņģis.
And speaking of tall individuals, Aleksis was spoted skating Barcelona. Some The OG challis Rudolfs Henchels was also there.  Good for you guys.
As for the rest of April, we plan to post the last episodes of R.USH HOUR. The winner will be selected and announced at a special party in beginning of May. More info coming. This weekend we are having two episodes —> Fricis Štrauss and Rudolfs Rorbahs!