It's always interesting to see what is going on in the Baltic skate scene outside the capital cities. Recently, we started to notice some activity in Klaipeda through the skating of Devin Talanov, events at AJE Skatepark and cool looking ads of Phicsh Market skateshop.  
The latter seemed the most intriguing. It takes some courage and a strong vision to open a skate shop in a small scene. Also, the name of the shop and the vids they make seemed refreshing and original. 
So we hit up Gabrielius, the owner of Phicsh market, and asked him about the shop, his vision and the emerging scene in Klaipeda.  
[Cover Photo: Gabrielius and Devin]
Could you introduce yourself and what is your story in skateboarding?
Gabrielius, 24, currently living between Klaipėda (from Monday to Wednesday) and Vilnius (from Thursday to Sunday). I went to School in Klaipėda, spent most of my summers in Nida (small resort), picked up skateboarding when I was 11. I think I was kind of good around 16-17, people know me for skating switch as good as regular. I have some footage, but most clips filmed at that time in Klaipeda are listed as private on my colleagues youtube account :D. After graduating I moved to study in Vilnius and, sadly, I found myself skateboarding less and less. Currently, I'm completely out of shape, but I hope to turn things around before long.
What's Klaipeda scene like?
The dark ages are in the past, we're in renaissance now. We have two skateparks: a renovated wooden one and a huge concrete park that has street and tranny sections. Then there are two new concrete plazas that are implemented into pedestrian parks, thus they give off more of a skate spot vibe. Also, the city had plenty of construction and renovation works, therefore we have lots of new spots and overall flatground improvement. In addition to these things, our local organization "AJE+Skatepark" is continuously contributing to the community and improving our scene. They opened the very first indoor in Klaipėda in 2020 and the community is really growing since people can skate throughout the year. Big shoutout to them.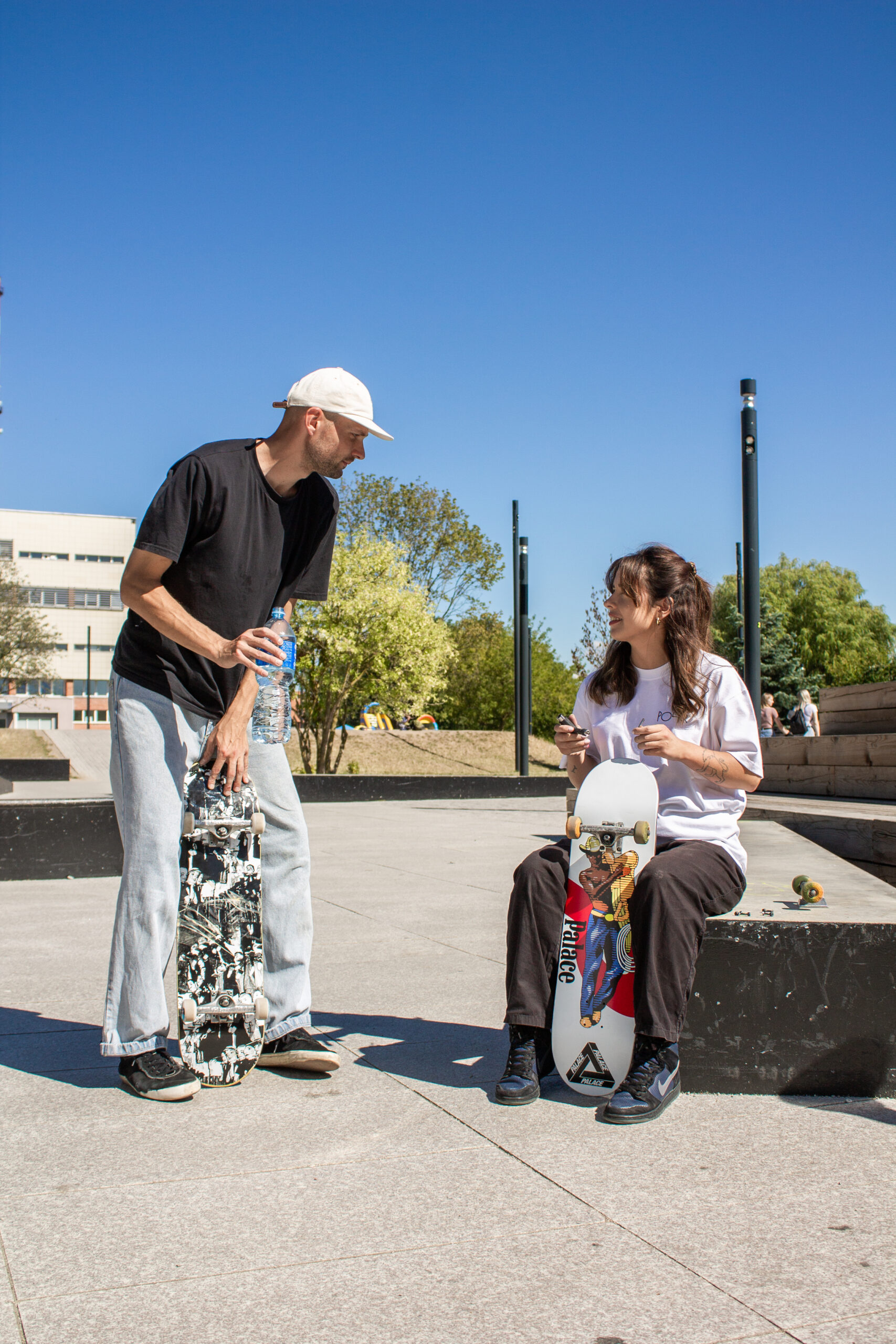 How did you come up with an idea to open the shop? What does the name mean?
I always wanted to do something of the sort. Klaipėda lacked a shop for some time, most locals were buying gear either from Skate Deluxe, Latvian shops or Vilnius. The demand was always there, but the inertia of changes in local scene pushed me to initiate things. Besides that, my colleague has experience in such business and gave me a lot of knowledge that is necessary to begin. I guess you can call it being at the right time and place. 
Not surprisingly, we get a lot of questions about the name meaning and pronunciation. "Phisch Market" has no profound or hidden meaning, it simply suggests that it's a shop with its roots in seaside. First word is pronounced the same as "fish", but we wanted a more sophisticated look. We added that French feel to it as well, therefore "Phisch". 
In my eyes, if you can buy it in every mall, it's not a skate brand.
When I saw the word market in the name I thought of Lithuanian market. My parents would always go to shop for clothes to Lithuanian market saying it's cheaper and the choice is bigger. It was probably in Šiauliai not Klaipeda though.
To me the word "market" gives a warm tone and has a sentimental value, therefore it may be associated with memories.  
What is the role of a skate shop in a scene in your opinion? In other words, why shops are important.
It should be the backbone of the community and a trend-setter, opinion leader. I remember growing up we had Trip Skateshop in Klaipėda and it was our local mecca. The shop was in front of Lietuvininkų square – an iconic local spot, therefore people would be people either chilling inside the shop or skating near it, at the square. They had a lot of influence on skaters and the whole urban culture as well. They were dictating what's hot and what's whack, old school influencers :D. It is the only true skateshop I have witnessed personally (I know Vilnius had one) and I think that's the role a shop must fill.
Now in the position of a trend-setter, what kind of skating and brands would you like to promote, and what would you not want to promote?
The aim is to promote skateboarding itself, hence the spotlight is on skater-owned brands or brands that directly benefit skateboarding. But it's hard to tell what the future holds, especially now, in these TikTok ages, with the exposure big as ever. A lot of things slip into the grey area now (e.g., Olympics), thus I don't want to be categoric now. But, without a doubt, we'll avoid profit oriented/ commercial/ corporate brands. In my eyes, if you can buy it in every mall, it's not a skate brand.
Moreover, I think skateboarding is more of an art, not sport. There are no rules, no right or wrong. People skate however they want, and everyone can make it look good in their own way. There is no specific skating I would single out and promote. We just do what we think is cool, at least momentarily, and if you're keeping it real – you're fine.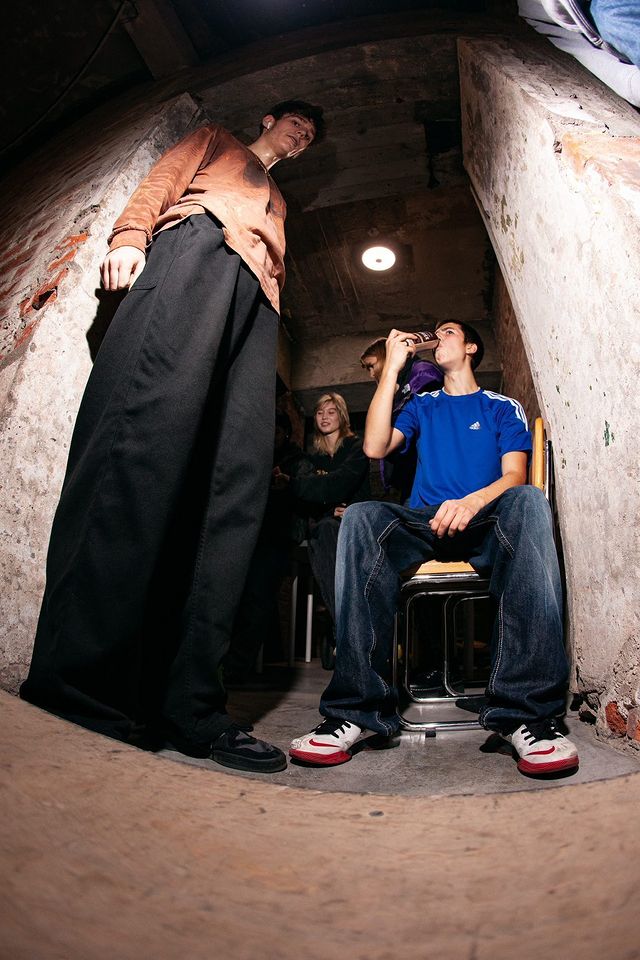 Do you have a team? Who rides for your shop?
Devin and Benas are representing Phisch Market. Both are energetic, sturdy, tenacious and, of course, devoted to skateboarding. They skate incomparably, but they're quite close outside of skateboarding. Watching them in contests is entertaining as they hype each other loudly, thereby pushing each other to do better. Frankly, Phisch Market was built around Devin initially, but I'm glad that along the way we hooked up Benas. Together they make a good duet.
You have a filmer in your shop? I have seen some dope vids of Devin on your insta.
Žilvinas. He moved to Klaipėda just this summer. He's Kaunas native, but he has lived/studied in London for a while. He works as production sound mixer/ sound designer, so he knows what a proper production looks like.
We only got acquainted this summer, a few months after he moved to Klaipėda. Devin already knew Žilvinas and gave me his phone number. His foot was broken at that time, so I wanted to borrow his VX. We've met for a few minutes, he lent his camera and explained how to operate it (ended up not using it :D). Then, about a week after, I asked whether he could film our first shoot. He seemed to be on the fence about it. However, he took the cast off his leg in the morning of the shoot and showed up. He's inseparable/ irreplaceable part of Phisch Market ever since.
Oh, and while filming that day, Devin accidentally landed a treflip on Žilvinas foot. It was the same, broken, fresh out of the cast, foot.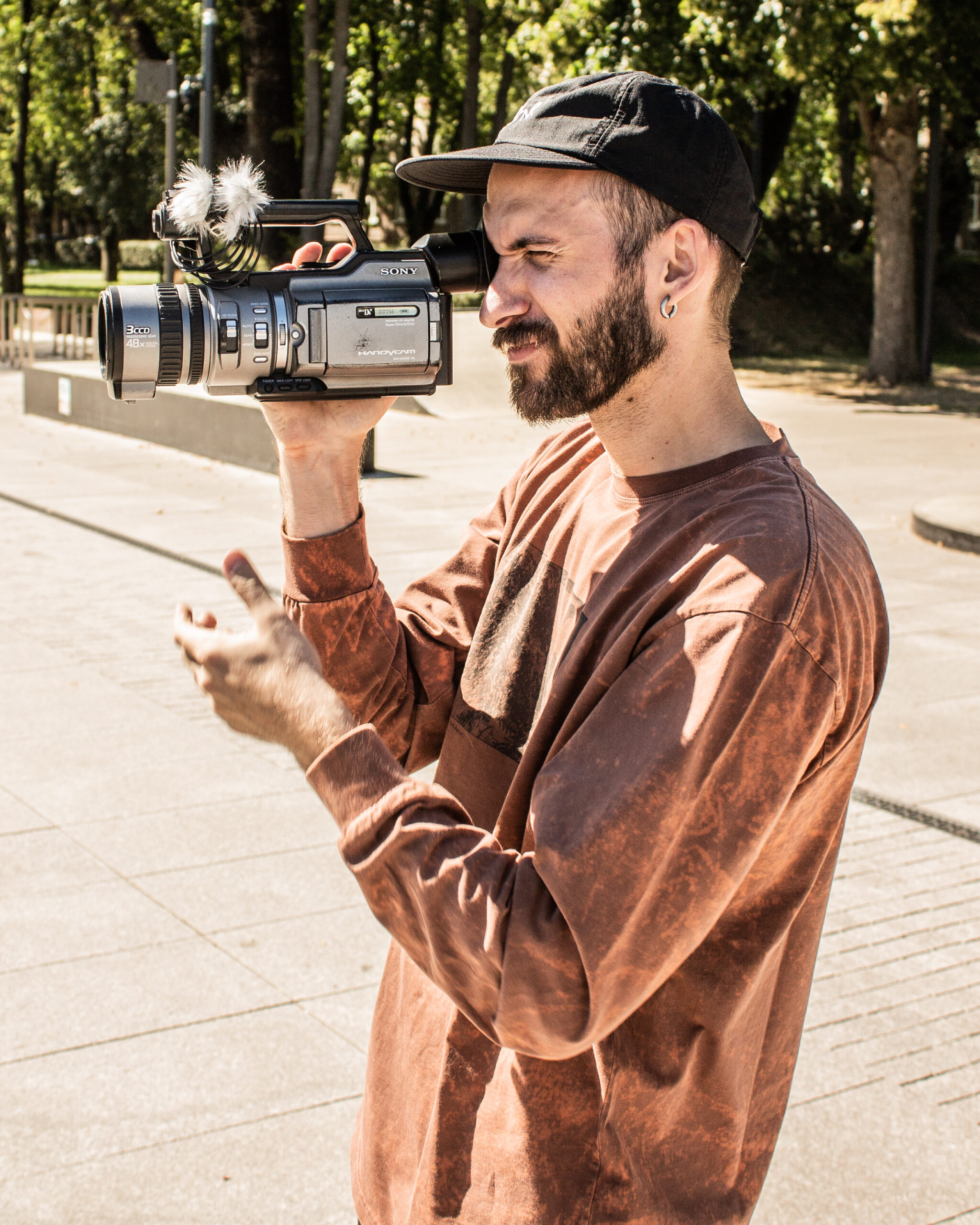 What did you learn since opening the shop? Maybe something you didn't expect and learned from running a shop.
There is always something new. I try to oversee the shop as much as possible, it's hand in glove with learning. Don't want to bore you with details, but besides skateboarding I dig around e-commerce, finance, digital marketing, or content-related topics. However, what really surprised me is how much more I could learn about skateboarding. I thought that I knew it all but working with other skaters proved the contrary. 
Do you look up to any shops?
Some inspiration comes from the nostalgic memories of Trip Skateshop, but that shop is long gone. Other than that, I don't look up to any. I'm not saying there are no good shops, I just want to do my own thing. 
What are your goals with the shop?
I know it's a long shot, but I want to put Klaipeda on the map, make the city relevant in skateboarding.