Today I would like to talk about a specific topic­­—girls-only events. Why they are important? What is our and our friends experience in these?
What exactly are girls-only events? These are organized sessions in parks (and other places), where girls and women of any age can participate under the surveillance of a mentor or a coach. Once, "ladies' nights" were also organized in Riga. They took place in Monsterpark, G-tiim and also in Spot center periodically from 2014 to 2018. The riders were not divided, skateboarders, inliners and BMXer, everybody rode together because it was often challenging secure enough visitors for the event to be profitable or at least not a negative income for the skate park, which is understandable.
Reading the previous activity in the comments section, I kind of understand what it is all the fuss about. Girls' evenings organized in this way certainly do not represent the rough, unaccustomed side of the skateboard lifestyle, but does everyone really have to learn how to skate in a barn or alone in their own micro-rajon? "Girls only" events are, first of all, a place to meet, get to know each other, find someone to chat with and then go to your 'sessions' together. In such joint sessions, you want to try tricks that you don't know yet, because you see that someone else is doing them and that is exciting. Also, there's a more similar level of skating around. This fosters progress and forms a sense of community. Of course, there are girls for whom this may be an unusual event, or someone might say that it is not "true", but maybe it is their only chance to escape from everyday life, to get rid of thoughts and do something that keeps them happy and in shape? Also, the infrastructure is there, so why not take advantage of this opportunity?
But why only girls? In my opinion, a simple thing like shyness or the fear of starting from scratch is completely uncomfortable in an unusual environment where there are only guys. Girls' evenings make it easier to build some basic confidence, it's the first step in getting to know skating as such, to know if you like it or not before being called a poser or someone yells "do a kickflip". So, to speak, without unnecessary tension. Learn how to behave in a skate park, so that during a public 'session' a fast-flying skater boy does not accidentally knock you out because you are in his way. Basically, learn to feel the field. This is a way to promote skating culture among women, especially if it in its infancy.
I am not saying that everyone should be singled out. The more often we skate together, the faster we get used to each other.
The question now is whether the "girls only" session should be resumed.
In Berlin's indoor skate hall for example, after a couple of 'test run' events, it has been decided to hold the girls' events as a regular event – every Tuesday.
I am glad to see that Kablys skate park in Lithuania is also experimenting with this format. Here's what they had to say about it:
So first of all we decided to organize the first ever "Girls Can Skate" jam in Lithuania like 3 years ago. Beginning was hard, girls were too shy to skate in front of an audience.
Later we had a lot of girls who were attending our camps and school, so we felt that it would be cool to organize a little event for girls only and get them to meet each other. Step by step these Girls skate events became our tradition and we believe that they really help to promote the Skater-girls community.
Girls loving it and we see more & more skater girls starting to skate and engaging to the community
Actually our next goal is to organize the biggest skater girl event (meet), it is scheduled on 12th of March 2022. Hope to see girls from all around Lithuania and Latvians too!
Thanks to Estonian sisters who contacted me after the first article and briefly discussed the situation in Estonia and here. I noticed that they, too, after a few successful experiments, set up "girls-only" events as a regular format in Tartu and Tallinn. So I ask the manager of Tartu Skateboarding School, Liidia Maier, to share her thoughts and experience:
Why did you decide to make a girls-only event?
Liidia – Skateboarding has historically been a men-dominated sport. Yet many girls and women would like to get into skateboarding, but it has been hard for them. 
Most of the skateboarding events in Estonia have been all about the boys. Some of the events have included a small number of girls, but none have been organized just for girls. This idea of a girls-only event was in our minds for a long time, and this year with my friend Kätlin Kikkas, we saw an opportunity to make it happen.
The goal of our event was to bring all types of girls and women together and create an encouraging environment where they could enjoy skateboarding and inspire each other. Age and skills were not important to us. What mattered was a desire to develop oneself. 
We were grateful to see so many girls, mums, and women just enjoying themselves. 
Shoutout to our girls Paula Viidu, Julia Kaldalu, Sandra-Merys Tasa, Merje Reisenbuk, Johanna Oden and Eneli Ige, who also were involved in organizing this event!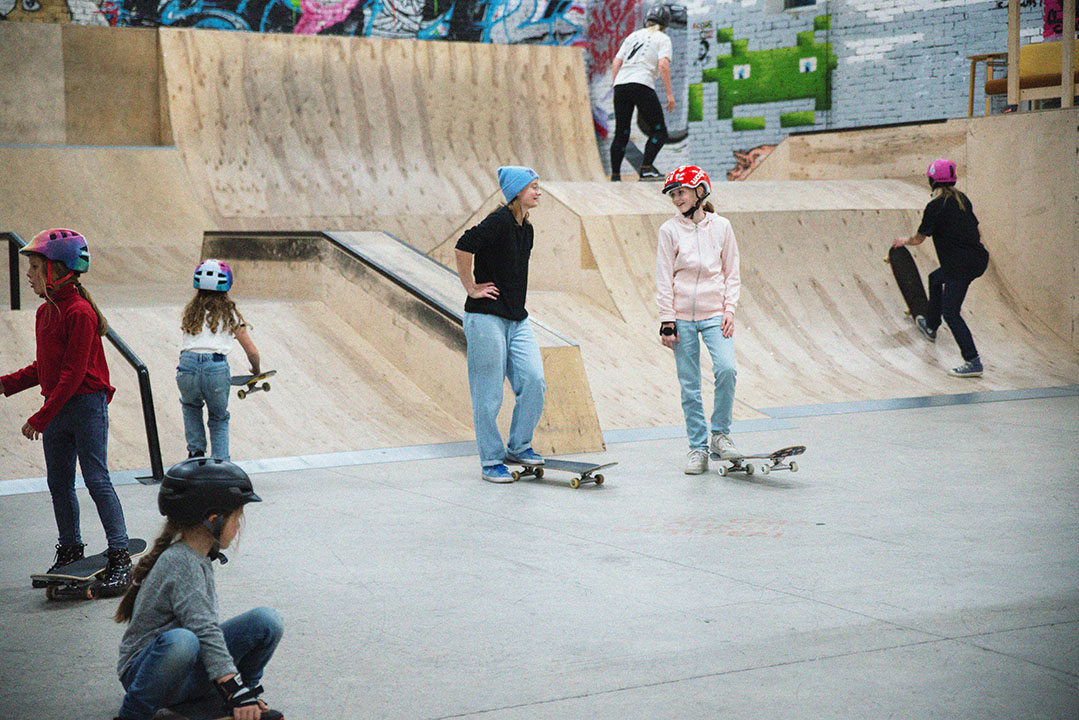 Why is it important for girls and the community?
Liidia – Throughout the years, working with kids in our local Tartu Skateboarding School, I saw that girls usually don't feel comfortable skating with the boys. The chemistry of the boys and girls is just so much different.
If you have a little skatepark and too many people, it feels intimidating to be a girl or beginner between a big bunch of guys who have skated for years. 
We are constantly afraid that we are in the way of someone, and we are someone who shouldn't be at the skatepark. I think that a lot of beginners know this feeling.
Since there are not a lot of girls skateboarding, to bring them all together you need to organize events and sessions for them. Then they will feel more encouraged and a lot more girls will enjoy it. Because right now I feel that in our local communities we don't have that natural flow of girls.
In conclusion, it looks like this kind of event could be the first push to start the movement. I believe that the rest depends on our (ladies') own wishes and initiative. If there is a demand for this type of event, it will be evident in attendance, then there will also be an more offers, because in my experience, skate parks are welcoming to ladies. As to why we have to split and can't skate together, we can each think about what we can do so that we are not afraid or embarrassed of each other and that coexistence becomes commonplace.
From words to deeds! Let's try an experiment. Is that what is needed in Riga now? December 30 The Spot Center from 20:00 to 22:00 Girls Only (skate & inline jam). Your task is to come.
Merry Christmas as well.
Recap from Action Sports Workshops for Women 2018.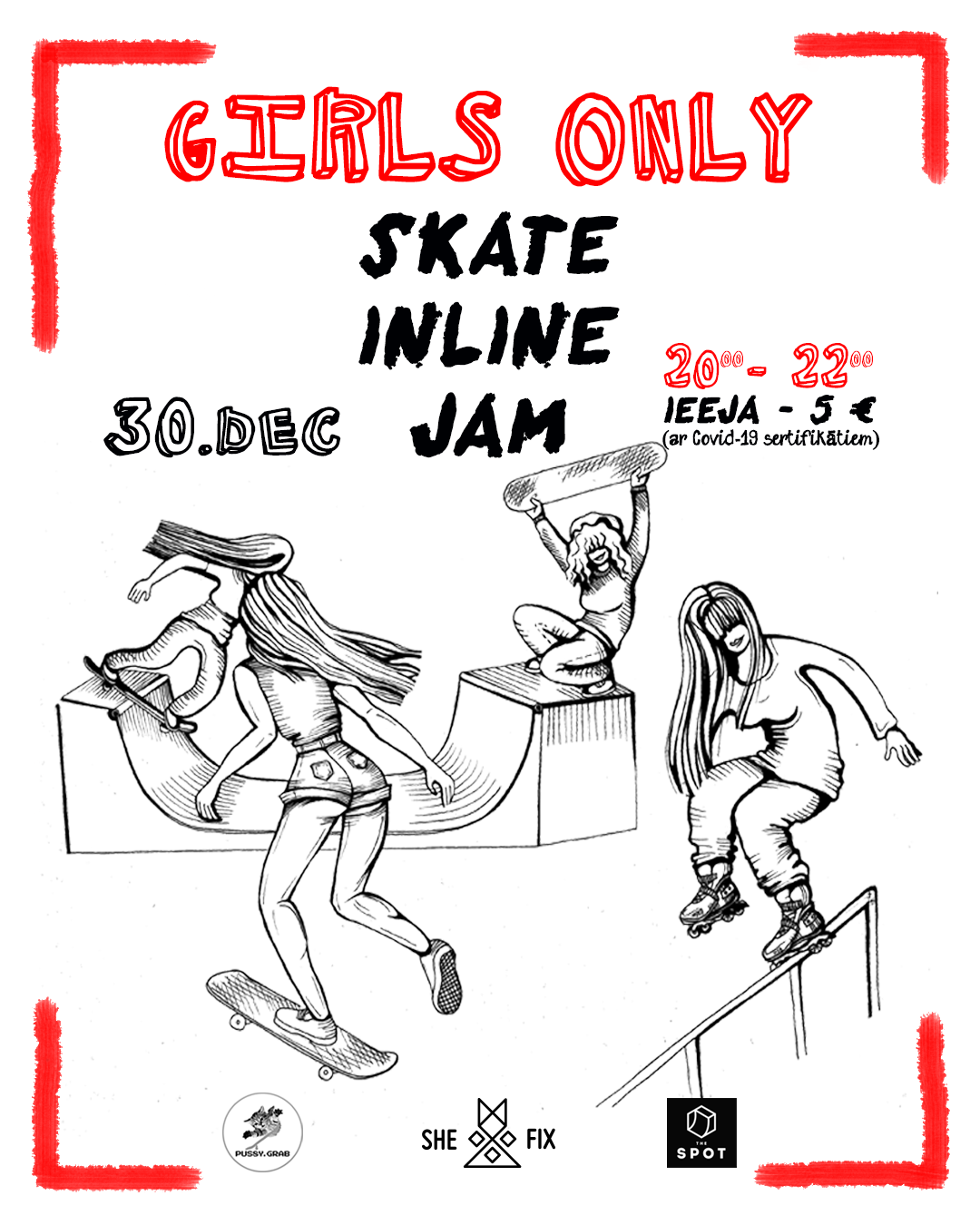 Photos by Liidia Maier