We asked our mates to talk about their favorite shoes from past and present. Surprisingly, a lot of people didn't have much to say about shoes. That probably shows that Baltic skaters in general are not very opinionated when it comes to shoes. Most are happy to skate in anything they get. Doesn't mean of course that having preferences is a bad or something. But also shows that our overall mentality is not as much gear centered over here. Well, at least yet. 
The guys we got here have some opinions and/or good stories about shoes they skated.  We got four reviews in English with two bonus ones in Latvian. The Latvian texts were so good, we decided to leave them as they are without translation.
So without further a do, dive into the Baltic skate shoes discussion.

I only started to pay attention to the details of skate shoes, trucks, boards etc. a few years ago. Before that I just thought I can't skate anymore when I had weird feeling gear. Turned out there's products that suit me better than others.
Nike SB Blazer Mid XT
I had them in cream with white sole. The last pair of shoes I bought in Australia. They have a really good choice of skate stuff over there. You can always get what you want. The first pair of shoes I knew I had to get again, and luckily SurfHouse had them when I got back to Estonia. I like light colored shoes, and these felt really good. Mid shoes are also good because you can get them evenly tight around your foot. Also the board feel was good and the flex was ok. Nightmare to put on though.
Adidas Boost ADV
My first "high "tech skate shoe. I had them in my closet for a year I think because they were of kinda weird light blue color. But once I tried them on again after a while they instantly felt perfect. There was an inner sock, they were easy to put on and supported your foot really well all around. Also I had really good flex in every direction and the boardfeel was epic. I never felt this with any other shoe. Shame I only ever had that one pair. I think they made these shoes for one year only. I am probably wrong.
My first skate shoe
Some kind of Oakley shoe from a bike shop. I don't think they were made for skateboarding. My first pair got stolen from the school locker room and I was dumb enough to get the same pair of shoes again. Before I got the other pair however I was skating alone in a parking lot with running shoes on. I randomly met Tubin wearing running shoes in the same parking lot.
Vans Slip-On Pro's
It's hard to say which shoes are my favorite because I have skated in so many good skate shoes, but probably my all time favorites are Vans Slip-On Pro's. They always look good when I look down at my feet. And if shoes look great from the top – you get extra powers in skating, I think y'all understand what I mean haha. From the durability and performance perspective, one thing that sucks about these shoes is if they get stretched out too much, your foot is gonna slip out cause there's no laces. So, when this happens I use zip ties to tie them up! Yeah, but overall I love this shoe model, the insoles they use are great, all that rubber material grips really good and lasts long enough for me.
Vans Sk8 Hi's
Another favorite model is Vans Sk8 Hi's, some people don't like them because it's on that basic shoe side that non skaters wear (girls from rajon liked them a lot in 2015). But Grosso wore them, did Grosso wear Dunks? NO! So shut up! All jokes aside, I love this model because they last long, grips with the board well and my feet in them feel like at home, what more I have to ask for?
Converse Jack Purcell
Third model I liked so much was the one I had most problems with in the beginning. Converse Jack Purcell, the ones I had (and still have!) were non skate model, so that's why in the beginning my toes hurt so much because of that double layer hard ass toe cap, board feel was shit, felt like I had two insoles under my feet. Later on after trying to skate in them they still felt like shit, so I ripped the insoles out, put in some really thin insoles, skated for a few minutes and I fell in love with them! Flick was so good, they gripped perfectly. Skated for a month or so, but because of that skinny ass insole I fucked up my heel, so I switched to another shoe, but I still have them laying around in my garage, they don't even have holes in them! They are waiting for me if the dark days come…

Lakai Manchester
It was 2007 and I was hooked on 'Fully Flared' – one of the videos that made the biggest impact on me, especially Mike Mo's part. I wanted to dress like him, do 360 flips in all stances like him, do all the tricks perfect like him. And of course I had to get a pair of Lakais. Got the leather Manchesters, and after breaking in they were one of the best shoes I have ever skated. I don't know if it was just the fact that I loved the look of them or that I was a Lakai fanboy at that moment, but I got another pair after that. Later on, they started to make a different Manchester shoe and they didn't look like the older version, slowly my hype over Mike Mo and Lakai went numb and I have never skated any Lakai shoe after that. Now I consider it a shit brand and would never buy them for my own money. I guess you can call it 'My Love Story of Lakai'.
Adidas Nizza
2011 was the year. I got a good job at the gambling hall and was earning a decent amount of money at that time. I casually spent a lot of money on clothing and shoes, and was a huge fan of Adidas. So I went to Adidas outlet on Barona street. Once I spotted a deal of Adidas Nizza over there, they were selling them for 16 lats, so I got 6 pairs that day, all they had in stock. The shoe is very slim and very comfy, and somehow the heel protection was decent too. The sole never ripped apart. I have skated them even without socks and they still felt very good. I was casually going through them, like skating for 2 weeks and then giving them away to some of my friends at that time. Pavel got a pair from me, Jurgis also and from what I heard they enjoyed Nizzas as much as I did. One more encounter with Nizzas happened last year. Niks gave Nizzas to me because they were too small for him and I filmed my last trick in my part at Uzvara in them for Viss Taisni video. The shoes are done, but I am still keeping them in my closed for unknown reason. Maybe I will stich them up and go to Uzvara this year as well, who knows…
Emerica Westgate
In 2016 I got sponsored by Emerica. First two pairs I got where the Raynolds3 cup sole and the Westgates. The bulkiest shoe I have skated, and I loved them. They were practically indestructible compeering to other Emerica shoes (Emerica is also shit) I think they lasted about three months for me (my shoes rarely survive that long) and those were some good 3 months of skateboarding for me. I remember learning a lot of new flip tricks in them and felt like they are helping me pop my board higher. So yeah – the bulk of them didn't mess up the board feel or anything, they felt perfect. Soon after that I got the Westgate CC – I liked them too, but not as much as the first ones. And not long after that Westgate left Emerica for New Balance. I still have one pair of the old Westgates that as made from soft, "grippy" material and I use them for running as they are supper light. I would buy a pair of them even now, too bad it's not really possible.

The DUNK

One of my favorite shoes of all time. I think I've had like 5/6 pair's of Dunks over the years and they've always been a blast to skate in. I love how the tongue/heel area of the shoe has a nice puffy and supportive feel, of course I like how they look… The way how a shoe looks play's a big role in my head, it can either give you confidence in your fit and make you wanna go out and film/try something new etc. or it can F up your whole session. For instance, if I would be skating the Nyjah Nike shoe (probably not going to happen), there would be a thought in the back of my head of Nyjah skating an SLS contest in yoga pants while saying SEND IT (hahaha) and that thought would bother my skating because in my head it wouldn't match the way I want to skate or my style of skating. But if I have a pair of dunks on and I saw Ishod on instagram with the same pair, doing a steezy SSBSTS on ledge, that would get me hyped and give confidence and make me think that I could do a steezy bs tail like Ishod :))) In conclusion. the dunk looks good, skates good, but is getting a bit too popular and mainstream thanks to Travis Scott haha.
Nike Blazer Low
This Grant Taylor model has really been my go-to shoe for a hot minute, looks really good (nice and minimalistic) has a good flick and good mixture of board-feel and support. Overall a great shoe.
Nike Blazer Mid

Also one of my favorite shoes to skate in, the board feel and the flick are similar to the low version of the blazer but these have a lot more ankle support. Recently I twisted my ankle in the GT Blazer low's, I didn't want to wait for it to heal entirely by itself, but I was also too afraid to go back to skating straight away because my ankle was still weak, so I grabbed these bad boys and slowly got back on my board. Also these are great for heel flips I don't really know why:))

Nike Dunk Low
Nike SB pie mums tad nevarēja nopirkt, tapēc paņēmu parastos dunk low no sporta veiča. Viņas bija neiznīcināmas, skeitoju ļoti ilgi un beigās vēl pa 2 latiem pārdevu. Tie bija mani pirmie apavi kuri nebija bombas ar mega pufīgu mēlīti. No colorway vēl arvien kūstu un kopumā kur es tādas varētu vēlreiz nopirkt?
Addidas Nizza
Adidas nizza man atdeva Armands, ieskeitotus un perfektus. Arī nebija nekāds SB bet vienkārši sport/lifestyle. Gāja ilgi, bet iespējams arī tapēc ka pārāk patika un nebiju gatavs šķirties. Top dizains, top performance, gribu vēl tādus.
Es Koston 6
Tiko bija iznākušas, nopirku Bordos pa debīlām naudām, kādi 59 lati. Transworld žurnālā bija reklāmas, jutos moderns un viņas bija nu suuuuper ērtas. Materiālu kvalitāte gan bija mēsls, jo dila un juka ārā ne pa dienām, ne stundām, bet drīzāk minūtēm, bet ja patīk tad patīk, ko tur vēl.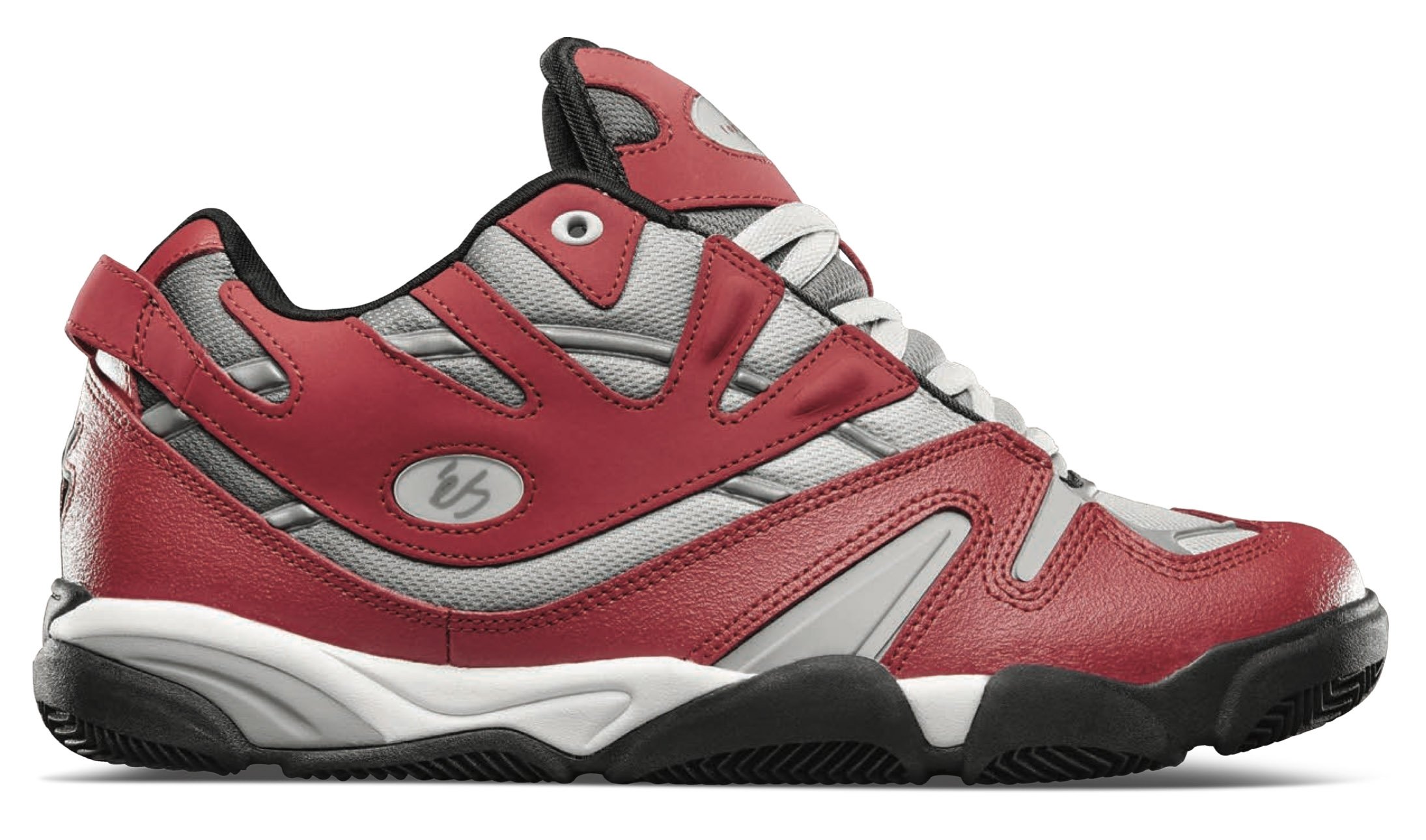 eS Sparta
Tas bija tas laiks vēl pirms mammas nāca uz bodi un ar augstā pārliecības patosā vērsās pie manis ar: "Mums interesē ŠŪZI."
Boards.lv un Čempions bija vienīgie veikali, kur varēja iegādāties ŠŪZUS, ja tavi vecāki bija miljonāri, vai gulēja ar kādu miljonāru. Ja ne, tad atlika samierināties ar kādu 10 gadus vecu Airwalk modeli no humpalām vai pirkt Roots wannabe ŠŪZUS supermārketā Centrs pa 29.90 Ls. Man bija tikai 25 Ls. Par tiem nopirku lietotus eS Sparta no Egona Avota.
Arī Egonam vecāki negulēja ar miljonāriem, un viņš tos bija iegādājies no Herbes pa 40 Ls, cik atceros. Herbem pat nevajadzēja vecākus, lai tiktu pie jauniem, viņš jau bija pieaudzis un sponsorēts- kaut kas dievišķš, kā priesteris no katoļu svētbildes.
Es biju superpriecīgs par pirkumu, tagad gan grūti attaisnot to prieku. Zoles protektors bija palicis tikai uz papēža un nedaudz vidusdaļā. Ollie zonu arī nācās ieziest ar superlīmi un aplīmēt ar ādas jostas atgriezumiem. Tāpat arī vēlāk zolei līmēju protektora atgriezumus no Axion Kareem Cambel ŠŪZIEM, ko man bija atdevis Jānis Krišāns, kurš tos bija nopircis savulaik no Mārtiņa Kalniņa.
Noskeitoju ar šiem vairāk kā pusgadu. Dēli varēja sākt just tikai, kad apavu virspuse jau bija neatjaunojamā stāvoklī-tik cieta zole bija šim konkrētajam modelim. Bet paskaties uz to šņoru aizsardzības dizainu! Tajā bija kautkas tik pievilcīgs, kam nebija iespējams pretoties. Tas man nozīmēja simbolu, kas nešaubīgi apstiprina- es esmu īsts skeiters, es atšķiros no citiem mirstīgajiem. Atšķirties bija ļoti svarīgi, ko arī kopumā ļoti izteikti pauž šis konkrētais Šūzu modelis.