Lukas Matusevičius is a lit dude from Lithuania. Goes fast and does things proper and with style. We asked our go-to Lithuanian contact person – Domantas, who specialises in all things ghetto, to draw a more precise portrait of Lukas. This what Domantas had to say:
Lukas Matusevicius is ma homie since day one! He is 18 years old at the moment and it is very joyful to see him progress trough those years. This year especially I see a lot of fire in his eyes and wanting to kill every spot that he gets, I am super proud of him because not only he is a really good skater but also doing great things in Kaunas, hyping the young ones and keeping the Kaunas scene Up and going! Funny thing is that people don't even realise how gnarly he is until they come to the spots he skate and see how much rough and sketchy it is to do something there. Lukas also keeps my internet meme game updated haha, he always sends the best jokes and memes in the chatroom and also cracks you up on every trip, it is essential to have Lukas in our skate trips, because he always keeps your positivity and hypes you up to get dat clips dawg!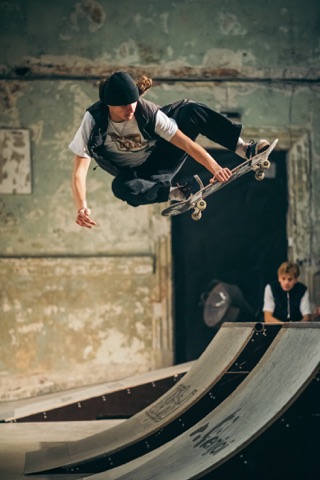 How long have you been skateboarding?
I have been skating for 5 years and a half maybe.
Sponsors?
I've been repping FULLY GHETTO since day one haha! I skate for 14Skateshop, and I'm also very thankful for CommuneDIY guy Siom!
Favorite trick?
I love doing wallies and front smiths!
Favorite thing to skate?
Curbs, hills, ledges and quarter pipes.
How did filming for R.USH HOUR go?
It was kinda hard, my legs were very sore and I was feeling sick, but although I was still motivated and hyped to skate the gtiim and enjoyed it a lot!
We plan to have atleast two more episodes, so stay tunned. Also, Unreal Tournamnet recap is coming any day now. Peace!