Words by Edvard Gaba
Photos by Klavs Laivenieks
Few years ago one Latvian skateboarding website (when we still had those), hosted a video of a London-based Latvian. His name was Klavs, and he was skating some banks, doing wallies, making everyone feel envy, as we didn't have any cool banks to skate and do wallies around here. This was the first time I heard of Klavs Laivenieks, and somehow I knew he was a filmer as well. Few years later we talked online for the first time, we had a typical filmer conversation on the topic of footy exchange. "Hey, Pavel told me you had some clips of his, can you send them to me please?". Since then we were exchanging clips (mostly me begging for Klavs' clips) and giving mutual respect to each other. First time we met in person was in Barcelona of all places. I remember I didn't recognize Klavs at all. I mean I have only seen his profile picture on Facebook prior to that. Since then, Klavs made tons of videos and recently a video series called Broke Lads, which actually sprung the idea for this interview.  
Klavs how is it going?
Yo Yo!!!  All good, chilling.

You have just returned from Barcelona, how was that?
Yes, I was in Barcelona little while ago in the end of November. Haven't had time to answer any of your questions all this time. Had to do some work to earn some money! But Barca was great. Apart from getting a ticket for skating. Stayed there for 7 days with a homie who used to live in London and now moved to Barcelona. Plan was just to skate around and film some stuff. And ended up getting quite a lot of footy in 5 days of filming and we put little edit together.
You are originally from Liepaja, right? Did you start skating there? How did it happen?
Yes I'm from Liepaja and that's where I grew up and started skating. I guess the usual story of THPS2 that was the start of everything.
Who did you grew up skating in Liepaja?
Because Liepaja is a small city you skate with everyone there. There wasn't different scenes and stuff. I think we were only 20 people or so who skated in Liepaja. So everyone skated together. I started skating with my cousin and friends from my area but after the park got built you met everyone there and we skated together.

What about filming? How did you get into that?
We just wanted to film how we skate and put some videos out. I had a point and shoot digital camera which could record video, so I wanted to make a skate video from Liepaja. But then all of us would film and edit so there was no actual filmer. But I was trying to learn all the editing softwares and shit so that got me more into filming and editing. Because seeing new videos, I would always wonder how they did that effect or this effect… anything really that looked cool in skate videos. So I focused more on filming when we would go out skate.

Why did you move to UK?
We moved to UK because we didn't know what to do. I finished school and didn't want to study anymore so we made a plan… Me and homie Shaulis knew some friends who were already living in London and just decided to try to move there without much of a plan and if anything will work out.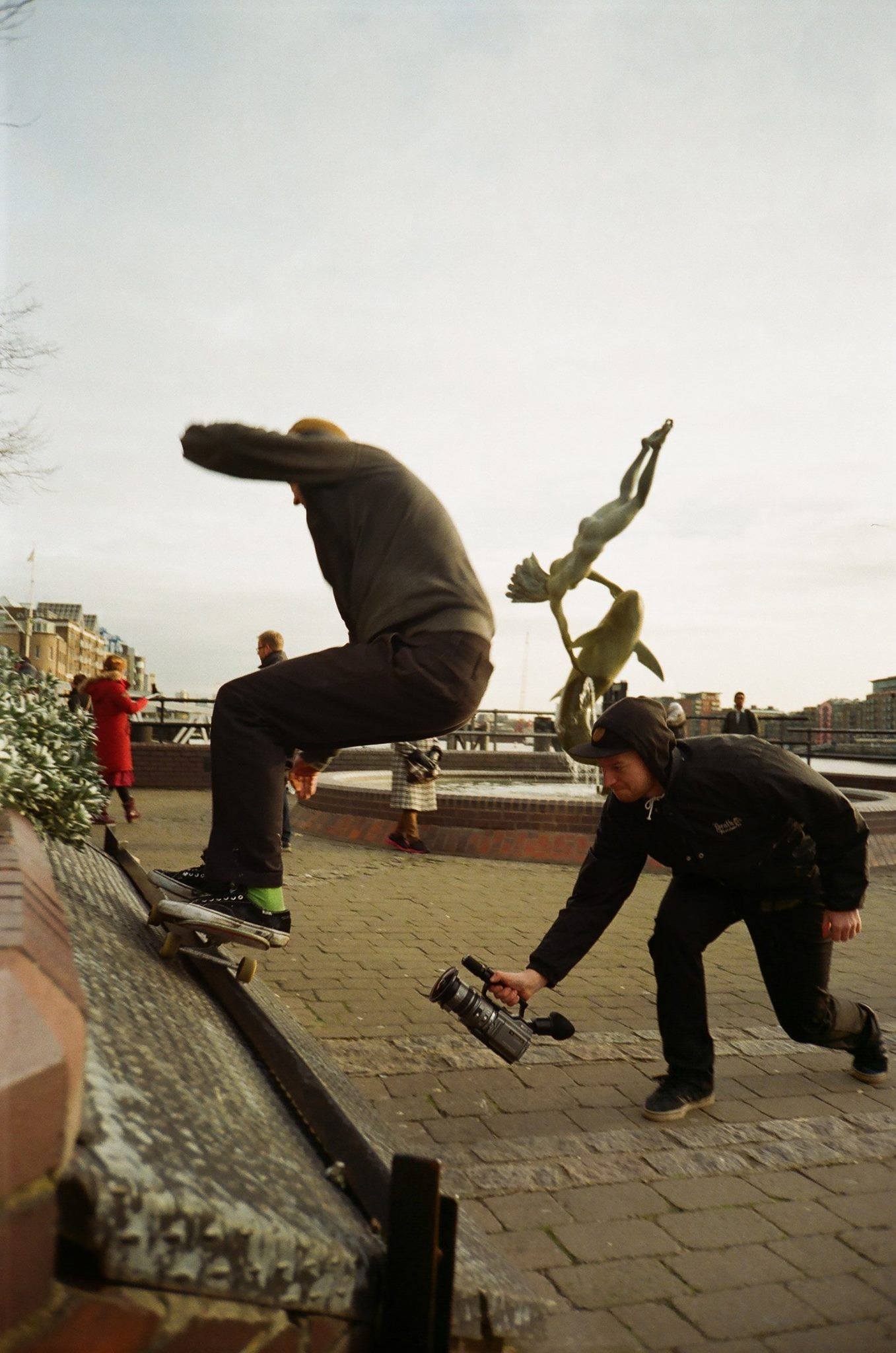 What did you do at first?
When we first got to London we were living in a shitty hostel for two or three months till we had saved enough money to move somewhere else. We found a job through some agency packing DVD`s over night. It was basically you standing by a desk opening the cover passing it on someone else he then puts the disk inside and then passes it further… pretty shitty job! I worked there for two weeks maybe and then got a job in a "skate shop" which was one of those stores that sell everything extreme. But it was much better than working night shifts packing DVD`s and plus I got boards cheaper. Worked there for couple years and started to freelance.

How did the local scene welcome you when you moved there?
Locals here are friendly and welcoming to new heads who show up to local spots. So maybe first 2 years I wasn't filming because I just didn't really know anyone and wasn't too bothered of filming at all. But then moved to different area where I have local park across the street and became good friends with all the locals and slowly got back in to filming. Plus there wasn't really anyone who filmed at that time with those guys and also that is a good excuse to leave the park and go skate streets.
What is your current filming crew? Do you film with some Baltic guys?
Yeah, I film with all the Latvian homies who live here Pavel, Martins, Mason some Lithuanians as well. But usual crew consists of people from all over the world – Brazil, UK, Spain, South Africa. You get people from everywhere here.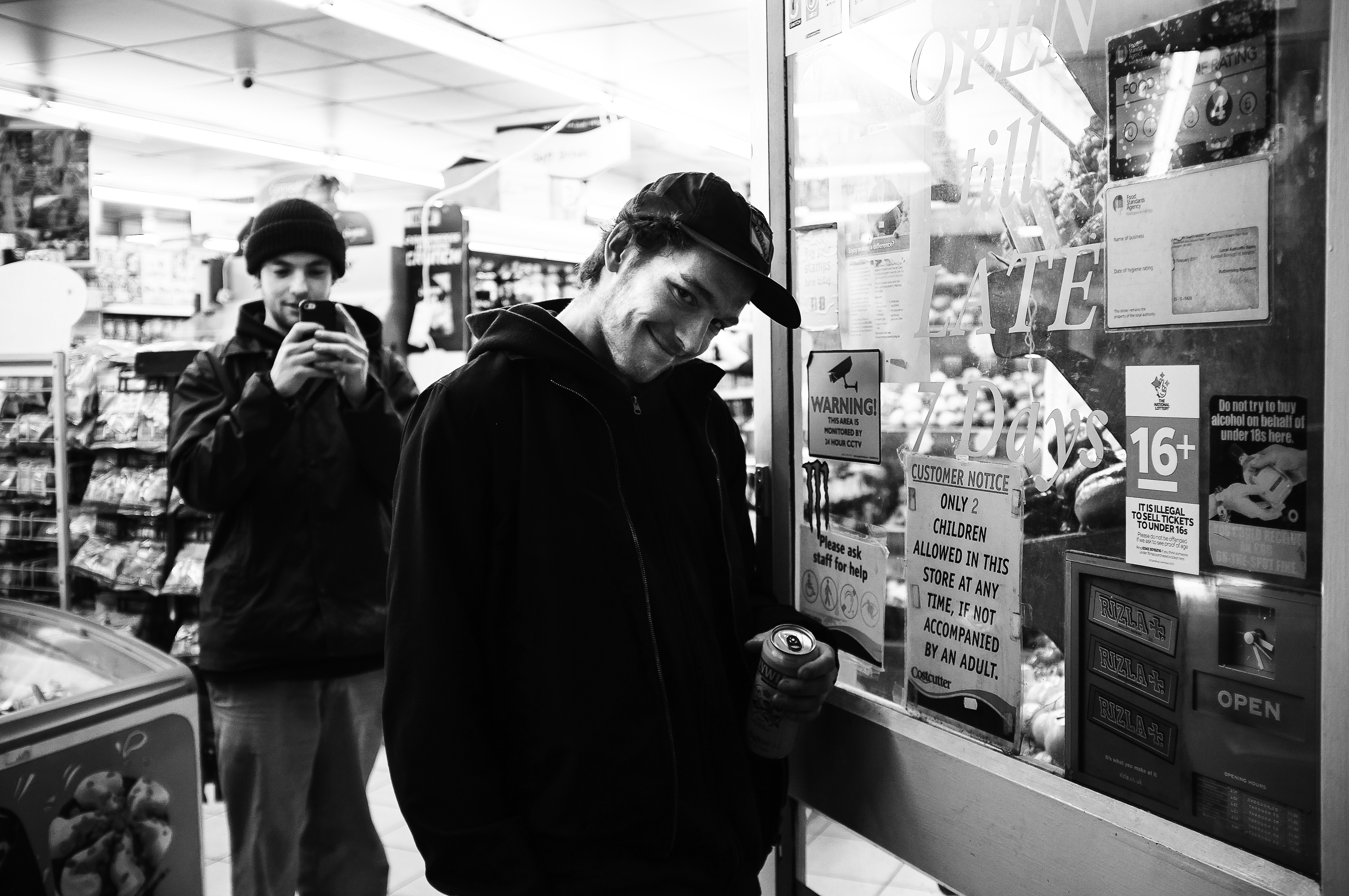 Tell us about Broke Lads. How did that come to be? Where did the name came from?
The name comes from bookies shop called LadBrokes. Lukas came up with that name by changing some letters around. And BrokeLads just seemed quite fitting name because we all are quite broke.
https://vimeo.com/240921018
Why did you decide to make a series rather than going for a full length video?
Well I did edit a full length edit from the footage but it didn't feel right. It was too long around 25min or so. Not many people would watch video that long so I just decided to make short episodes instead. Plus we could continue filming for the next episodes. I still have a fair amount of clips that I didn't put in. So maybe will put those clips out soon as well.
What is your take on full length videos? Do you think they are still important these days?
Definitely. It just depends who puts it out. For example Static series, they can easily put out full length nowadays because they have established themselves over the years with sick videos and everyone will want to see the next one. Same with Sabotage and Colin Read`s Spirit Quest. But I think It's harder if you are putting out a full length video for the first time. I think the big company videos are kinda over, because all the marketing goes to short web clips from which they can generate more views and possibly more money. Which has changed how everyone see`s full lenght`s. I would say that full lengths are important for the "underground" scene but they have to be good for people to want to watch them.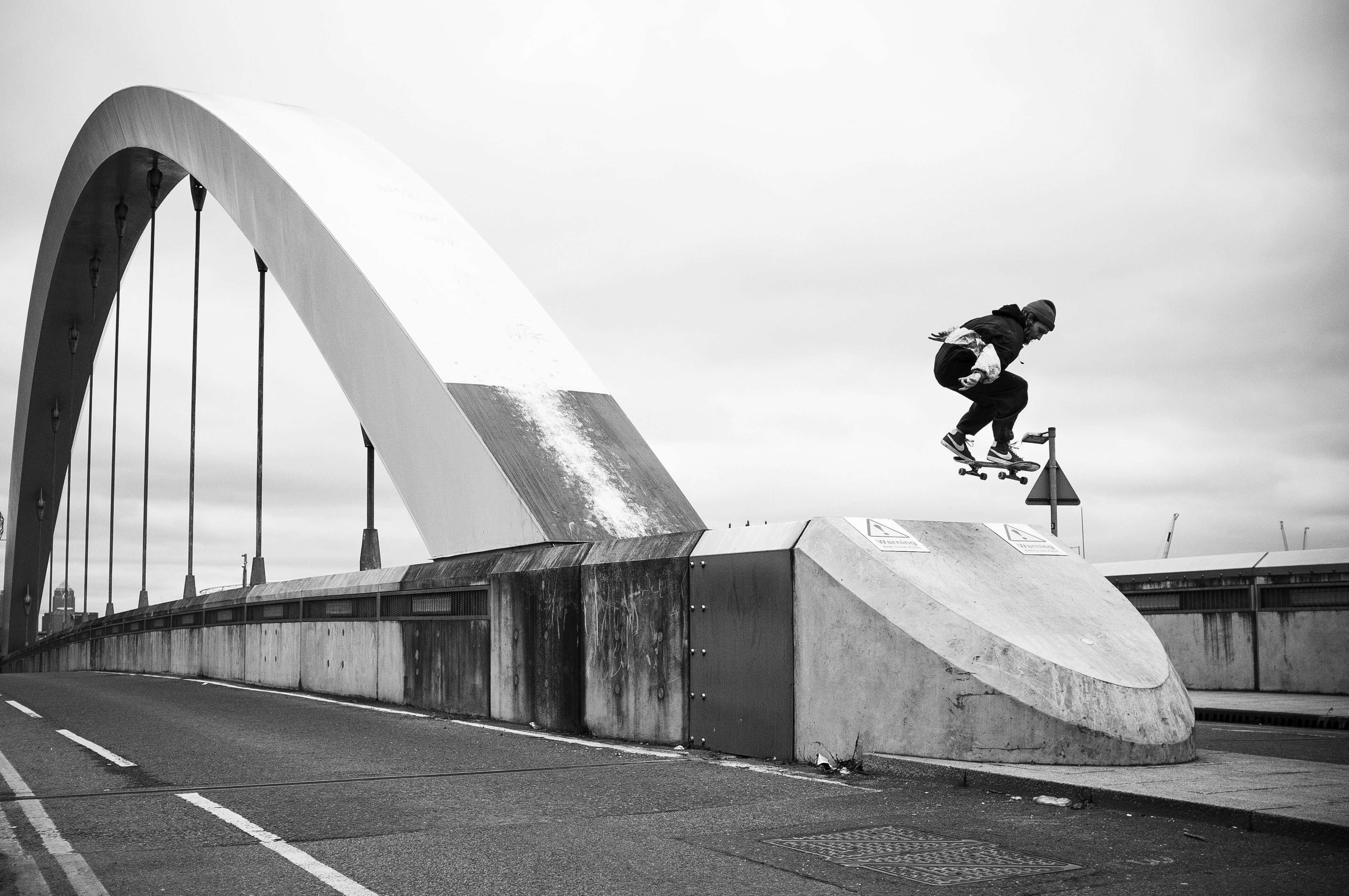 Which videos hype you up to film and skate?
Depends on a day and mood haha! Josh Stewart's edits are sick anything from Theories of Atlantis is good. Mean Streets, GX100 and New Balance edits just because the way they shoot the videos is amazing from filmers point of view, to get some HD inspiration.
Typical filmer question: SD or HD? You used to be into expensive HD cams, weren't you? I remember Pavel telling me that you had some gnarly filming gear at one point (RED?). What made you want to go to SD (vx)?
HD! hahah! Honestly I like both but I fucked my VX Fisheye and now I need to buy a new one for £400. So I guess for now I will stick with HD. Yeah, I still have those mad HD cameras because I also work freelance, I film and edit non skate related stuff like commercials and events. So, I try to keep up to date with what's going on in the film world. I bought the VX because everyone was just so hyped on it again, and plus I never owned one. And everyone was so hyped to go film all of a sudden.
What is a typical filming session for you?
Typical filming session…. everyday is different. Sometimes we meet at skatepark have a little warm up sesh and then head out to the city but it is easy to get stuck there. And trying to get everyone out is the hardest part. Other days we just meet at some spot and then go from there. Really depends on the day who's out and about skating.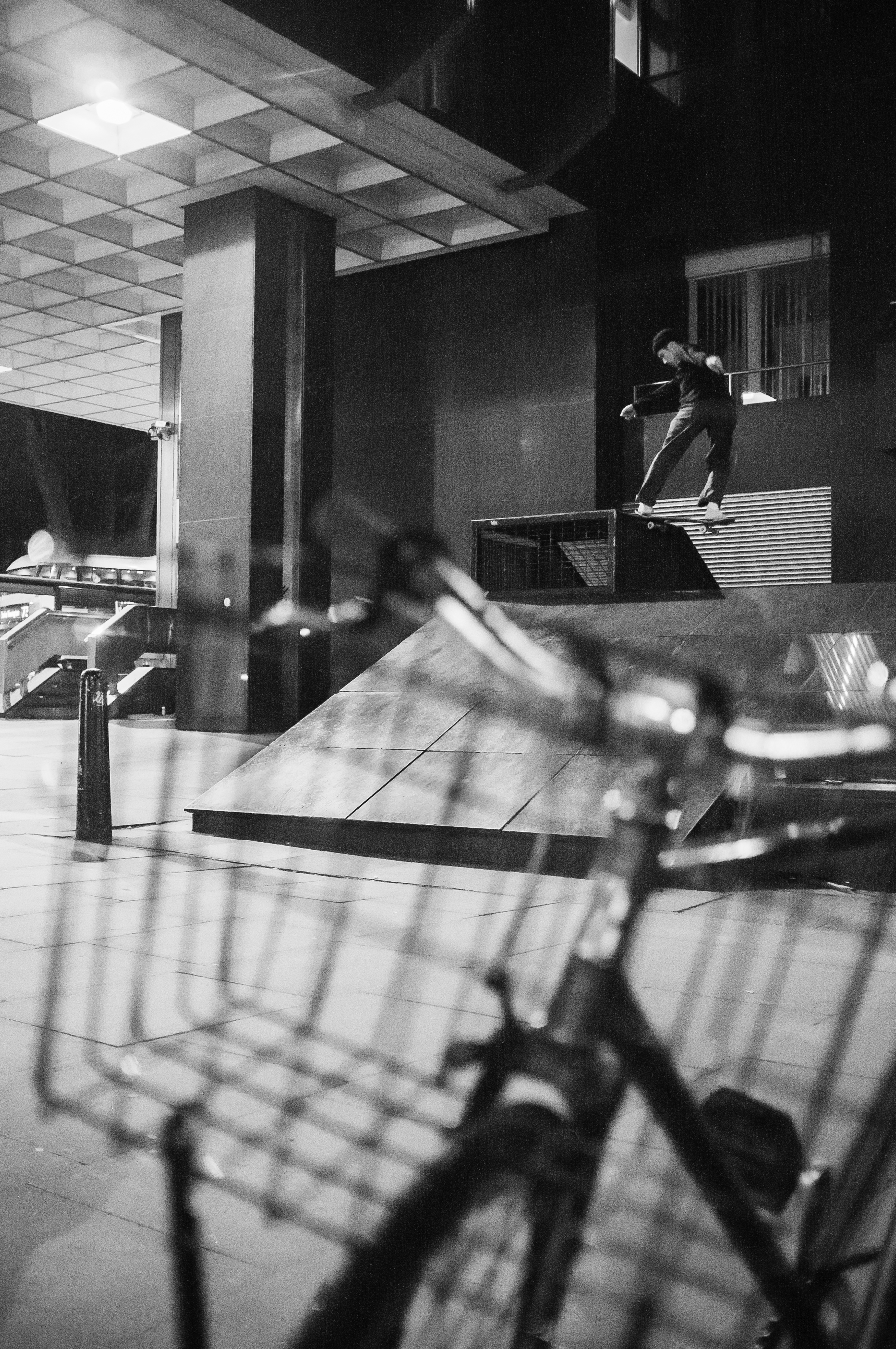 I heard that you were filming a skateboarding show for television? Can you tell us about that?
Yes, I was working on a TV show which I believe is coming out in march on Sky TV. It was Skate, Bmx and inline TV show. The concept was kinda lame though. It wasn't a regular contest but race instead. They built a massive indoor park in air ship hanger in middle of nowhere, and everyone was racing against each other. We were there to shoot GoPro replays with time slice effect. (youtube Matrix Bullet time).

Sounds crazy! Do you have any plans for this year? Any video projects? Are you coming to Latvia any time soon?
Will see what happens this year, will try to film something definitely, but don't have anything planned. Will try to visit Latvia in summer time so I can chill in Liepaja on the beach. But maybe some more Barcelona visits to film something there with homies. But will put out something fo sure!
Klavs made an edit of all Martins Horns clips from BrokeLads. Watching the series we enjoyed Martins clips a lot, and it is great to see them all in one vid. 
Follow Klavs on instagram- @klavs_la/