Linda Lindenberga, RajonTV contributor and Latvian skate scene activist,  is releasing her skate documentary called "The Baltic Connection". The film premieres next week on 6th of April in skater's favorite cinema K-Suns. As far as we know this might be the first all girls skate vid in Latvia maybe in the Baltics to have a full blown premiere and all that. We caught up with Linda before a session at G-tiim skatepark for a quick chat about the movie, her thoughts on women skate scene in Latvia and broken trucks. Make sure to get a ticket to the premiere in Tikari or Clockwise skateshops. See you all there! 
I'm currently in G-Tiim with Linda. She's putting a new truck on her board because, apparently, she broke it during Isolator Madness. Linda, how was Isolator madness? Did you like the event?
It went really well, I liked the vibe. I had downed two cups of coffee and a Redbull. Forgot about doing some ollies and shove-its, but I surfed around. I just wanted to cruise through the whole park. I wanted to do a wallride, but had trouble with getting enough speed. But it was nice, I enjoyed myself. I left at around midnight. What about you Gaba? How was it?
I was filming a lot. Was pretty intense. Got super tired. That's basically all I did. I left at around 2:00 AM. So yeah. You broke your truck? How did that happen?
Think they were super old. That's why. Probably hit its G spot or something and it broke. (Laughs)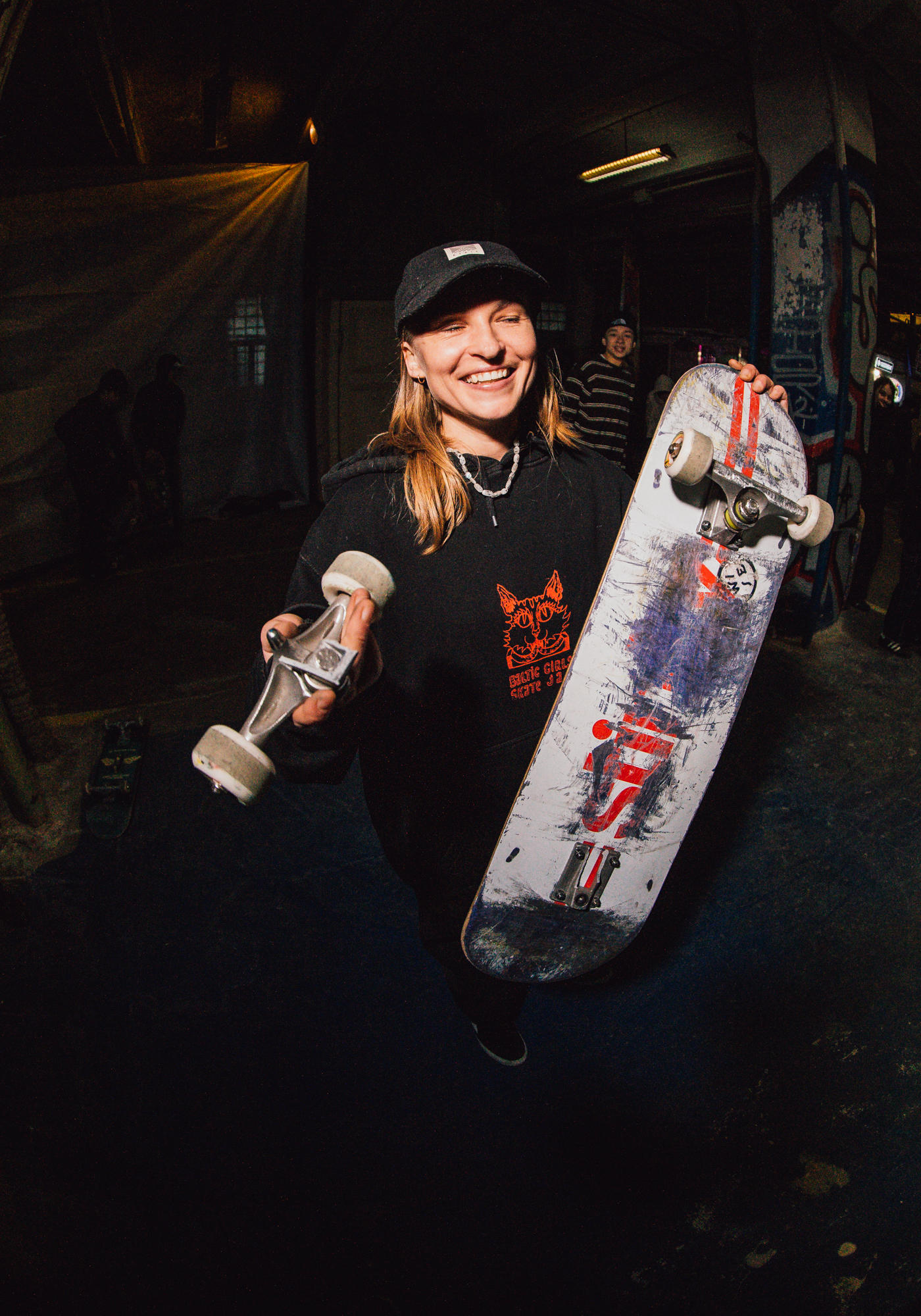 Could you speak a little bit about the film itself? Give us a small synopsis of what it's all about.
I can't say for certain, but I think it might be the first girls skate video in the baltics. Of course there are also guy's in the video, but primarily it's girls. The concept isn't to point out problems in the scene, it's more like showing the world that our vision is indeed moving forward. I wanted to show that we are skating, traveling, having a good time and moving stuff in the right direction. 
Laura Birša: What are your inspirations behind the video you made? 
I think that action sports is a beautiful thing. Not just skateboarding, the whole deal. I think that all the girls that are involved in action sports are all super special and interesting and I guess I wanted to show that to the world.
How long did it take to film this project?
We filmed it over the course of two trips. Starting in June with a trip to Tallinn, where Emilija (Stoka) and Robina (Zvirgzdina) got injured and ending with the Baltic connection tour. Basically the entirety of last summer. I just had a feeling that I needed to make something. It's all filmed on Toms Bika's VX by the way. I started editing in August and I have just finished.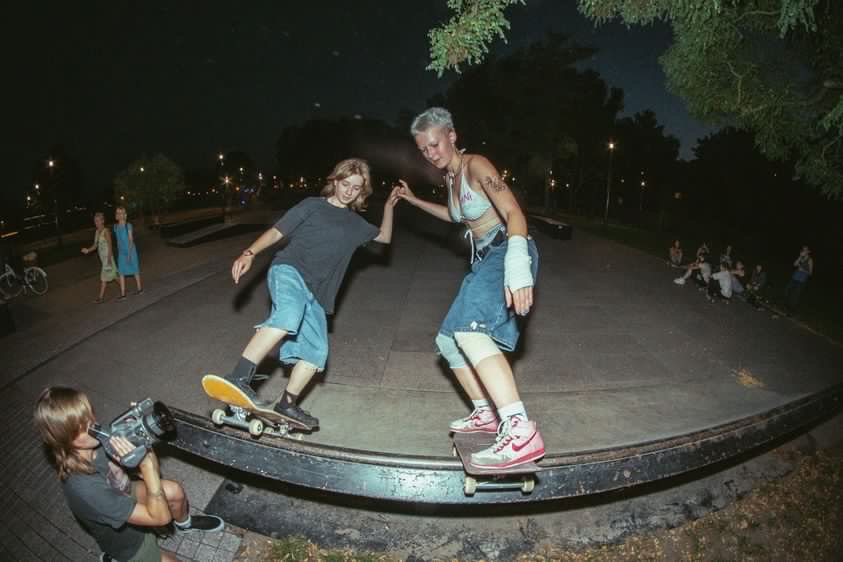 Toms Bika is a legend. I have his fisheye and you have his camera. (Laughs) I think that it has always been like this in Latvia where filmers have always passed down their gear, influence, ideas to the next person willing to put in the work. But maybe you can talk a little bit about the girls skate scene. It has grown a lot lately. Perhaps you could tell us how it looks from your perspective?
It's rad! Maybe a little bit shy still, but it's definitely growing. For example in the Isolator event I met some girls from Cesis that skated. They were saying that they didn't want to compete in the contest and they changed their minds in the name of solidarity. It's super cool. I think that we are no longer as insecure as we were. I guess we've realized that if you embrace the skill level you are at and trust the process, you'll naturally progress and evolve. It's cool saying this now because even like a year ago I would get panic attacks when competing in events. 
So you see a difference looking back at yourself a year ago?
Yeah. I just feel more free. For example, when coming to Isolator madness I didn't look at it as like a super big deal or anything. Like: ''Oh my god, I'm competing in a contest and I'm gonna' be judged!'' It was more like: ''I'm just going for a session because I haven't skated all week.'' 
About the film – could you tell me some fond memories from the filming process? Just some highlights that stood out and stayed with you.
This one time in Tallinn. We were walking past this karaoke bar and had a quick idea of playing rock paper scissors and whoever loses has to go in and sing a song. Emilija and Robina ended up singing ''I Want To Break Free''. That was pretty nice. (Laughs) 
Also on the Baltic connection tour – the moment we all linked up and met for the first time was super magical. And, also on the Baltic connection tour, when we were in Kaunas. After skating street all day we gave out some product for tricks. That moment made me super happy. Got teary eyed.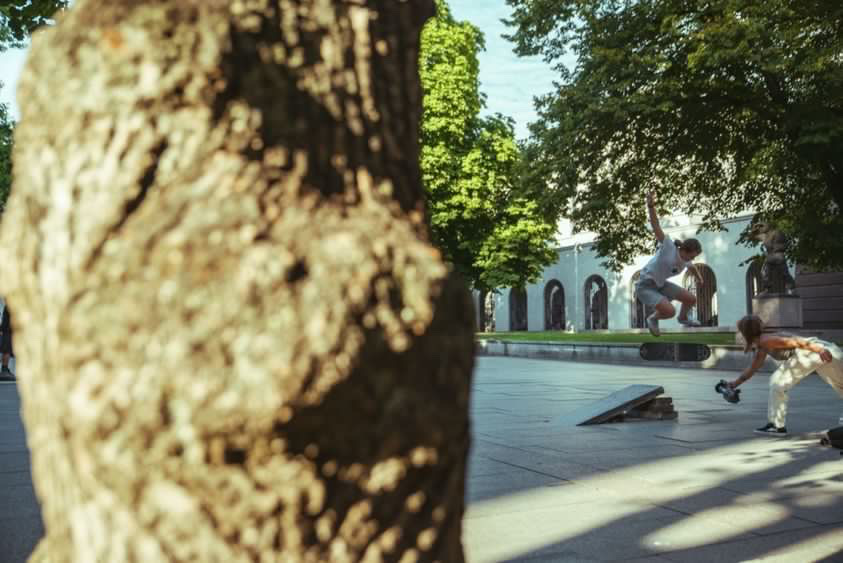 What did you learn from filming this project?
It's hard to say. I guess there was a moment when I realized that you can't please everybody. There is always going to be someone who isn't down with whatever it is that you are doing. Maybe I'll be able to elaborate more on this one after the premiere. 
What do you think is the direction in which you would like to see the Baltic women skate scene evolve? Maybe some things that are missing or something?
I don't know. I think the scene develops naturally with a few wild ones pushing the scene to go on trips, go film and make events. It all ads on one another. Some people just want to skate alone and not take part in anything. To each their own.                                                   
Ok. Could you tell us about the premiere.
April 6th, 7:30PM at K. Suns. We'll be presenting a documentary/short film called ''The Baltic Connection.'' You can get the tickets at Tikari skateshop and Clockwise skateshop for 5 euros. If there will be any left over tickets maybe you'll be able to get them at the door of the event. Stay tuned for updates and news about that on instagram. After the premiere there will be an afterparty at Lokal House, in which you'll be able to get in for free if you use the same ticket. DON'T THROW OUT YOUR TICKETS!
Follow Linda on instagram
Interview by Ed Gaba
Transcription/ translation by Edijs Plume