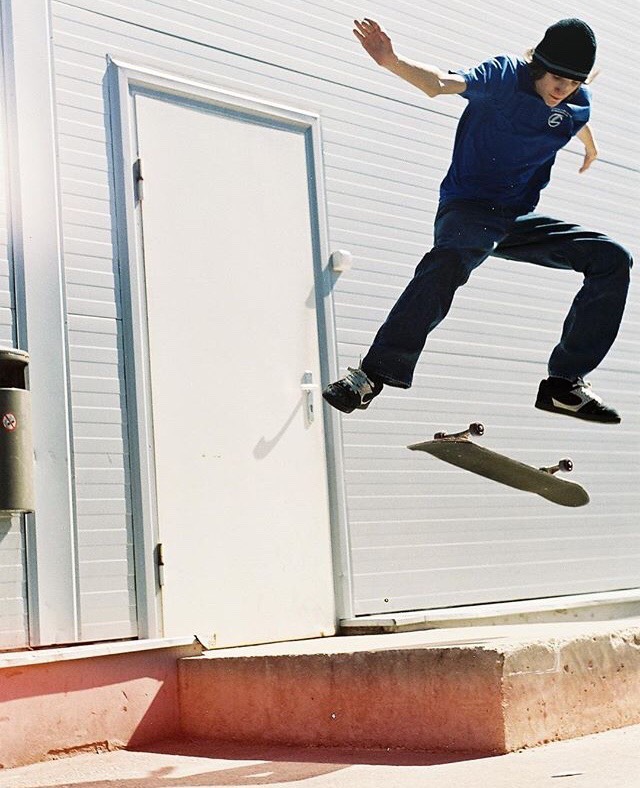 Of course these days it's rare that someone would skate next to a supermarket, let alone behind one, but back in the day behind-a-supermarket spots were really popular. There was that ledge in Pļavnieki behind a XXX Maxima, famous manny pad in Ziepniekalns, we had a launch ramp behind Rimi in Ilguciems. Although these supermarkets sold the same food, the spots near them were always different. Maxima bump/kicker in Ziepniekalns kinda stood out among behind-a-supermarket spots. A natural street bump is a pretty rare find, especially in Riga. It also had a prefect size. The bump itself was a bit short for some people, but it kicked you in the air pretty good. 
The spot was accessible: anyone could skate it and have fun. It was small and it didn't torture you so much. The kickout, at least from what I remember, wasn't really an issue there. Bunch of tricks were filmed there and this bump pops up a lot in old Latvian skate vids. As of today that Maxima is renovated, so we might not see this spot again. To help us not forget this spot, we made a little mix/coplilation of tricks that went down at there. Enjoy.
What do you guys remember about this spot?  Any tricks that we should have included? Leave a comment.
Clips sources:
Normasa
Normasa Raw
Workout 2
Mosquito – Asfalta bērni
Good Times
Waffle House
Sea Side Sk8 – Legalize
Who da heck is Jefka?
Private party trailer
R Frequency
Viss Safe
Latvians can skate 2
Niks Kolosovskis part
Tikari Summer Boys
Jurģis Ozols part