November is a dark month, time of illnesses and upbeat existential crisis episodes. The only things that can wake you up and motivate to live in November is hot morning coffee. In case you don't drink coffee we suggest a dose of YouTube videos, mostly of motivational content.
Cover Photo by Kaspars Alksnis
So one morning in early November, a life was saved by accidental discovery of a video series called "12 rules for life by Jordan Peterson". Imagine the surprise when one of the rules for life, this respectful gentleman described, was entitled: don't bother children while they are skateboarding.  More surprisingly is the fact that Mr. Peterson, who is professor of psychology in Toronto, understands skateboarding much better than we skateboarder do. If only more people were like that, including ourselves. So next time someone bothers you when you skate instead of arguing with them you can try to explain higher reasons behind your actions. 
Moving to Lithuania now. Titas and Jagminas, two friends from Vilnius made a video called Amber, which is not available on Youtube anymore, you can only watch it on Facebook now. Later they announced that they start a clothing brand called no hype. They have one long sleeve at the moment which is called Amber. Get it while it still costs 20 euros. We asked Titas to talk about the brand a little:
We are basically just two skaters from Vilnius who decided to make our own brand. My name is Titas (@surfsupboi) and my friends' name is Jagminas (@veruccci). The name of the brand is basically ironic, it's about the feeling where you don't have any hype to skate. 
Good luck to no hype boys and hope we hear from them soon.
More Lithuania. A crew called Fully Ghetto from Lithuania released their full length video called "Nothing to Something". Which is banging and definitely a must watch. You can find it on Youtube or Facebook.  We talked to the guy behind Fully Ghetto – Domantas Antanavicius:
So the name FullyGhetto basically says it all. We are a crew from Lithuania, Kaunas (not the capital Vilnius) and we don't have half the things Vilnius has – we don't have an indoor park, our street spots ar limited, we usually are broke and we always are searching how to make or save money for big things (or big parties). Our biggest FATHER is Communediy, they give us boards, help our crew to expand and motivate us to do what we are doing and don't stop. The best thing about our crew is that everybody has a different style and charisma but we all are Ghetto and we do almost everything together apart from skating. So the video is filmed in five months, we stacked more dumb footy not only tricks and you could say that this video is a "guide to how to survive in Kaunas". Kaunas is the most Gopnik city of Lithuania, we eat kebabs, dumplings and drink beer, sometimes it is not really safe at night, and our city is based of guys wearing three-stripes and random fights, crazy drivers. Our spots are rough as shit (in Lukas Matusevicius part he did a hippy jump and i even put a slow-mo on what shitty flat ground he was rollin on). 
Big up to the Fully Ghetto crew! Looking forward to more videos and ghetto life!
More from our neighbors this time Estonia! Lauri Taht video called EOS featuring most of your Estonian friends and acquaintances.
You can also check out Eha Juniors video from Estonia we don't know much about. One trick that really stood out  to us was when a dude put a board between two walls and … okay you need to see it is hard to explain.
Arguably the most productive skater of Estonia, Meelis Erm and his sidekick Siim were not sleeping in November. They released a video called Go out and Skate where they skate curbs in slow-motion to rock music which is later switched to unbearable modern rap. Mental as always.
BTW Meelis gets the trick of November award by doing this trick. Congratulations man!
Some Latvian stuff. Karlis Bogustovs and Madars Apse skate some glass obstacles in this video.  All of the obstacles are made from glass by Karlis himself. Tight!
"Hello guys and I am stoned" – this is the opening phrase of the new video series by Riga based crew – Trank Boys! Trank boys skate gtiim skatepark in the first episode and video description promises that more exciting material is coming. So let's stay tuned!
You have probably seen Edijs Aizstrauts win Niks Kolosovskis in a game of skate earlier this week.  It was definitely a hard pill to swallow. If there were Skate Gods most of us would become atheists after watching this game. Anyway, it is just a game of skate and while we are trying to figure out how Edijs won he answers with his annual video part. Ender by the way is filmed by yours truly.
The last part of Klavs Laivenieks's video series Broke Lads also came out this November. You can spot Pavel Berezjuk, Edgars Berzins and Martins Horns in this video. Big up to Martins we really enjoyed his clips! Hope Klavs can make a separate part of only Martins skating. We will try to catch up with Klavs and interview him for the site next week.
This month Free Skateboard magazine featured an article about an Amsterdam based crew called Booticelli boys, our fellow Latvian skate homie Rihards Bondars got a photo in the article as he is a member of the crew!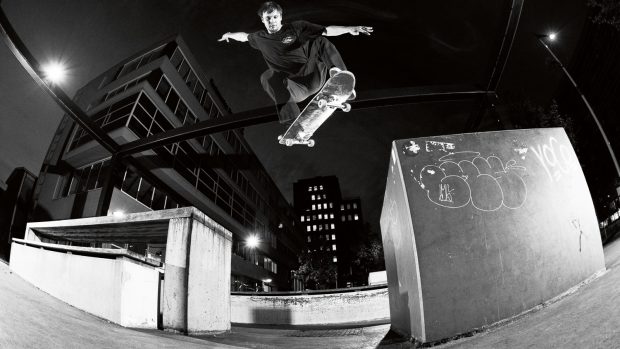 How many Latvian skateboarders were featured in European skate mags, apart the obvious, right? We are really stoked for Rihards! Later in November the first full video by the Booticelli Boys: Sound of success surfaced the web. So check it out, Rihards has a part in it at 11:13. But make sure to check out the full video, which also features the likes of Pillo's Glen Fox.
What ever you think of Richi Dunkul be sure to check out his latest part in a Spanish video called – Tutankamon Skate video. For those of you who are younger or don't know the guy – basically Rich was an ultra gangsta skater from Riga. He was sponsored and all that. He was into some sketchy shit (like a real gangsta) and later he left Latvia for good. Now he travels around Spain and probably surfs as well. Not a gangsta anymore.
We have new section on the site called R LIKES! It is like a blog where we are going to post skatevideos from around the world that we like with little reviews!
Hope you guys enjoyed this month's links and we can slide into the next month with style!