If you follow Baltic skateboarding than you have probably heard of Kataloog from Estonia. Kataloog is a skateboard brand/blog/crew from Tallinn under the supervision of Antti Sinitsyn. I met Antti last year on a Rajon trip to Estonia, we did't hang out much that time, so I can say we oficially met in person this year when Antti and his gang came to Riga for a short stay. We played a game of skate, I filmed him a line, we had some beers and became instant homies. So, If you were wondering what is KATALOOG and who is behind it, we have prepared this interview with the man himself – Antti!       
Rajon:Yo
Antti: Yo man
How are you Antti? What are you up to? 
Currently at work and looking out the window to see, if it's a skatable evening or not.
What do you do for work?
My main job is being a producer and multimedia designer at a small advertising agency, but I also do freelance work. In between all of that I deal with my brand Kataloog and try to make skateboarding a better place in Estonia with our non-profit organization – Estonian Skateboarding Association.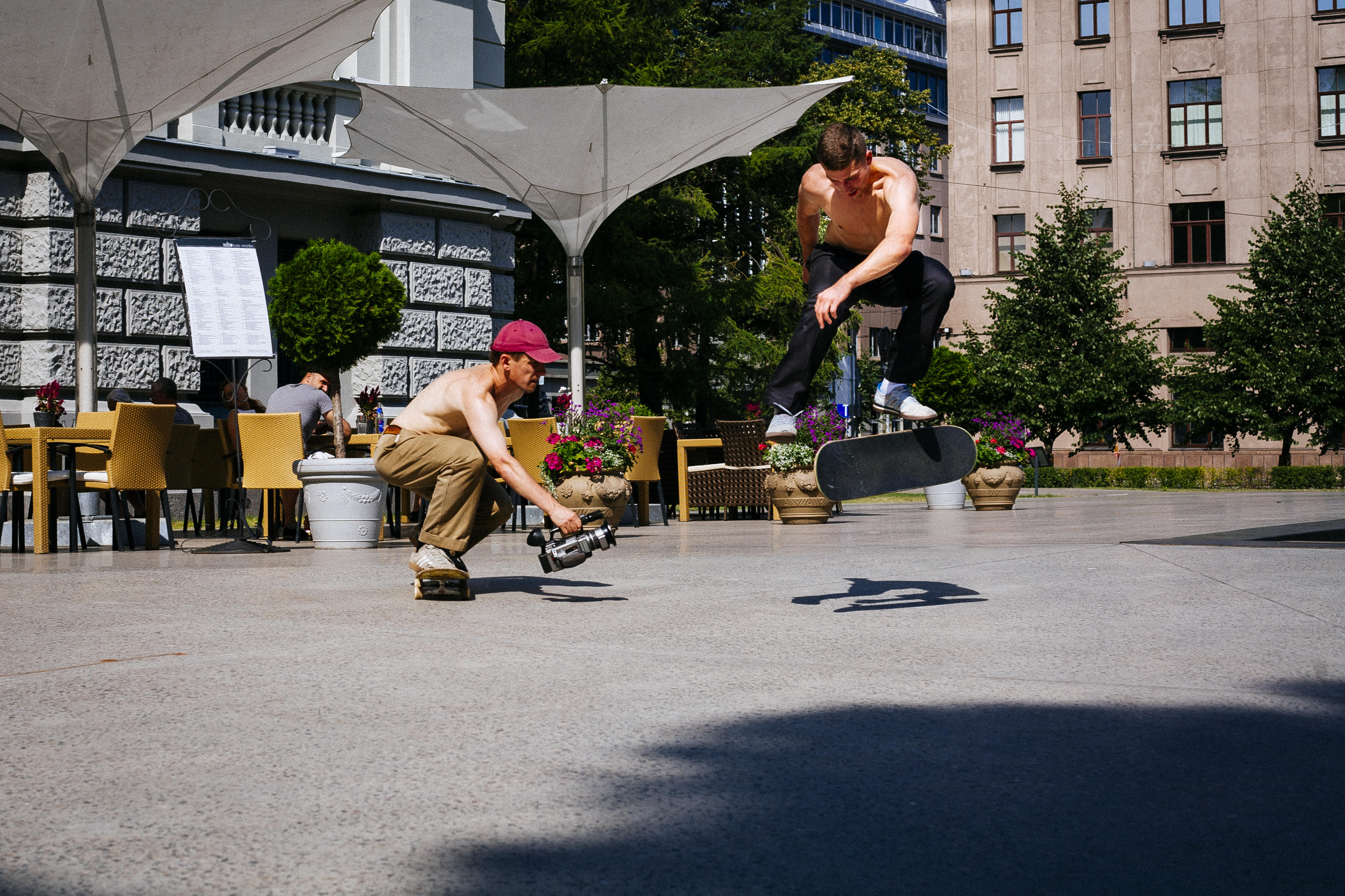 That sounds dope! Tell us more about Kataloog, what is it?
It used to be a webzine and over a course of a couple of years we stopped doing the webzine thing and started putting articles up on our website. A couple of more years later with the rise of Instagram and Facebook media we kind of started paying less attention on the website and started concentrating on making photos and clips for social media. And recently started making some shirts and socks aswell. So in conclusion I would say Kataloog is just a small local skate brand that tries to do different things.
Sounds like pretty similar to what we are doing here in Riga with Rajon
Yes, great minds think alike! I don't know when rajon started, I think we started late 2011 or something.
I think Rajon started in 2008 or something I don't remember to be honest.
That's a long time ago!
Yeah it is! So how is the weather in Tallinn today? Going for cruise after work?
It's 50/50 at the moment, but hopefully so! I haven't managed to skate a lot lately, because I've been busy and every time I have the time to skate it starts raining, you know how it goes.
Yeah! Tallinn has tons of spots, right? Where do you usually skate?
Well I would say there are a lot of spots, but most are not what I would call "chill and skate for 4 hours" spots. Yes, Freedom Square has that element and it is the best flat in Estonia, but that place gets old fast. I have been filming this year (thanks Raul for the camera) and my only goal is to film spots that look interesting or haven't been skated for a while. And if you have a camera with you the guys are more likely willing to lurk some spots with you and skate them. You will not see me filming at Freedom Square! Did you know Freedom Square is going to be skatestopped this fall?
Freedom square is the black ledge spot, right? What the hell? Why are they doing that?
Yeah, I just meant the upstairs part of Freedom Square will be getting the skatestopper treatment. With the black blocks. They just don't want us destroying it, even though it is in a pretty good condition for an 8-year-old ledge. It's just soviet mentality. So, rather than have people hanging out there and doing something constructive with their time, they will prefer having that place deserted.
Are you trying to do something about it with your non-profit organization?
I'm afraid the decision has been made and some guys have already been there measuring the ledges. That statue and surrounding area is not owned by the city, it is owned by the Estonian government and you could imagine the amount of bureaucracy to reach that high. The only thing we can do is to point out, that the government is preventing skateboarding and not offering any alternatives. If you think we have fancy concrete skateparks in Tallinn, then you are wrong! There are only some rotten wooden skateparks and interestingly enough, not even a decent indoor skatepark.
I would say, that it was one of the funnest skate trips I've ever been on!
That sounds like Riga 5 – 6 years ago. I remember when we talked for the first time last year, you said that you have visited Riga and it seemed that there are no spots at all. Did your opinion change after your recent trip to Riga?
Maybe I was exploring the wrong part of the city centre then, because this time we went to lots of spots, that I didn't know of. Even that kicker spot. Been to that bar bunch of times, but never saw that kicker, that's just across the street. And some obscure street elements might not look like a spot to everybody, so that's also maybe why.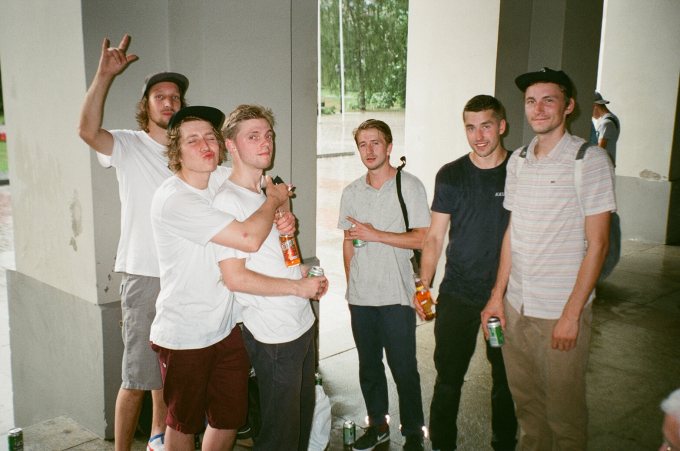 What was your recent trip like? Any memorable events?
I would say, that it was one of the funnest skate trips I've ever been on! I think when you get a bucket of shit thrown at you the first thing you step out of your car in Riga, it's for sure a sign, that it's going to be a fun weekend. Also the 32 degree humid weather with Riga's city centre architecture made an impression that you were in Barcelona or something. That's why we dubbed Riga to its new unofficial name – The Baltic Riviera. So lot's of skating (even though it rained) and lot's of shenanigans. Side note: Everybody was too hyped on the D Light with taurine. That energy drink beer or whatever it was!
Bucket of shit?
Yes, well when we arrived at our Air BnB place one of our guys really had to take a piss. So instead of waiting for a couple of minutes for the Air Bnb guy, he decided to just piss on some electric box that was next to a regular apartment building. Anyway, someone from the second or third floor didn't like that and  threw a bucket full on shit liquid at him. I don't know what it exactly was, because it was just liquid and no chunks, but smelled a lot like shit smells. Most of it missed, but some amount of shit still contacted this poor boy and he had to take a shower with his clothes. Always fun to walk into a strangers apartment, who is and old guy and an old lady with one of our dudes smelling like shit.
Haha! That is not really typical here. What about the video are you happy with it?
I am happy that it's finally finished and publicly viewable! I tried really hard to find some cool retro Latvian tunes, but none of them really worked well with the footage and sadly had to renounce that idea.I don't like stacking clips together and just putting some random song under it. Since I don't make edits that often, I really enjoy putting the project together piece by piece.
[vimeo 231694413 w=640 h=468]
RIGA feat. Rajon – Video by Antti Sinitsyn
I must say you did a good job! I enjoyed the clip a lot! I know you make Estonian skater of the year event, last year it was Aleksandr Tubin, right? What about this year?
This year I don't know yet. It's all about the footage and the footage usually is released during the winter. So basically anyone who has filmed or gotten photos has a chance to win the title!
What about the skate scene in Estonia in general? Are you guys tight?Everybody knows everybody, but we mostly skate with our own crew. And even within the crew we sometimes skate different places, because not everybody likes to skate the same shit, you know? We don't roll around 20 guys deep or something.
Are there any skaters that are underground in Estonia that not a lot of people know of? I mean i know Estonian skaters, but mostly guys that are in the spot light. What about underdogs?
Off the top of my head I would say this guy.
Oh shit! This guy is on point!
What is the situation with boards in Estonia? Are there a lot of shops to get gear?
There isn't a skateshop per se, but Surfhouse (also sells, surf, snow, scooters, etc.) does have a pretty decently sized skateboard section. You can also get some skate stuff from Reede, but Reede is more of a boutique than a skateshop. Both stores have popular and core skateboard brands. So you can always get your Polar hoodie and a Palace skateboard deck or maybe go with the Anti-Hero boards and Dickies pants route. If you are a real skateboard-aficionado, then you could even find a pair of Circa's.
Do you sell Kataloog merch there?
No, you can only get Kataloog stuff by DM-ing us or sending an e-mail.
In your instagram story I saw some board graphics? You are making kataloog skateboards?
Oh, they were just random mock-ups. I posted them to see if anybody would actually be interested in them. But maybe we will make a small batch next year to try it out. The investment into it is a tad bit more than making shirts or socks, so obviously we need to create a decent campaign to actually sell the product. So let's say the Kataloog decks thing is 50-50.
Earlier you mentioned that you didn't have a proper indoor park. What about Spot of Tallinn? Most people disliked , how come?
Well most people say that, but they still skate there. Personally I don't like the park and paying 10 euros for a 3 hour session should be categorized as "classic waste of money". So i usually don't skate during the winter, only if i'm traveling to Helsinki or Stockholm or Riga.
That means we are going to meet up in Riga this winter then! We probably should wrap up this interview!  So, what's next for Kataloog and you?
Thanks to your zine [CT Salad], I got some inspiration and thinking about putting out an issue of Kataloog in the same budget-friendly style format. I am currently looking for article/text ideas and for contributing writers to help out with the content. So if anyone from Latvia also has an idea, then feel free to contact me! Other than that I am looking into new clothing ventures. We did the shirts, we did the socks… We will be making more of those, but we are also looking into other aspects of clothing. Since doing Kataloog isn't a full-time job, then there aren't any real obligations. You can have fun trying new things and most importantly: You can concentrate on quality content.