Cover photo by Nauris Dollins
With Rajon Game of Skate championship finals coming tomorrow, we decided to make a list of our favorite tricks on flat performed by Latvian skateboarders.  We love skating flat and deeply believe that a great skateboarder is defined by the ability on flatground. Although you probably will never turn pro for skating only flat, a well executed flat trick can tell a lot about you as a skateboarder. One kickflip can tell more that a thousand words. Note that these are our picks and it is fine if you disagree with us. You can leave a comment bellow, and remind us about some cool tricks we didn't include, there are definitely a lot of things to mention and it will be hard to squeeze everything into one post. Nevertheless, enjoy!
Mikus Dombrovskis – switch bs flip – Latvians can skate 2 by Toms Bika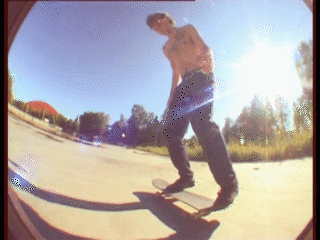 First time I saw it I was blown away. Now looking at it still pretty stoked it happened. Mikus is a guy that doesn't film much but when he does it usually looks proper. Always going fast, always popping high and has a great style. If he filmed more we could easily fill this whole list with him alone. The trick is not easy as well, I mean how many of you can do a bs flip going fast? And this shit is switch!
Armands Baumanis – fakie heel – Latvians can skate 2 by Toms Bika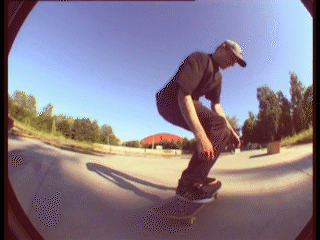 Same video, same spot and probably the same day. Armands does this fakie heel at his spot, which mainly consists of flat, so no wonder he can flip his board so good. Again similar to Mikus, Armands has a taste for going fast and executing proper flip tricks. Every part he filmed has tons of flip tricks, but this fakie heel stands out to us. Fakie heels are rare in videos and the way this one is done is pretty sick.
Eduards Nehajenko – fs flip/fakie varial heel – Clockwise skateshop's – Get Shit Done by Toms Bika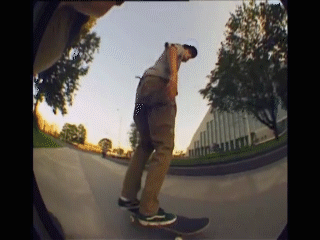 We are talking mostly about the fs flip here and that fakie varial heel is a bonus. There are two lines at LNB in his part, both filmed in one day and both have flip tricks on flat. We particularly enjoy this fs flip because it is again kinda rare someone does a fs flip in a line on flat. It is such a G trick and Edzuk does it really well. Another thing that makes this line great is that it feels really random, like it was not planned at all and that fakie varial heel was just pure luck. It seems like he is just skating. Best!
Egons Avots – ollie north – Triecienspeks magazine. 
Yes, there was a board sports magazine in Latvia called Triecienspeks. They had articles, interviews, photos and a tricktip sections. The mag was a ton of fun and everyone who read it back in the day remember this dope ollie north by Egons. Ask your older skate pals for a copy. And go do an ollie north.
Rudolfs Henchels – fs 360 – Mosquito's Children of Concrete by Gvido Glazers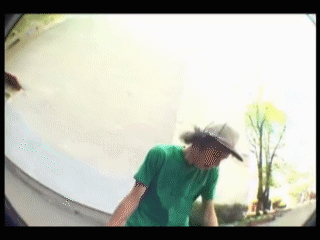 Rudolfs is the only person in Latvian who can do this trick on flat and make it look good. When we think of the OG Rudolfs Henchels we think of profound flatground skills: ss heels, nollie fs heels, ss varial heels in particular; but actually fs 360 is his trick. If you are playing skate with Rudolfs and he wants to finish you off he will do this trick. We have never seen him mess it up.  Note that in this clip he is matching his shoes and shirt. What a G.
Madars Apse – nollie fs flip – DC's Where Eu at? – by Jon Holland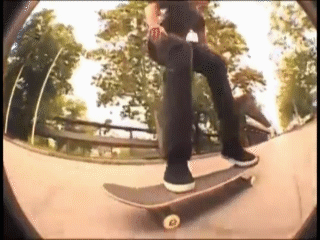 This DC part is our favorite of Madars. Awesome song, VX, dope tricks and this nollie fs flip. Can a nollie fs flip be any better? Maybe 🙂. But I doubt it. Shit is proper as hell, the speed is insane, the flick is wild and it is in the middle of the line. Madars is in the finals of our game of skate and we will ask him to through one nollie fs flip for us and for you.
Mārcis Ziemiņš – SeaSideSk8 – Legalize skateboarding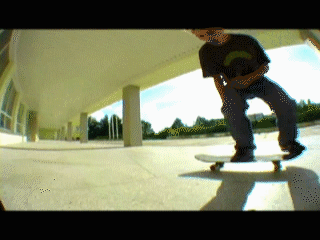 Another history lesson for kids. There was a crew from Jurmala called SeaSideSk8 they made videos and skated really good for that time. So Marcis was one of the original members and he made the third seaside video called Legalize skateboarding (as far as we are concerned). He had a part in the video as well. He would skate tons of flat and do a lot of heelflips. We didn't get it as kids, we though why he isn't doing harder tricks? But this line somehow stayed in our minds. It is all flat but mainly the atmosphere is really enjoyable. The spot looks super smooth, the sun is shining, it is warm the guy is just enjoying himself on his board. What more can you ask for?
Jazeps Podnieks – nollie heel – papo_Tiger
Another Jurmala skater and also a member of the Sea Side clan, at least in the beginning. Jazeps is an eccentric character, with a good flat ground bag of tricks and an awesome style. If you see him skate in person, which will never happen most probably, you will see that the man still got it. Maybe this nollie heel doesn't seem so good to you, well it is for us. It is sketchy but that what makes it so good you know? Okay, I have some personal shit with this nollie heel I just like it for some reason.
Richi Dunkul – pop shove-it – Boards.lv Fresh Fruits video by Maksim Kalanep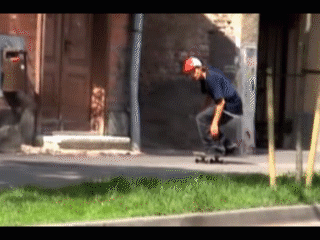 Back in the day Boards.lv made videos, made contests and had a team of dope skaters. Richi Dunkul, gangsta rapper from the hood, was riding for them for some time and had a full part in their video called – Fresh Fruits. He had a lot of video appearances and definitely did a lot of technical and hard shit on flat, but this is the trick we at Rajon remember and love him for. Not so much the trick though, but what he does after it. Fucking brilliant! This must be a new trend!
Dimon Deda – fakie fs bigspin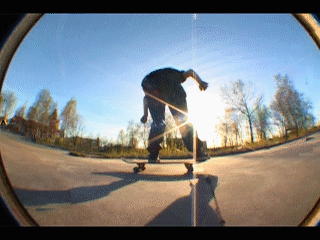 Nothing much to say here. Our man, the one and only Deda, with his signature maneuver fakie fs bigpin. Really underrated trick which becoming more and more popular among Latvian skateboarders. Thanks to Deda.
This is it! There are more people to mention for sure like Miks Grantinsh, Toms Gabliks and his 360 flips, Niks Kolosovskis etc. We will make another post like this in the future, you can help us prepare better and  suggest some tricks if you want. In the meantime don't forget that tomorrow at 20:00 at Prisma you can witness the finals of Rajon Game of Skate championship. See you there!